When you first unbox the Philips BT3500B, you will be pleasantly surprised. This wireless Bluetooth speaker is compact, lightweight and fits well in the hand. At such a lower price, you would normally expect mediocre built and poor performance, but the Philips BT3500B is creatively designed and comes with some unexpected features that you will love.
It's quite a simple wireless speaker without too many frills but still, comes with some convenience features such as the flip-out stand on the back which makes it possible to place it at an angle.
And if you don't need the stand, you can simply place it upright without fear that it will topple over. It features a retro-looking volume knob on the top right corner that is well protected and will not snap off if you accidentally drop the speaker.
If you are looking for Wireless Portable Bluetooth Speaker that features a compact and slim design, in addition to decent sound quality, speakerphone capability, NFC, and Bluetooth wireless connectivity, at an extremely affordable price, then you must be talking about the Philips BT3500B. Read our Philips BT3500B Bluetooth Speaker Review and see if this is the speaker is for you.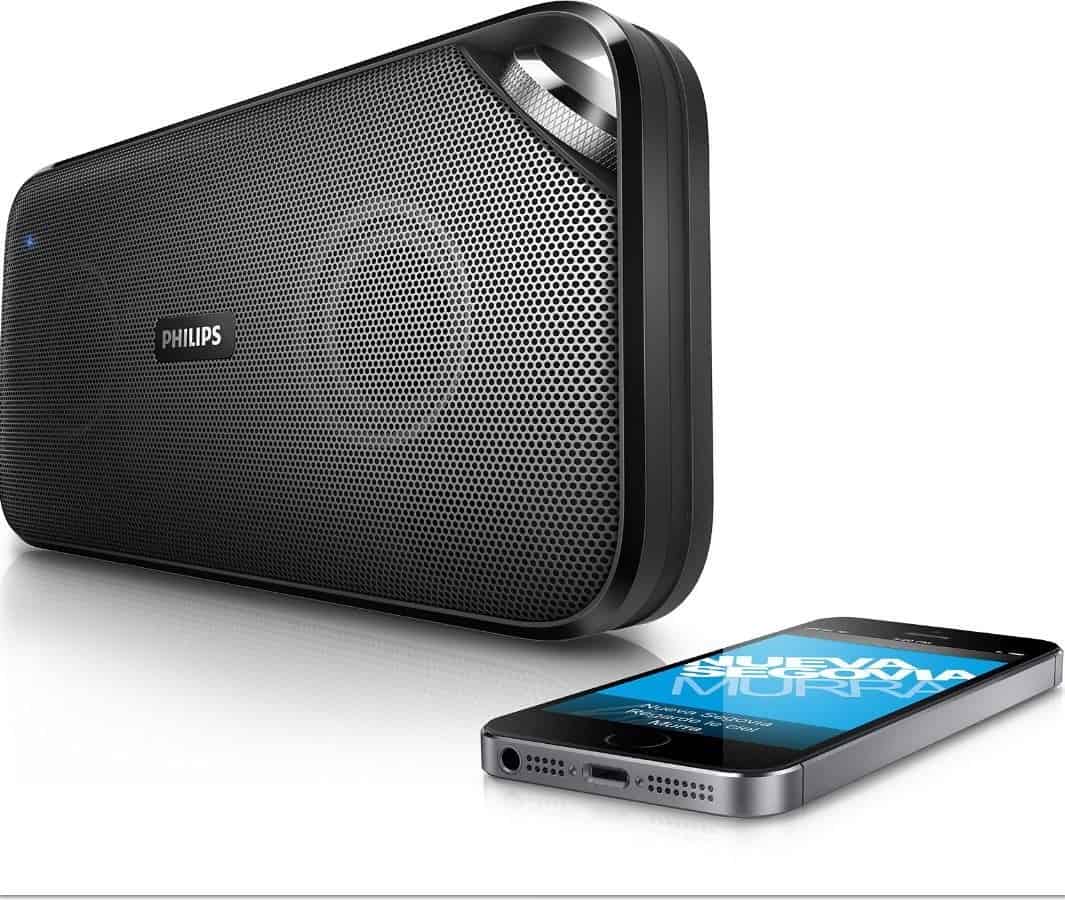 Design
The Philips BT3500B is designed to be portable, lightweight and borrows most of its features and design from its predecessor, the Philips BT2500/37. It measures 201x35x101mm (WxDxH) and is designed to sit flat, but as already mentioned, it also comes with a kickstand that you can flip out and place your speaker at an angle.
The slider switch on the top edge flicks between the 3.5mm auxiliary input and Bluetooth mode. There is a pairing button next to it, which also ends any phone calls taken through the inbuilt mic.
The NFC logo reminds you that you have another option to connect to your Smartphones apart from Bluetooth. The Philips logo can be seen in front of the speaker right in the middle of the grilled panel so you know exactly who you are dealing with.
Philips BT3500B and Philips BT2500B Bluetooth Speaker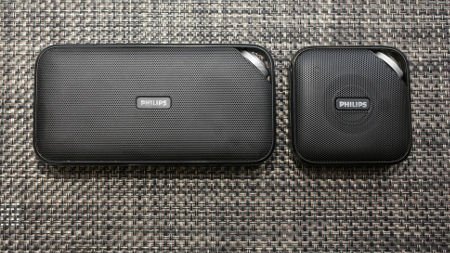 The Phillips BT3500B and the smaller less expensive sister unit the Phillips BT2500B
When it comes to connection, as you probably already know, you have two options. The most common and convenient way is by wireless connectivity using Bluetooth or using the NFC (Near Field Communication). All you need is to tap on the Bluetooth or NFC icon on your Smartphone, scroll through the menus and hit the pairing button. The second connection option is via the 3.5mm stereo jack, which means you can attach the BT3500 to just about anything with an audio output.
Like just about every media and communication gadget nowadays, the Philips BT3500B package comes with a USB charging cable. It's the most common mini USB interface so you can even use an existing USB cable from other gadgets. The battery life is about five hours from a full charge, which is not so impressive but will get the job done for standard usage. The best part is it only takes a couple of hours to recharge.
How does it work? Operating the Philips BT3500B is pretty simple; there's a switch with positions for Off, Bluetooth and Audio In, with a corresponding light indicator for off, blue or red to show you what state you are in. When the Bluetooth is in pairing mode, the indicator will flash. If you set up the BT3500B as an inline speaker, it will stop the music when a call comes in.
Sound quality
The Philips BT3500B portable wireless speaker has a decent quality sound you can't expect from such as a small speaker. The speaker generally offers a much fuller, crisper, cleaner sound compared to the previous version. Don't expect a heavy bass from the BT3500B though, but you will notice that it's much louder than its size. And even at maximum volume, you don't experience any distortion or harshness.
There are enough clarity and detail in the highs and mids giving you a more rounded and fuller sound. More complicated tracks can sound a bit dull but still remain undistorted, while less complicated music, like acoustic singer/songwriters, sounds really fabulous. You generally get the best sound quality on both ends if you keep the volume at average levels.
Philips BT3500B Bluetooth Speaker Review
Whether you're listening to music or dialogue, the BT3500 presents a clear and distinct sound with a decent projection length, capable of filling most small rooms to at least some degree.
At these sorts of sizes, you obviously can't expect much in the way of stereo separation, but it certainly sounds far from unpleasant. The sound is quite bright in tone but it's not shrill in any way, which makes it quite suitable for a range of music.
The BT3500 also handles 'echoey' environments like a bathroom pretty well, so you can indulge in a soak with some musical accompaniment without it sounding unduly resonant. You will also love the Bluetooth signal strength which has an effective range of up to 10 meters.
The 'anti-clipping' technology is designed to ensure audio is free from distortion by monitoring and adjusting the signal based on how much power is available to the amplification. So, when the battery is running low, the dynamic range is clipped to prevent unpleasant peaks.
Philips BT3500B
Pros and Cons
Pros
Big retro nob for easy volume control
Good sound performance for the price.
The flat design makes it an easy store
Good volume for the size
Cons
Short 5hr battery life
Could be made more durable 
Conclusions
The Philips BT3500B has a decent design, nice set of features, and great sound quality for the reasonable price tag. The rectangular shape allows you to slip it into your laptop along with your other gadgets without causing any bulge.
You can easily take it along in one hand without feeling like you are carrying a brick. Despite its small size, this is one of those speakers that play louder than their physical size.
The decent, crisp and clear sound quality makes this wireless speaker a great option to bring along on holiday, camping or beach fun times. It gives music across all genres a little more punch and makes it sound smooth and undistorted.
I would say it makes a great option for users on a budget, who want to get the feel of quality wireless speakers without either spending too much or compromising on performance.
Price: Under $50 US
Where to buy: Amazon
Source: Philips
See other articles on wireless speakers and headphones