If you are looking for something a little different and like to keep an eye on the time then the Ring Clock might be for you. The Ring Clock is a three-band rotating ring watch lit with LED lights and invented by Gusztav Szikszai of Hungary. He wanted to create a unique timepiece that was a "conversation ice breaker".
Launched in 2013 with a successful Indiegogo crowdfunding campaign the Rink Clock is a waterproof watch that fits on your finger. It does look cool and I am sure it will start a few conversations but how does it work and is it worth its $399 US price tag. I will take a further look with my Ring Clock Three-band Rotating Ring Watch Review.
Build and Design
The Ring Clock is made from a surgical grade, allergy-free stainless steel and has three bands with LED lights that indicate the time; hours, minutes, and seconds. The lights do not remain on at all times. The ring has two sensors that when you rotate the ring on your finger the lights turn on for 15 seconds.
When the battery is low it will remain on for only 5 seconds to conserve battery life. The display lights a are bright and can be seen in a variety of light conditions but in bright direct sunlight, you will need to cast a shadow on the ring to be able to tell the time.
The size is much bulkier than a typical ring. The ring is rather big and masculine looking. I can't see many women wearing this ring.
Since this is a precision timepiece it needs to be durable to continue to operate correctly. Along with being made from stainless steel, the Ring Watch is waterproof. A good idea since your hands does get wet from time to time. To keep this watch running set the ring on the wireless charging pad provided and wirelessly charge the onboard battery.
It takes two hours to charge and will last about a week of normal use. Max. 2 hours. Do not charge the ring continuously for days, because it will ruin the battery!
  Ring Clock Three-band Rotating Ring Watch Review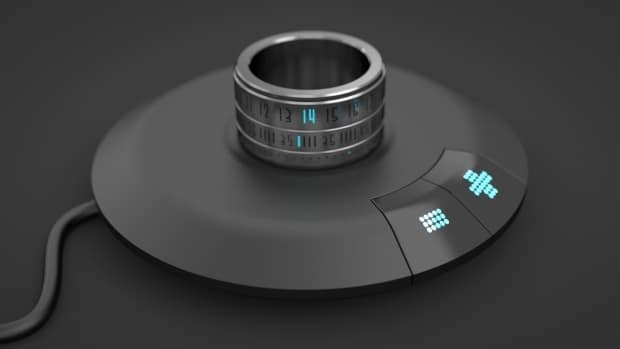 Ring Clock Wireless Charger
Specs
Battery lifetime: 3 years (battery replacement service – only in the factory)
Battery specs: 8mAh, ultrathin rechargeable lithium-polymer battery
Lighting time: 15sec after the rotation (5s with low battery)
Light source: 168 energy safe ultrathin mono-color LED
Light color: Blue or Orange LED
Water Resistance: 30M (tested also for showering, bathing, swimming, fishing)
Charger: Wireless charger pad (with universal 110-240 AC DC USB plug)
Time setting: by the setting buttons on the charger pad
Ring body material: 316L surgical stainless steel
Warranty: 1 year
Running time: 1 week of normal use (50 times activation per day) or 2 hours of constant use
Charging time: max. 2 hours  Do not charge the ring continuously for days, because it ruins the battery!
Dimensions
Width: 14 mm (0.551 in)
Thickness: 3-3.5 mm (0.118-0.134 in)
Inside diameter: 16,9-23,8mm (0.666-0.938 in)
US ring sizes: 6,5US-15US
Available in a number of sizes here is their complete size chart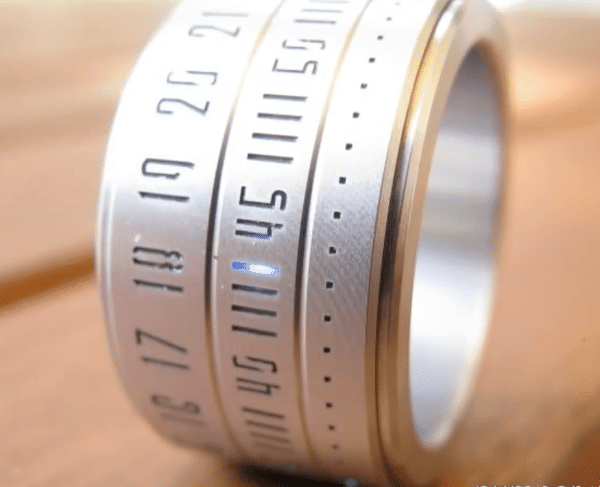 The ring watch is a cool idea but the price is pretty steep. The price started out at $195 and went up to $399. They seemed to have a few delays from the start. I read a number of reviews and there were complaints that it took almost two years to receive their product after the crowdfunding campaign.
Battery charging issues seem to be a big problem with a number of customers complaining the battery does not hold a charge after a few months. Not sure if they will add any satellite services anywhere else but for any service or to change the battery you have to send it back to the factory in Hungary.
Ring Clock Three-band Rotating Ring Watch Review
The Ring Clock Conclusion
If you want a conversation starter I do believe the Ring Watch will do that for you. I think the Ring Watch is definitely a feat of engineering and has a coolness factor of 10. It is a specialty item that will appeal to only a certain person most likely a man.
I can't see the Ring Clock becoming too popular, especially at the price being offered and the reliability that is being reported. I think it needs a little more refinement and reliability to be worth the price. If you want more then to just tell the time I think there are better options available.
Price: $399 USWhere to buy: Ring Watch
Here are a few smart rings clocks that are also smart and much less expensive.
Other articles and reviews