The Sonos Play One Smart Speaker is the youngest sibling to the Sono's line of wireless speakers. With a small wireless speaker like this, the most challenging engineering puzzle is balancing the minimalist design with sound quality so that you don't end up with too many sonic compromises.
The Sonos is here to show its competitors exactly how this is done via the Sonos Play One. Let's see what this small package has to offer in our Sonos Play One Smart Speaker Review. This smart speaker is not only excellent sounding in now gives you a choice between smart assistant Alexa or Google Assist.
Sonos Play 1 currently the most affordable and smallest of the Sonos family. But do not be fooled that it might be making compromises and slip below their premium standards; it has much more to offer than meets the eye.
This speaker is Sonos most impressive product to date. While the old rounded design remains the same, there has been some software tweaks to improve sound and an introduction of even more streaming services. These are some of the important features that keep the company on top of the streaming game.
If you're looking for a portable speaker package that covers all your streaming needs and compliments your current streaming devices, this is it. Sonos Play One comes with a comprehensive list featuring the likes of Tidal, Pandora, Spotify, Deezer, Google Play Music, Qobuz, and Amazon Music. There also TuneIn Radio which gives you access to thousands of internet radio stations all integrated into your Sonos Controller app.
"Hey Google" or "Alexa"
The Sonos One new update now allows you to choose either smart assistant Alexa or Google Assist.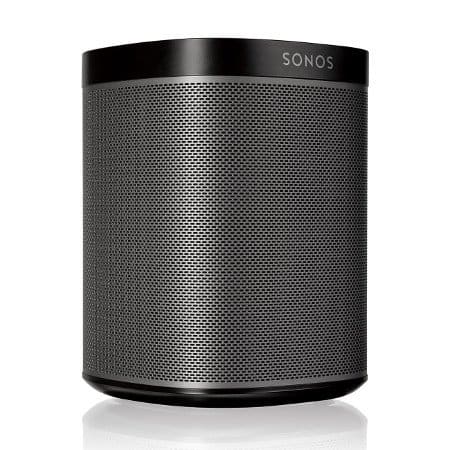 Build and design
The Play One comes in black and white variations and the premium design blends nicely with its surroundings. The grated design spins around the entire circumference of the speaker, which stands taller and slimmer than the previous wider models. The top of the speaker now features a play/pause button that has replaced the mute button from the previous versions. Double tapping it skips to the next track.
The Sonas Play 1 might be small but it's a little heavy to take it with you to every desirable place. It's more or less best suited for around-the-house use. It doesn't have a carry handle or a battery and needs to stay within the range of your Wi-Fi network to operate. It also doesn't come with wired inputs that let you plug into other devices.
Sonos software system works with any music sent to the Sonos Play One, the music is not streamed using Bluetooth or AirPlay. But with Sonos own software system.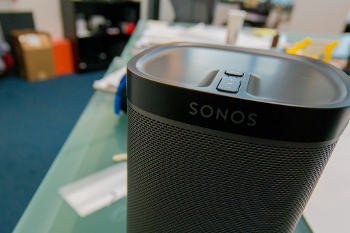 You access this through an Android/ iOS app, or with your computer. As earlier mentioned, the Sonos system incorporates loads of streaming services including Spotify, Deezer, and Amazon Cloud Player. And you don't need any separate apps, just Sonos's one.
The Top and bottom are plastic, in part to host the Wi-Fi antennas while the Ethernet socket sits at the back next to the power jack and wall-mounting socket. Hardware-wise, this is an amazingly simple speaker. The volume button sits on top next to the play/pause button.
Without the 3.5mm jack or iPod dock, starting up with this speaker may seem a little tricky. However, the setup process is pretty easy. You need a Sonos Bridge which plugs into your router and acts as an access point for your Sonos system.
You can connect as much as 12 other gadgets. Once the bridge is plugged in, all you need is to plug the Play 1 into the bridge using an Ethernet cable. The next thing is to download the Sonos app and you're just about done. After the setup, the rest of the journey is pretty easy thanks to the Sonos app that allows you to control most of the functions via your phone and tablet screens.
Sound and Streaming
As you can see, setting this speaker up is quite easy and straightforward, and if you are already familiar with Sonos' way of doing things, there are no surprises here. If you have strong Wi-Fi coverage, you may skip the bridge and latch into your Wi-Fi directly without any support. If you have a frustrating Wi-Fi coverage but still don't want to use the Bridge, Sonos has launched a separate accessory called the Boost. This is basically an upgraded version of the bridge that stretches your signal.
Surprisingly, the Sonos Play 1 hit really hard on its own, thanks to the midrange woofer and tweeter on the inside. A single speaker will give you a mono experience, but it's still good enough to fill a large room with a fabulous sound.
If you really want to fill the entire house and you already have a Sonos audio system, you can buy three (or five) of this and place one in each room, kitchen and even bathroom. Those using the Play 1 as the main living room music source and need a stereo experience will have to pair with a second speaker.
Sonos Play One Smart Speaker Review
All in all, the Sonos Play 1 offers an excellent sound quality for a wireless speaker of this size and price. The sound is excellent, meaty and rich with a natural and deep base. It's a pleasant listen, with a rich enough tone, enough finesse, and more than enough punch to make you forget the size of the speaker you're listening to. You can also pair any other Sonos speaker to your Sonos Bridge so they can play nicely together.
Turning on the Play 1 reveals a solid and weighty sound profile with plenty of punch and power. The strings are meaty and powerful enough but nicely controlled so they don't troll over vocals. Vocals on the other hand rise to the top with dynamic expression and stark of clarity having a lot of scale and space to fill.
You will naturally experience a few compromises, which do not come as a surprise for speakers this small. The treble extension and bass depth are a little limited but slowly grows with volume without compromising the sound quality. While you might not get the powerful bass punch and details as those from the UE Boom 2, you will love the clarity and sound quality that it offers.
---
Sonos Play One Smart Speaker
Pros and Cons
Pros
Great refined sound quality
Good for around the house
Now has the option of Alexa or Google Assist
Easy setup 
Good Base
Cons
Not the most portable speaker
Short battery life
closeNo wire connections
---
Bottom line
If you have researched a little more about Sonos products, you might have noticed how pricey they can get compared to the competition.
The Sonos Play One is probably the cheapest and most impressive-sounding smart speaker from Sonos. It might not single-handedly power a party, but it's simply a brilliant speaker for this price.
If you are thinking of starting a smart home the Sonos is a great place to start works with popular smart hubs and can be incorporated into a smart home automation system. Not only do you get a smart speaker this speaker is much better sounding than most on the market. You now have a choice of Alexa or Google smart assistants to choose from. Available only in the US.
Other smart speaker options