After spending some time with the Sony MDR-1000X and listening to a number of tracks, you tend to agree that very few other headphones can go head to head with the MDR-1000X and emerge as winners.
They offer industry-leading levels of noise-cancellation and their only closest competitors are the Bose QuietComfort 35 and the Sennheiser Momentum 2. Read our Sony MDR-1000X Wireless Headphone Review and see what you think.
It's almost like the Sony MDR-1000X were designed specifically to take down the ubiquitous Bose. Whether or not that mission will be accomplished is a wait-and-see question. But the way I see it, Sony isn't simply offering silence and freedom of movement: it also has some clever tricks to give you greater control over playback and isolation. This only means that Bose and other competitors have to work even harder.
The Sony MDR-1000X comes at a premium price that you will expect from headphones of this performance, but for that price, they deliver a combination of wireless convenience, long-running battery life, effortless comfort, and great sound quality.
What most users love about the MDR-1000X is that they are portable, super light and you can wear them from hours without your ears feeling uncomfortable or fatigued. And if you are not using them, they conveniently collapse into their creative semi-rigid carrying case.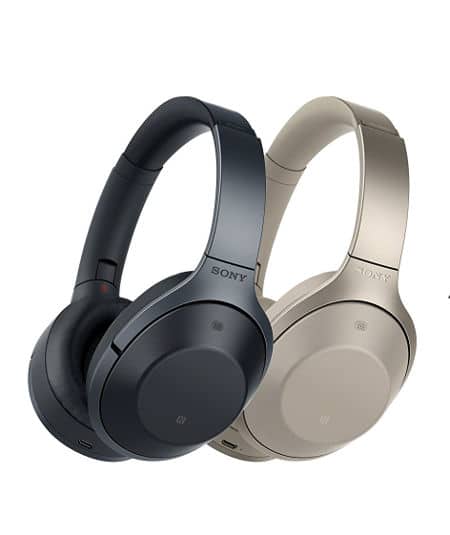 Build and Design
The Sony MDR-1000X are nice looking headphones with sturdy construction and modest branding. From a distance, they look a little plain but once you get your hands on them, you start to appreciate the touch of luxury behind the creativity on these cans. They are primarily made of tough plastic with a metal polishing on the headband and soft synthetic leather on the ear pads and ear cups.
Another feature that enhances comfort on these headphones is the fact that rather than clamping over your ears, they comfortably rest on your head and give your ears a gentle hug with a tight seal around the rims of the ear cup. You will also notice the polyurethane foam which apart from improving comfort, it aids in noise isolation when the noise cancellation feature is turned off.
The MDR-1000Xs headphones fold away neatly to fit into the provided carrying case which you can conveniently toss into your backpack alongside the travel adapter, headphone cable for wired listening and micro USB cable for charging.
Sony MDR-1000X Wireless Headphone Review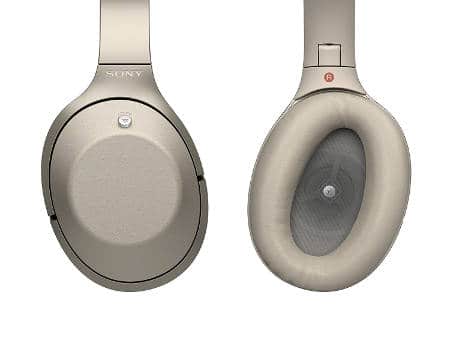 You will find an NFC chip for speedy Bluetooth pairing on the left ear cup, while the right ear cup offers a number of touch-sensitive controls. Swiping forward and backward changes the track while swiping up and down increases and reduces volume respectively. To pause or play the music, just double-tap the touchpad, which with some practice you should get used to quickly enough.
The micro USB port for charging and a 3.5mm connection for cabling up when your charge runs out are located on the edges of the ear cups. With a 3.5mm jack, it's easier to find a replacement, unlike some other brands that use 2.5mm cables. There are physical buttons too with raised edges so you can press them without looking.
One feature that really sets these cans apart is the Personal NC Optimizer. This technology analyses the shape of your head and tailors the sound to each listener. If you don't want to completely shut off all the background noises around you, just switch to the Ambient Sound mode to let some sound through.
If you just want to listen to something around you without taking off the headphones, simply switch to the Quick Listen mode. And there is a really nice robotic lady in there who chimes in to let you know what mode you've engaged.
Sound Quality
Pairing the 1000X is quick and easy, either through the standard Bluetooth menu of your device or NFC. The wireless is as solid as what you can expect from a modern Bluetooth device; you can still clearly tune into your device three rooms away.
As you would expect, the MRD -1000Xhave the characteristic Sony house sound; thick, warm, rich and powerful, with enough detail in the highs that nothing becomes muddled even at maximum volume.
The active noise cancellation is just incredible. You will want to be really careful when walking the streets and crossing roads with these headphones as they completely shut off the world around you. Most Sony MDR-1000X reviews will tell you that Sony has snatched the trophy from the Bose QC35 on this one.
The bass is solid and punchy too, and the mids and the highs are much clearer and more natural. Sony has worked hard to eliminate the tiny, crinkly feel in the highs which was a noticeable issue in their previous MDR-1000AAP headphones.
Sony MDR-1000X Wireless Headphone Review
The soundstage is lush and wide as you would expect from most Sony headphones. There are a silky smoothness and sense of refinement that leaves you yearning for more. The sound profile is beautifully balanced with both the highs and lows receiving equal attention without dumbing down the overall dynamic ability.
The headphones cut off excessively wailing and piercing notes in the strings and vocals to give you a balanced sound profile even at maximum volume.
The expressiveness and richness in detail that these headphones reveal in each track will get you caught up in the emotion of the song. The low-frequency range comes with plenty of weight which is tightly controlled and measured in its execution. The baselines in most bass-heavy songs have a decent depth that doesn't sound overblown. MDR-1000X brings out the detailed texture in each note you can almost feel it.
Sony's MDR-1000X
Pros and Cons
Pros
Very comfortable design and look
Long battery life
Great intuitive features
Mic calls sound excellent
Great noise cancellation headphones
Cons
Touch control not always working
Ambient noise mode a little fickle 
Take a long time to charge
Conclusion
With a battery life of about 20 hours and insane noise-canceling capabilities, the Sony MRD -1000X have surely given the competition something to think about. You will really struggle to find flaws on this pair of headphones.
The lightweight and portable design are coupled with all the features required to make a premium over-the-ear pair of headphones super comfortable. If you are looking for the best sound quality in noise-canceling headphones then you should give the MRD -1000X a try.
Helpful reviews on some of the top-selling headphones.