It may look like a bicycle, but this compact and sleek zero-emission two-wheeler rides like a motorcycle. But a tiny one. This is the newest transportation device from Swagtron that comes with a strong collapsible frame and a lot of impressive features.
The bike can hit speeds of up to 10 mph, 10-mile distance coverage and a boasts a quick charging time of only 2.5 hrs. This is what makes the bike a perfect option for daily commuting as well as spontaneous adventures. Let's look further with our Swagtron Swagcycle E-Bike Review and see if you want to get your swag on with this E-Bike. 
The SwagCycle is, technically, not an Electric-Bike according to some US trade standards. It lacks actual pedals and requires you to only use only the throttle to get around. For this reason, the SwagCycle is probably more accurately called a scooter. This makes it rely solely on electric power and no pedal option is available. No way to peddle a little when going uphill to reduce the strain on the battery. No power no go.
The bike comes with all the features to cater to young commuters as well as adults, and even a few surprise features that you would not expect to find on such a bike. The robust 29 lbs aerospace-grade aluminum frame can support up to 264 lbs and conveniently folds for portability and storage.
There are a number of controls at your fingertips to make your riding experience smoother. From the handlebars, you can check the status of the battery, accelerate, brake, turn on the headlight, and honk.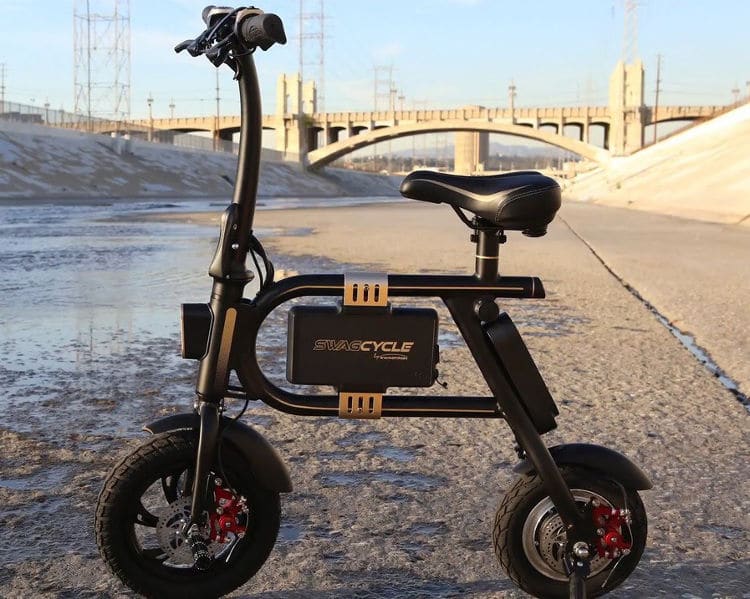 Although it is built small it has a surprisingly solid feel and with it being it light and compact you can plant your feet firmly on the ground. A real assuring feature for older people considering buying one. But big people 6 ft plus are reporting having fun with the SwagCycle and have no problems with the size. If you have a lot of uphill riding then this E-Bike my not be a great idea as reports of going up a hill are kind of slow and peddling is not an option.
One big issue that has been reported is the left-hand brake operates the front brake and the right operates the back brake. This is opposite of most bikes. This could prove dangerous if you accidentally brake hard on the front brake. This could cause you to fly forward over the handlebars. A good idea is to switch the brake lines for a safer ride. Not sure why the manufacturer would do this?
One more bonus feature is the ability to charge your electronic gadgets via the USB outlet on the bike's battery. So bring along your iPod or Smartphone and add some music to your adventure. The battery is IP54 water-resistant, meaning that you won't have to worry much about light showers or early morning mist.
With the SwagCycle e-cycle, you can easily zip past other bikers struggling to pedal on hills or dash through city streets passing all the cars stuck in traffic. The bike is designed for a modern commuter to help navigate through traffic and save time as well as money while being eco-friendly.
Features
Battery Charge Time: The bike uses a 36V rechargeable lithium-ion battery that lasts up to 15 miles of continuous use from a single charge. The battery recharges in as little as two and a half to four hours, making the e-bike perfect for your daily commutes and spontaneous adventures. This is so far the fastest charging bike I have reviewed.
Maximum Weight Capacity: the maximum load you can place on this bike is 264 pounds, which is more than enough for an adult rider.
Collapses for easy storage:  This bike is designed around a foldable aerospace grade aluminum frame that makes it easy to fit in tiny storage places including trunks of cars, on the train or bus. Again, this makes it a great bike for daily commuters. The folding process is easy and takes less minute.
IP54 water-resistant battery: The battery is capable of withstanding tough outdoor conditions, such as splashing rain, morning dew and blowing dust. So feel free to go all out, get a little dirty and wet as you have fun.
Micro USB charging port: This allows you to charge your electronic gadgets on the go. So bring along your phone or tablet to your outdoor adventures and inject some entertainment into the fun. Note however that charging gadgets from the battery might reduce how long the bike's battery will last.
Handlebar Display and controls: There is a power button on the right side of the handlebar used to power the bike. Next to it is a battery indicator that enables you to track your battery level. Next is the throttle that controls the speed of the bike. There are brake levers on the right and left handlebar, and a horn button, as well as headlights, switch on the left end of the bar.
Wheels: The 12″ front and 10″ rear wheels keeps you steady on the ground and rolling in confident.
Zero emissions: The eco-friendly Swagger is 100% electric & emissions free, saving both your wallet & the environment.
Suitable for adults: this bike requires agility, balance, and coordination. So you will need some biking experience to handle it.
Easy to ride: Simply press the power button and twist the throttle on the right the handlebar to take off. The brake lever on the left side is for slowing the bike down while the lever on the right completely stops the bike.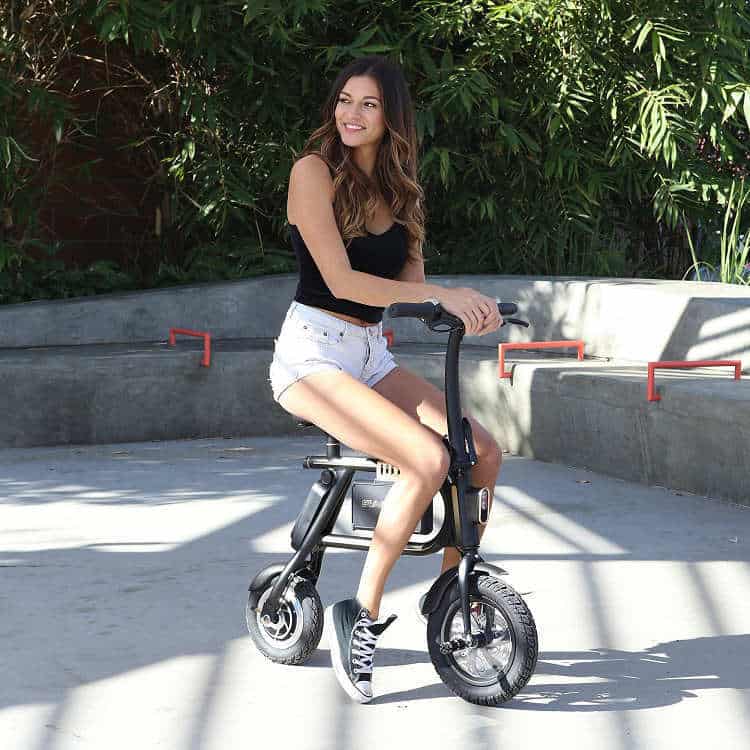 ---
​Swagtron Swagcycle E-Bike Specs
General Specs
Age Range:    Adults only
Measurements: Approx. 37.2″L x 18.9″W x 35.5″H
Weight: 28.7 lbs.
Maximum Weight Capacity: 264 lbs.
Material Composition: Aluminum, metal, rubber, and plastic
Power Source: 4.4 Ah lithium-ion battery
Charge Time: 2.5 to 4 hours
Batteries Included: Yes
Motor Type: Rear motorized wheel
On/Off Switch: Yes
Maximum Operating Range: 15 miles
Foldable Design: Yes
Maximum Speed: 15 miles per hour
Bike Style: Electric bike
Kickstand: Yes
Battery Voltage: 36 volts
Throttle: Yes
Assembly Required: Partial
Wheel Diameter: 12 inches
Package Content
1 x SwagCycleTM
1 x Charging Adapter
2 x Foot Pegs
1 x User Manual
1 x Warranty Card
---
Why get one?
Convenient and saves space
Get where you need faster!
Doesn't depreciate in value
Better for the environment
Can be a lot of fun
SWAGTRON SwagCycle E-Bike
---
Pros and Cons
Pros
Shorter charging time: this is so far the fastest charging bike I have reviewed
Foldable: the bike folds into a super-portable miniature version for ease of storage when not in use. This is a commuter's best companion.
Solid, strong frame: the frame is made of a versatile aluminum metal that can support up to 264 lbs of weight.
 Relatively light at 28.7 lbs
Cons
Doesn't offer a perfect fit for taller riders
The battery is not easily removable, which could have been a nice option to pop in a spare battery on the go.
Good for shorter distances. Although the manufactures state 10 miles, with idling time and traffic you get less and with hilly terrain it further reduces distance.
It could do better with a longer-lasting battery. 
Swagtron Swagcycle E-Bike Review
Conclusion
With the SwagCycle e-cycle, you will be able to vroom past cars stuck in traffic. The bike is truly designed for a modern commuter to help navigate through congested streets and save time as well as money while being eco-friendly.
This being said the SwagCycle could be better. Battery charge is faster than most, but the 10-mile range is a stretch. If you have a lot of hills in your commuting and are traveling more than 2.5 miles to work than another E-Bike would be a better choice. But if you are looking for something fun, then the SwagCycle delivers.
SwagCycle EB-5 Pro Folding EBike 
If you like the compact size of the SwagCycle e-cycle but find it a little too small for you, the SwagCycle EB-5 Folding Ebike might be better suited for you. It is a bit more substantial than the SwagCycle e-cycle, and it has the option to fold it to make it easier to carry on a bus or train.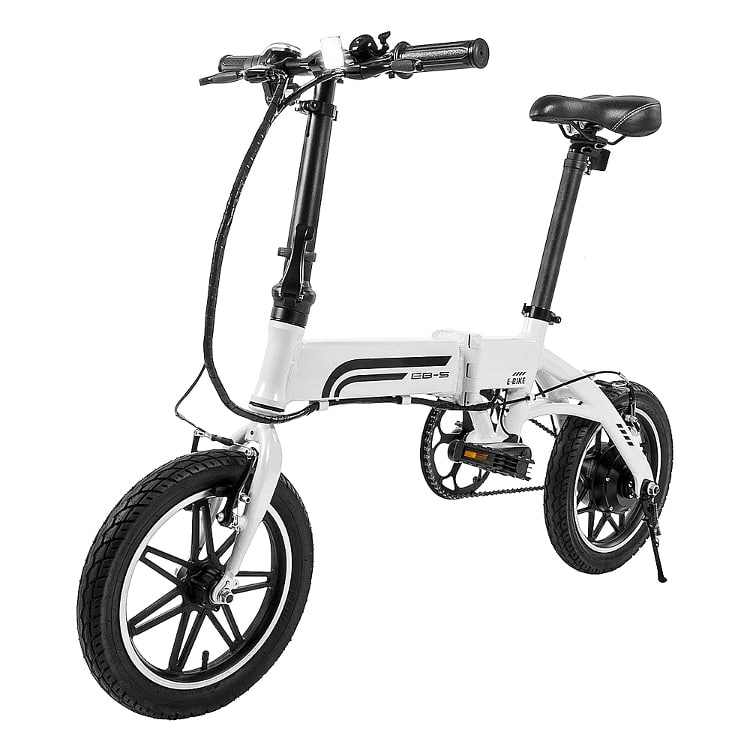 The SwagCycle EB-5 Pro Folding Ebike has a twist throttle and power assist and can go a maximum speed of 15.5 miles per hour. This model is better suited for taller people and as a has more of a real bike feel compared to the SwagCycle e-cycle model. 
Unlike the SwagCycle e-cycle the EB-5 Pro has pedals so you will never be stuck and because it is a lighter bike pedaling without power is not that difficult. 
SwagCycle EB-5 Pro Folding EBike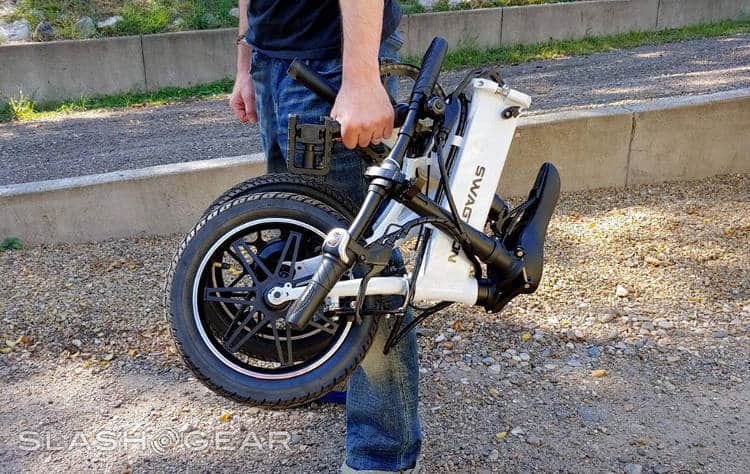 The SwagCycle EB-5 Pro weighs in at 37 lbs. This makes it a manageable weight and compact size to carry around on public transport or put in the trunk of a car. Great for apartment dwellers with minimum storage space. Can easily be moved in an elevator or carried upstairs.  
See the latest pricing at Amazon for the SwagCycle EB-5 Folding Ebike.
Other e-bike reviews