The term "Steampunk" was originally used to refer to speculative fiction, more like science fiction and fantasy historical tales. History places this vintage technology in the Victorian era, although it has morphed to represent a wide range of designs, concepts, movements, and preferences across numerous decades since the 1980s and earlier.
The term steampunk today is used to refer to a general style of art and design. There're numerous artists and engineers out there who create or modify objects to achieve a steampunk aesthetic. Some of these objects serve practical functions, while others remain pieces of art or costumes. 
If you're new to Steampunk, it's an increasingly popular subculture that has existed since the 1980s, and often has Victorian or Wild West influences. The genre focuses primarily on a fictional world where steam power was the order of the day. The Steampunk aesthetic and design is instantly recognizable when used on any gadget, often with a vintage approach to function and form —swirling gears, Neo-Victorian outfits, gaslights, and all. See my post What is Steampunk All About?
As the Steampunk genre has gains momentum, we are starting to see an increased interest in Steampunk technology. With traces of Steampunk showing up on everything from simple Steampunk clocks to raw largescale machinery. Modern Steampunk gadgets and gizmos perfectly revitalize the moody aesthetic of Victorian and Post-Victorian era.
The Steampunk movement has further been popularized by Hollywood movies like Sherlock Holmes and The League of Extraordinary Gentlemen. Making this artistic and industrial era to become a passion and lifestyle for numerous sci-fi enthusiasts. Moving forward, we expect to see more urban inventions featuring a blend of the modern and the vintage tech and form.
---
Elements of Steampunk Gadgets and Technology
If you're just getting introduced to the Steampunk technology, you might be wondering what Steampunk gadgets look like and how to identify Steampunk technology. To most enthusiasts, "Steampunk is a speculative intersection of technology and romance where the future meets the past." It all started as a literary genre before evolving into amazing urban art and vintage tech inventions.
Quite honestly, today we may have awesome tech, but a few generations back, our great-grandparents had technology that looked really awesome. Today's flat black screens and beige boxes can't hold a candle to the intricate cast iron, polished hardwood, and detailed craftsmanship of the Victorian era.
If you're looking for original steampunk gadgets and gizmos, you will notice that they have minimal to no plastic or fossil-based products. Popular materials used in these gadgets are typically all naturally and lavishly decorated. So you will find plenty of polished wood, leather, brass filigree, copper and stained glass featured dominantly.
Steampunk is fascinated with the mechanics, and as a result, brass and copper are often dominantly featured in the design. From accessories like pocket watches and buckles to mechanical gears, this color pellet features abundantly. See How To Seamlessly Add Steampunk To Your Favorite Fashion Style.
Another key element of Steampunk gadgets is the Wild West or Victorian England appearance. Walk into any random Steampunk workshop, and you will notice plenty of walnut fascia studded with dials and brass toggles, bell jars and massive wheels that have to be spun.
Movies alluding to this technology and era are characteristic of noisy and rattly, horse-drawn or steam-powered vehicles, pot-bellied stoves and crackling inglenooks, leather seats, and many the nostalgic pieces you can think of.
---
Where Do Steampunk Gadgets Come From?
Now you might be wondering, where can someone possibly find a functional gadget that was made back on the 19th century? Well, few original pieces of (now obsolete) gadgets were created back in the days and were overrun by subsequent new technology. Some of these original pieces and technologies, like the nixie tubes, are being reused to create functional vintage steampunk gadgets.
However, often, modern Steampunk gadgets are being made from scratch, based on the Victorian vintage tech or by modifying things PCs, MP3 Players, watches, keyboards, flash drives, and cellphones into unique gadgets that reflect the aesthetics of the Victorian era. 
For many gadgets, the artist, who generally doubles as the designer and engineer, often keeps the function or performance the same as the original device. They instead change the appearance of the gadget to look like it was invented in the 19th century.
Some Steampunk artists create entirely original pieces. Many of such devices tend to be ornamental, but we still have some sort of functionality based on the Steampunk style. For instance, nixie tube clocks are designed purely based on the original nixie tube technology that was invented and popularized during the Victorian era.
Coolest Functional Steampunk Gadgets
---
1. Nixie Tubes Vintage Retro Clock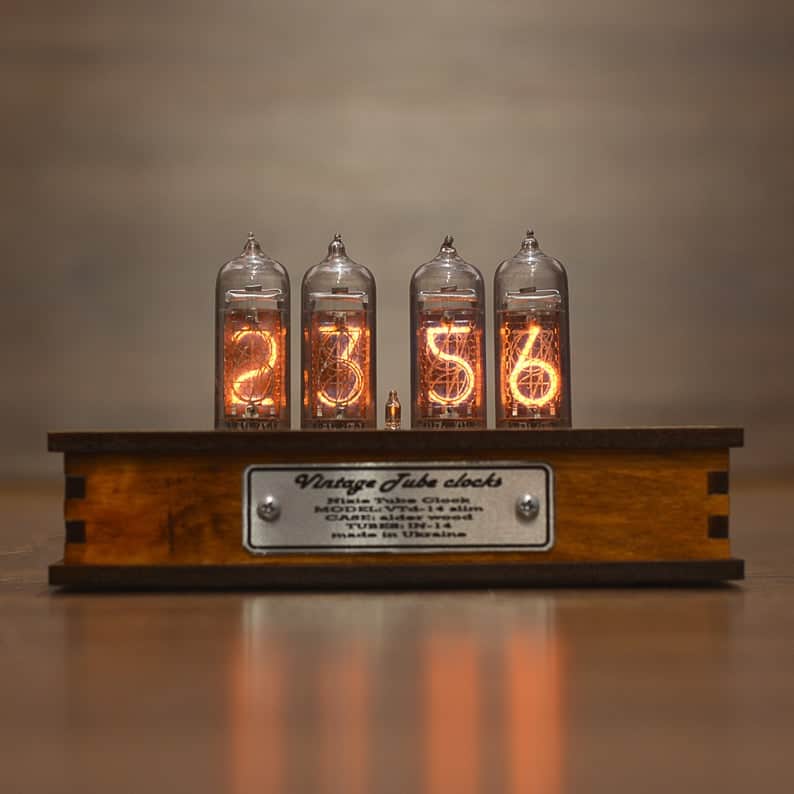 Etsy Nixie Tubes Vintage Retro Clock
The Nixie tube clock is our biggest favorite. They are made using Nixie tubes, an actual Victorian technology that brings back the good old memories.
This vintage tube clock is rooted in history. Some models are designed based on the original tubes that were manufactured in excess by the Soviet Union. Other models are based on newly manufactured nixie tubes, but the working concept behind the technology remains the same in both cases.
A typical modern nixie tube clock consists of 4-6 nixie tubes, 1-2 circuit boards and an external casing made of copper, brass, aluminum or a combination of any of these. The Steampunk clock is the perfect balance of old-school technology and futuristic sensibilities. They offer a warm, soft glow and the neutral colors blend perfectly in any environment –from your bedside table to your office table. Learn more about Nixie tube clocks.
---
2. Steampunk keyboard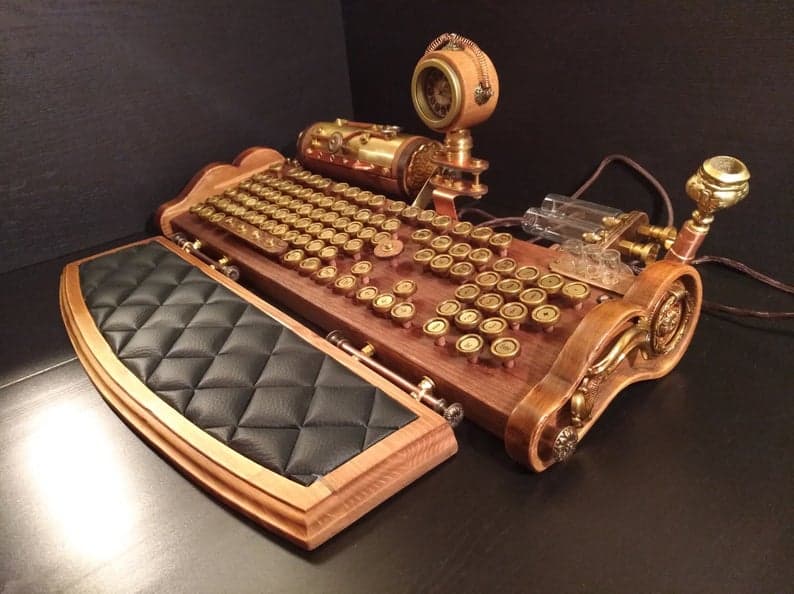 A Steampunk keyboard is one of the best vintage gadgets you can get for yourself or gift your fellow steampunk enthusiast. Steampunk keyboards are typically crafted by hand, usually by modifying existing functional keyboards that have to be carefully selected.
The artist often strips a vintage keyboard to its basics, and then puts on a perforated black felt mat or leather. Next, he glues on the caps from an antique typewriter, which makes it look like it was plugged right from the 1890s hardware store.
Popular examples we've seen would usually use materials synonymous with the Victorian era –like side frames and tripod feet all made from brass, intricately machined to depict the industrial art of the bygone era.
---
3. Steampunk USB Drive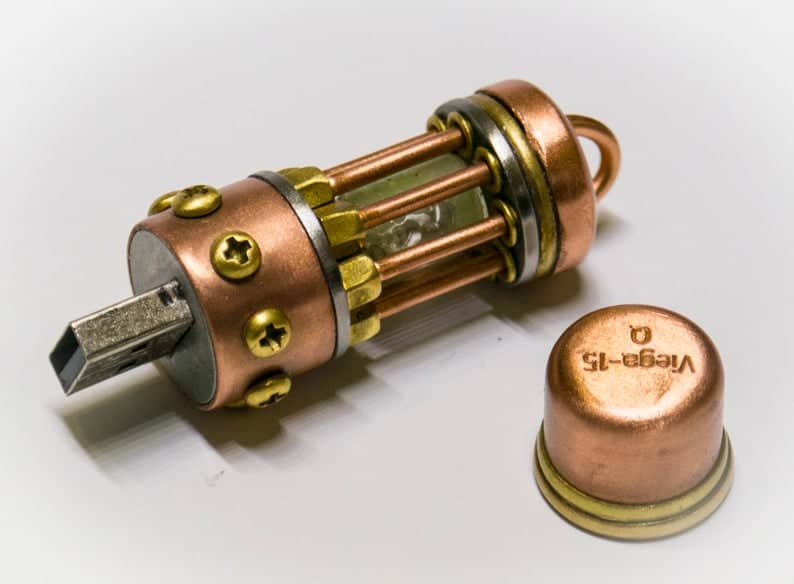 There're numerous designs out there of Steampunk USB drives, crafted by modifying the existing, functional drives. Like most other steampunk gadgets, this starts by stripping down an existing USB drive and creating entirely new housing that can take any direction in terms of materials used colors and shape.
Typically, most steampunk USB drive housings are made using brass, copper, or natural wood. You will also notice Victorian details like exposed gears, bolts and rivets. Check out this Steampunk USD drive creative gallery by Rob Smith to get a feel of what I am talking about.
---
4. USB Typewriter Conversion Kit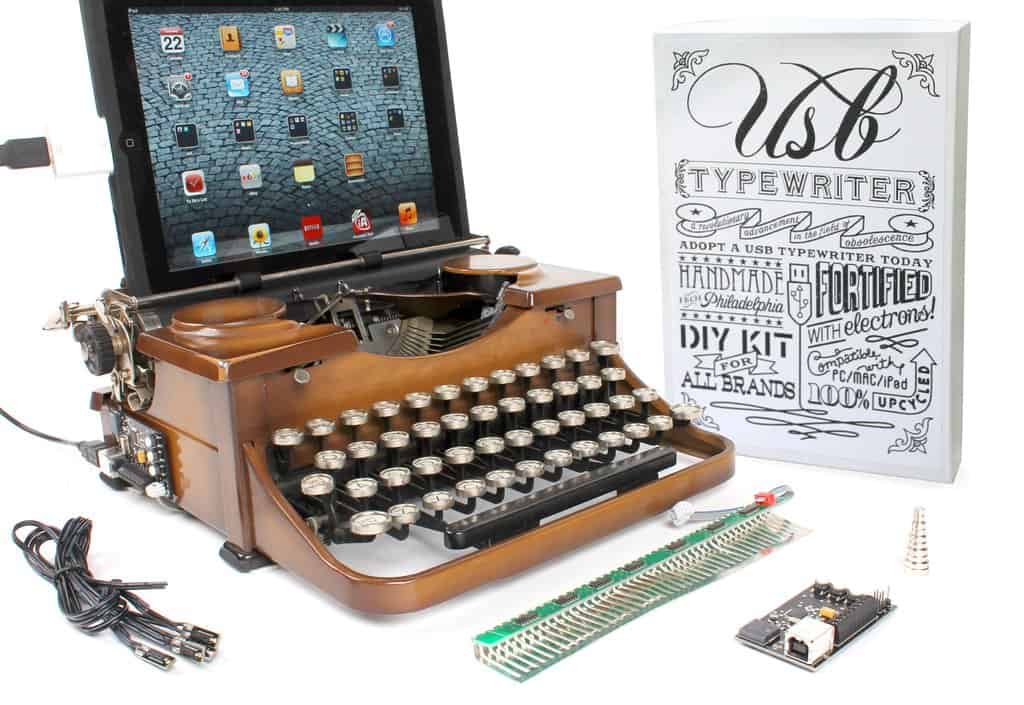 Typewriters are quite beautiful and elegant, and anytime a conversion about vintage gadgets takes place, this timeless technology must feature somewhere. Unfortunately, it has been forgotten, neglected, and lost its place in modern technology –permanently it seems. Until the USB typewriter conversion Kit came along.
The USB Typewriter conversion kit lets you transform an old mechanical typewriter into a keyboard and stand for an iPad or an android tablet –what a creative way to steampunk your modern technology. The Kit also works with Windows, Linus or Mac PC. The kits typically come customized for specific types of typewriters, from Underwood to Corona. 
---
5. Steampunk Men's Cufflinks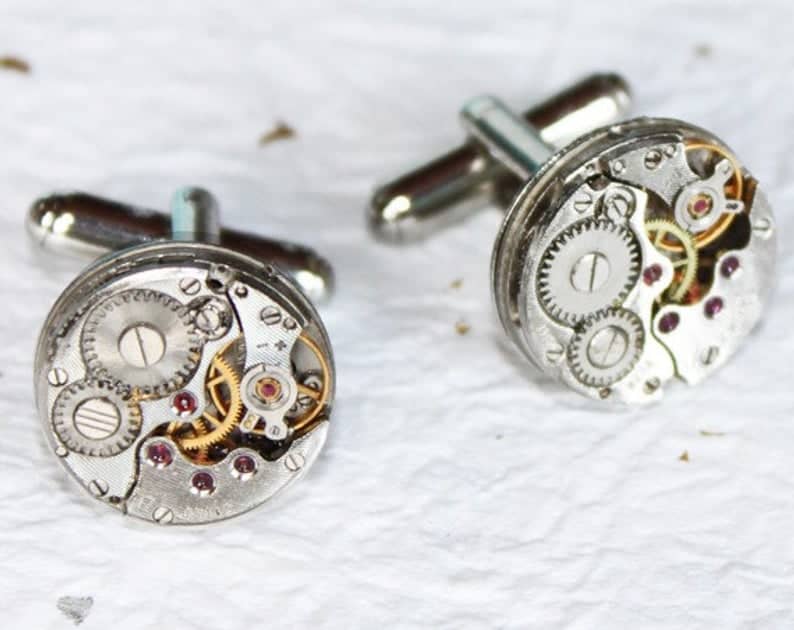 Etsy Steampunk Men's Cufflinks
This is great gadgets for when you want to add a little drama to your outfit. Steampunk cufflinks are usually intricately handcrafted and typically include gears and movements from actual wind-up watches from the early 20th century.
There might be not too many out there, but if you manage to get your hands on a pair of vintage cufflinks, you will be literally wearing vintage engineering at its best. It can also serve as a perfect gift for weddings, anniversaries, birthdays, Christmas, business partnerships, and just about any special occasion –formal or casual.
---
6. Steampunk USB Cable Extension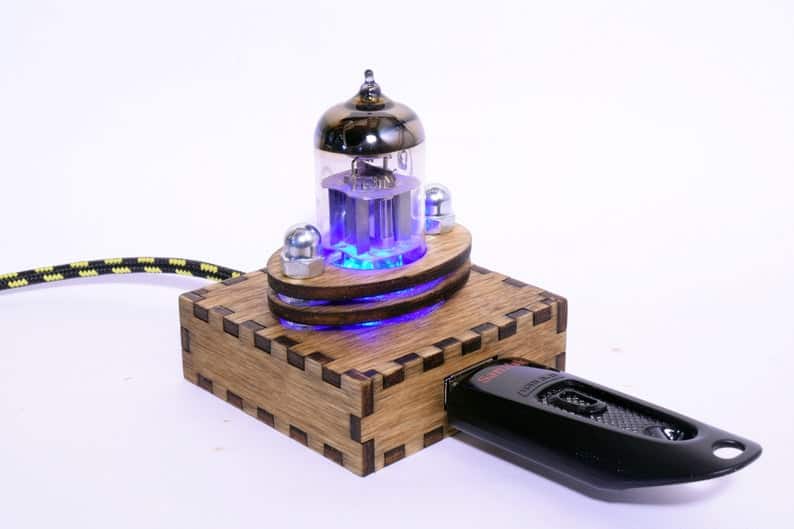 Etsy Steampunk USB Cable Extension
Like the USB drives, Steampunk USB Cable extensions come in different sizes, materials, and shapes. These extensions would typically have brass, copper, or wooden casing and base/stand. Other Steampunk elements here might include the usual gears and bolts, but you will commonly see a retro nixie tube from back in the 80s included, replacing the LED indicator.
The USB cable extension specs might differ depending on the original gadget used for this artwork. But any high-speed data transfer device that supports USB 1.0, USB 1.1, USB 2.0, and USB 3.0 would do. It also should be compatible with Windows, Linux, and Mac OS. So if you want to connect to printers, MP3 players, speakers, keyboards, mice, digital cameras, phones, and camcorders the Steampunk way, you should give this piece a try.
---
7. Steampunk Computer Mouse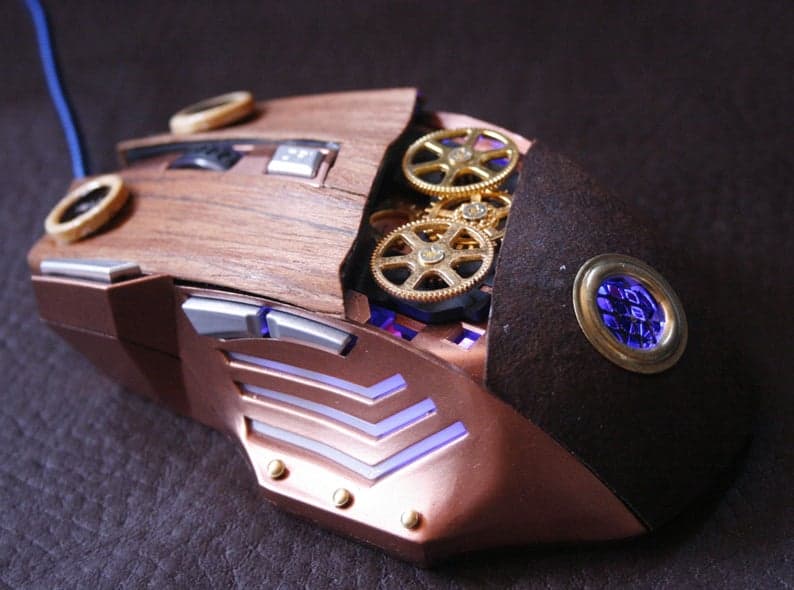 This would look great alongside your Steampunk keyboard. Again, when it gets to Steampunk mouse, imaginative creativity is limitless and can take pretty much any direction –from incorporating an actual mouse prop to going all metal.
The bottom line here is, all the plastic and shiny metal will most likely be stripped out and replaced with leather, wood, brass, and copper. And of course, depending on the artists taste, you might see lots of wheels, gears, and even pulleys, and a button or two plugged from an old typewriter.
---
8. Steampunk Lamp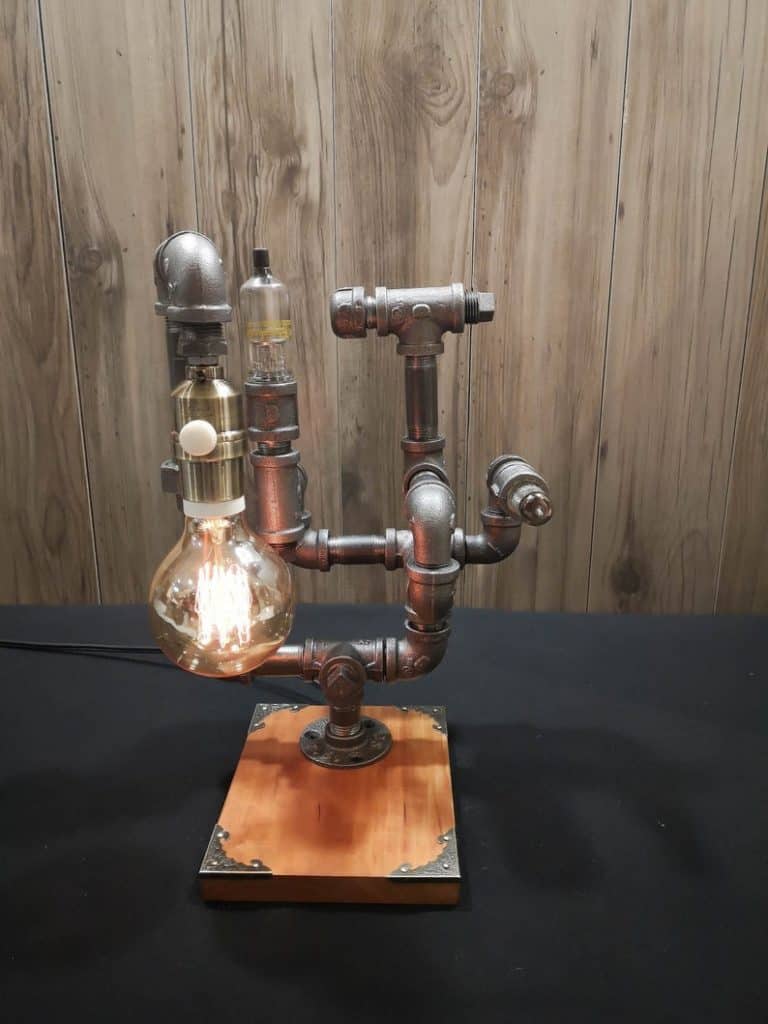 Lamps are a very popular item that can be transformed into the Steampunk style. This is an excellent project for the DIYer. You can take an old lamp and take the socket and switch out and use it to make a Steampunk Lamp.
As you can see from the example below old pipes and industrial items can be attached to create a very unique one of a kind lamp. Using wood with springs and gears can be also incorporated into a Steampunk lamp design. There are many unique lamps on Etsy if you are not up to making it yourself.
8. The Bottom Line
Steampunk gadgets are quite an interesting genre to explore. If you're considering adding a gadget or two to your lifestyle, the above quick Steampunk suggestions can make a great beginning. Creative and innovative artists are continually adding a Steampunk vibe to many more gadgets, and pretty much any gadget can be 'Steampunked.'
If you can't find what you're looking for out there, with the right skill and creativity, you can actually go ahead and modify any of your favorite devices into Steampunk gadgets.  
Other articles that will help you learn more about Steampunk