Introduction to the Ancheer Folding Electric Mountain Bike
The Ancheer Folding Electric Mountain Bike comes equipped with the latest features and technology you can find on an electric mountain bike. It comes with an advanced lithium-ion technology which means no leaky fluids, no nitrous oxide, methane, or HFCs, and no messy oil changes either.
Apart from being eco-friendly, the bike is custom built with both stamina and style. To add to that, the price is very affordable compared to most competitors with similar features and performance. Lets further examine with our ANCHEER Folding Electric Mountain Bike 26 Super Lightweight Review
The Frame
The frame is 100% premium aluminum alloy and is supported by a suspension feature that adds comfort on unpaved roads. The pedals and the seat are adjustable with padding for comfort and perfect fit. There are front and rear mechanical disc brakes and a 21-speed Shimano professional transmission system that lets you pedal lightly on steep climbs.
The foldable design is especially handy for those looking for easy storability and portability. The 26″ fat wheels are reinforced with aluminum alloy and equipped with anti-slip and wear-resistant features. This means it can take on any terrain during whatever season with ease.
The Battery
When your battery runs out, you can simply switch from e-bike mode to pedal-assist mode using the 3-speed smart button controller located on the handlebars.
LED Screen
The LED screen display indicates speed and battery status. The bike's electric system can handle both snowy and rainy weather as well as long road trips. And it can hit a maximum distance of up to 15.5 miles on throttle alone and up to 31 Miles with peddle assist activated.
Assembly
While making your purchase, you have an option to buy the fully assembled bike ready to hit the road (assembly is free), or the semi-assembled version which then you can do the final touches once it hits your door.
If you're looking for something rugged with strong wheels and a powerful driving force, you should consider this bike. But first, let's take a quick look at some of the main features.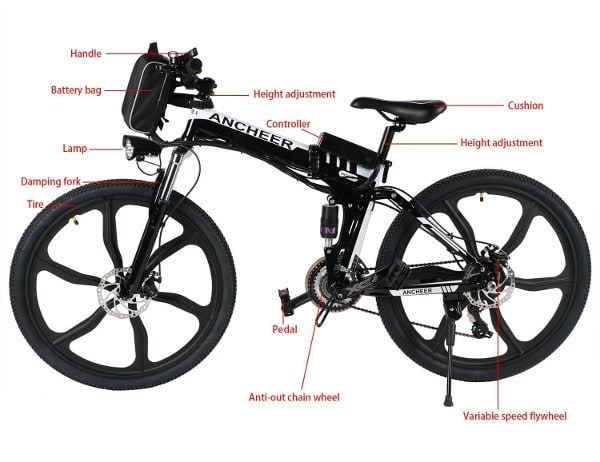 Features
Frame: The bike is developed around a lightweight and yet strong aluminum frame. The material also comes with anti-exposure and anti-rust painting. The frame can support a load of up to 150kg.
 Battery: the battery is 36V/8AH lithium and supports 25km/15.5mile (E-Bike Mode) to 50km/31mile (Assisted Mode) ridding. This is more than enough for daily commuting or spontaneous adventure. You also get a smart lithium battery charger for fast charging (charges fully within 4 to 6 hours).
Wheels: The 26-inch ultra-strong wheels are made of magnesium alloy integrated with anti-slip resistant thick tire material. This formation is what makes this bike a perfect choice whether you're headed to a rainy mountain, snowy slopes or unpaved tracks.
Brake: the bike has mechanical front and rears disc-brake design that will bring the rider maximum load to a safe stop.
Two working modes: There are the E-bike and the assisted bicycle modes. The E-bike mode purely depends on the battery and the motor while the assisted bicycle mode requires a bit of pedaling. You can enjoy any mode depending on how much pedaling you're willing to do.
Motor: 250W high-speed brushless gear motors coupled with a 21-speed Shimano professional transmission system that makes it perfect climbing.
Lightweight: the bike is built around an extremely lightweight frame which results in a 20kg vehicle.
Foldable: the bike can be easily folded into a smaller portable version for ease of storage or transportation. Fits into a car trunk or closet once folded; perfect for daily commuters.
Front Fork: High-strength carbon steel comfort shock absorption suitable for handling all sorts of terrain.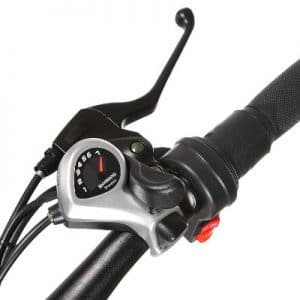 Ancheer Folding Electric Mountain Bike Specs
Brand: Ancheer
Package size: 140 x 23 x 72cm/55.2 x 9.07 x 28.37inch
Colors: Black Blue; White Blue
Frame Material: Aluminum Alloy
Maximum speed: 25km/h Mileage range: 25~50KM
Bike's weight: About 20kg
Load capacity: 150kg
Brake Style: Dual-disc-brakes
Battery weight: About 2.2kg
Number Of Speeds: 21
Handlebars: Standard
Suspension Type: dual-suspension
Charging time: 4-6 hours
Wheel Diameter: 26inch
Lithium battery: 36V 8Ah
Motor: 250W high-speed brushless gear motors
Saddle tube: Aluminum Alloy seat tube
Pedal: Aluminum Alloy Pedal
Meter: 3-speed smart meter button
Headlight: Bright LED headlamp and horn
Suitable for: Outdoor Camping, Mountain
---
Ancheer Folding Electric Mountain Bike 
Pros and Cons
Pros
High-quality bike designed with strong features to handle tough mountainous and off-road terrains.
Detailed premium features and performance including 25~50km impressive mileage range, super lightweight and strong aluminum frame, 36V/8AH lithium battery, and powerful 250W high-speed brushless gear motor.
The bike is equipped with 26-inch ultra-strong wheels and High-strength carbon steel comfort shock absorbers capable of handling off-road tough conditions and well as potholed and bumpy town roads.
Free assembly services available where you can either choose to have it shipped fully assembled or assembled at home by the company's mobile professionals.
Cons
The bike doesn't come with a comprehensive user manual, and users new to electric bikes might struggle to catch up.
Some users seem to have issues with the battery. After about a year of usage, the battery doesn't hold as much power. The company has however started offering replacement batteries.
---
Ancheer Folding Electric Mountain Bike 26 Super Lightweight Review
Conclusion
This ANCHEER Folding Electric Mountain Bike is a great piece of engineering with features and performance you can't expect at such a low price. The motor power, charging time, mileage range, and speed are comparable to some of the highly-priced premium bikes in the market.
With a super lightweight and strong aluminum frame, foldable design, manual and electric modes, and thick, ultra-strong magnesium alloy wheels, you can take this bike literally anywhere and it won't fail you.
Other e-bike reviews
For more maintenance tips see my Electric Bike Maintenance Guide to keep your E-Bike in top shape.