Let's take a look at Bose Soundlink Vs Specter AQSTIX Bluetooth Speaker. I must admit in recent years I haven't been too impressed with most inexpensive Bluetooth Wireless speakers I have heard on the market. I come from a generation of having real speakers with full sound and warm full low end and find this lacking in many inexpensive speakers today.
Smart devices were mainly designed to be used with headphones. The tin sound coming from most smart devices can be tolerable at best. Many portable speakers I have heard on the market are often just louder than an Ipad or smartphone but the sound quality is just as bad.
My son received a Bose Sound link Speaker for Christmas. I found the sound to be quite impressive for such a compact unit. Unfortunately a few weeks later it stopped working. Exchanging the product was easy and the second speaker has had no problems since. 
Fast forward a few months and the people at Specter Sound got in touch with me to try out and review a few of their new products. I told them I would do a comparison with the Bose Soundlink Wireless speakers. A David and Goliath challenge and they were very interested to hear my feedback. So they sent me their AQSTIX waterproof speaker to compare.
In this post, I will take a look at the Bose Soundlink Vs AQSTIX Bluetooth Speaker.
In our Bose Soundlink Vs Specter AQSTIX challenge, we will compare features, build quality and most important sound quality. 
---
1. The AQSTIX Waterproof Bluetooth Speaker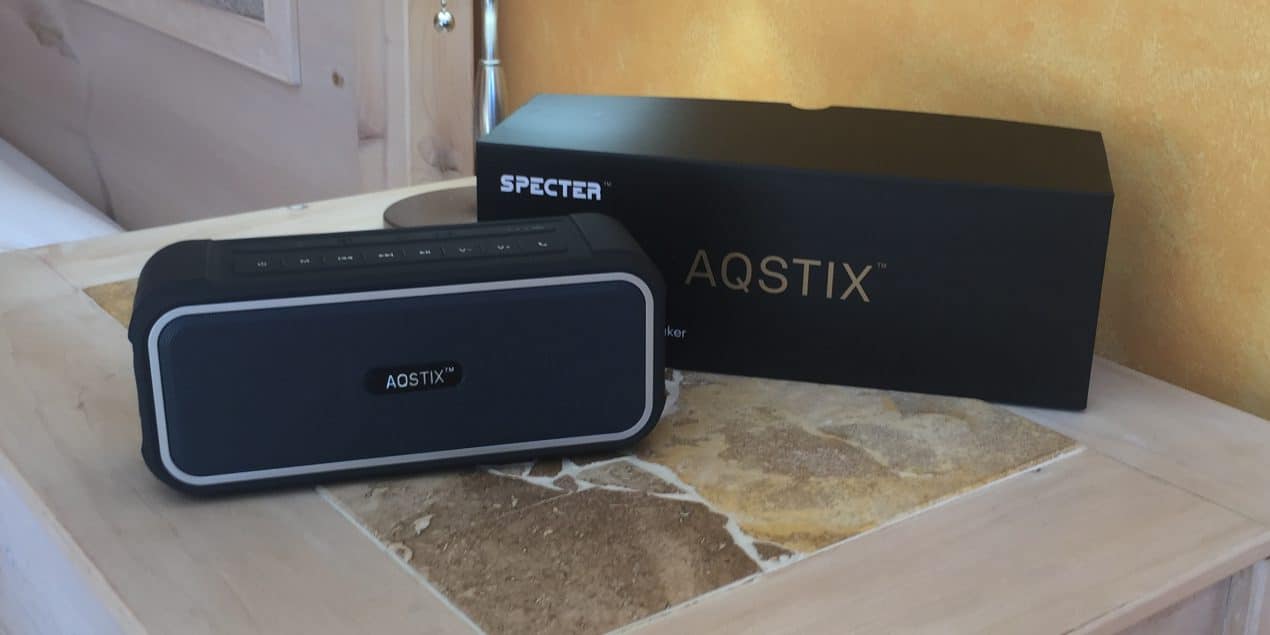 Specter AQSTIX
The AQSTIX is made by Specter a newer company with this company philosophy "Sound first perspective, always putting the quality of the music first." The AQSTIX wireless Bluetooth speaker is covered with a soft-touch rubber finish and metal. It looks and feels very durable and has a bit of weight to it.
Not just water-resistant but waterproof to work fully submerged up to three feet. Why you want to listen to music three feet underwater I am not sure? But if you get it seriously wet you don't have to worry. 
Control panel is located at the top
The control panel is located at the top with large solid-feeling buttons. I like that they added more control buttons with separate controls and minimal multi purpose buttons. This makes operating the AQSTIX very easy. Another feature I really like is the Thermal Sensor.
The AQSTIX detects heat off a human hand and will automatically activate the frosted LED Button-Backlighting. I found this very handy when you're in a dark room or down at the beach at night and you want to make any adjustments.
AQSTIX Control Panel
The first Button on the AQSTIX is the Power and pairing button. Press on and a voice says waiting for the connection and a flashing blue and red light indicate searching when connected the light turns a solid blue. Hold it for 8 seconds and it will reset the device.
The next Button is the Mode Button This button is to switch between Bluetooth, Aux, You can play a device directly plugged into the auxiliary port and MicroSD Modes.
AQSTIX Control Panel

Previous Button Press to navigate between tracks.
Play and Pause Button
Next Button Skips to next song.
Volume Increase
Volume decrease
Phone Button While in Bluetooth mode this button will activate Siri or S-Voice or answer incoming calls.
Features
It has a rechargeable lithium-ion battery. The charge is rated at 12 hrs. At 50% but some reports are of getting a longer battery life than rated. Depending on the volume you listen to your music and if using the phone charging feature. I listen often at 75% and got almost 12 hrs. Bonus!
Comes with a USB cable and Wall Charger so you have the ability to charge your speaker in a wall socket or a USB port on a computer
It also comes with a Carabiner clip. You can clip it onto a belt and head for outdoor adventures with your favorite tunes at your side. I think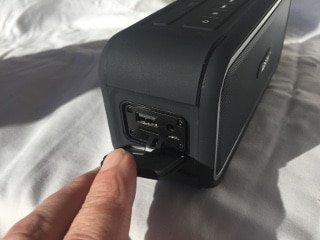 All ports on the AQSTIX are located under a rubber flap on the side of the unit.
First, you have your standard USB port, next to it is an AUX port to plug in directly to a device.
Below a Micro SD slot is provided for an additional method of playing stored media.
Last is a charge port to charge the speaker. Plug into this port and charge your phone.
Another great feature is you can charge your phone with the AQSTIX Speaker. Battery charge will be reduced if you use this option.
Portability pairing up is quick and easy press on a button and it searches pairs with your device.
Build Quality
The AQSTIX speaker is a good solid speaker it has a little weight to it but with the complete durable rubberized wrapping makes this unit very durable and water-resistant. The buttons are big and sturdy and operate nicely. The beep and an authoritative female voice click in like a big PA system. You have a feeling something good is going to come out of these speakers and they do deliver.
As for the waterproof capabilities, I think the company has rated the AQSTIX a little high on the IP waterproof rating chart as IP67. Protection against the effects of full immersion in water up to three feet for 30 minutes
A number of people have done this test and bubbles start coming out of the unit and if you leave it for more than 30 seconds the unit may fail to function and be permanently damaged. The manufacturer said it was designed if someone was boating and dropped it in the water it would not be damaged if retrieved quickly.
I think the rating should be IP65
Dust-tight entering of dust for two to eight hours.
Water from heavy seas or water projecting in powerful jets shall not enter the enclosure in harmful quantities.
See my post What really is: Water Resistant, Waterproof and IPX Ratings? to better understand IPX ratings.
I think for some this may be a deal-breaker. But I don't see the need to submerge your speaker completely underwater. I think the overall sound quality and volume make up for this shortcoming.
If you are backpacking and weight is a concern than the UE Roll 2 would probably be a better option, as it is lighter weight, fully waterproof and is a more convenient design to strap on your waist or backpack when hitting the trails.
They are a little less expensive than the AQSTIX and you won't get the same sound quality and volume so it would depend on what your particles needs are.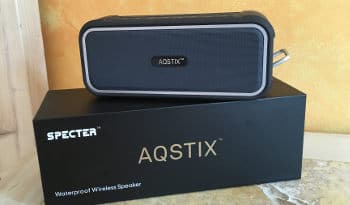 How does it Sound?
What strikes you when you first listen to the AQSTIX is the sound covers all the sound frequencies with a nice crisp high end and plenty of bass. The sound and volume of the AQSTIX is incredible for such a small unit.
I tested the speaker indoors and outdoors and found, unlike some speakers the AQSTIX does not lose its presence and volume in an open environment. A real party machine!
I found you can blast the speakers at top volume and the AQSTIX performed great. Although some compressed over-processed music had a tendency to get a little too much high end.
I found the best sound quality was to set it at a notch down from full.
The sound covers all the sound frequencies with a nice crisp high end that I personally like. I have seen their products go on sale for as much as 70% off so check Specter sound for the latest deals. 
---
AQSTIX By Specter
Pros and Cons
Pros
Good volume for size even outside
Charges other devices
Great clear sound 
Support open-source firmware
Big responsive control buttons
Very durable and water-resistant
Cons
A very crisp and clear sound that may not be for everyone
May require more bass for some listeners 
Little on the bulky side
The waterproof rating is a little high should be rated as IP65
---
Conclusion
If you are looking for a wireless waterproof speaker for $129.00 that is really comparable to more expensive speakers. The AQSTIX was made for real outdoor use. Built very ruggedly with a complete rubber covering and steel.
Has great volume and sound quality for such a small unit. The sound is very clear and crisp with a good bass that is not overhyped. Can charge your phone in a pinch. The AQSTIX is truly a waterproof speaker that is ideal for outdoor and beach use. 
A little on the heavy side if you are carrying it for long distances and weight is a concern. 
I personally like the sound but for some people, it may not have enough bass. 
You don't have to take it outdoors to enjoy this speaker. It's a great portable speaker to have around the house. Take it outside by the pool. Forget and leave it in the rain and have no worries. Although not as waterproof as rated. I think it is plenty waterproof for most applications.
I think for a lot of people that listen to a broad range of music and appreciate good clear sound will highly enjoy this speaker. This speaker can be a big improvement to that radio in the garage. For $129.99, I  think this speaker is top in class for this price range. But keep an eye they do go on sale quite often.  See our Specter ELUX headphone review 
The Specter AQSTIX is now selling for $99.95 Shop Now
The Specter Promise
If you are concerned Specter is a new company. They stand behind their product. The company offers "The Specter Promise" Try their products risk-free for 14 days and if you don't like them send them back. Lifetime warranty they stand behind their product 100%. The AQSTIX $129.99 Price includes free 2-3 day Express Shipping on all orders.
---
2. Look at the Bose Soundlink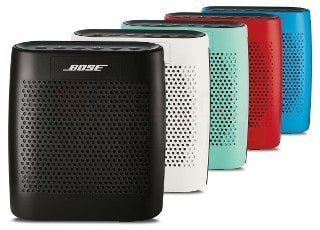 Now let's look at Bose Soundlink
Bose Soundlink speaker is covered with a soft plastic with a rubber control panel on the top. Comes in 5 different colors, Polar white, aquatic blue, soft black, and Coral Red.
Control panel on top has all the functions to operate the Bose Soundlink speaker is water-resistant.
First buttons are the power button light will appear above the button and then disappear to conserve energy. If a green light appears the battery is fully charged if the light is yellow time to look for a charge if the light is red and blinking charge it immediately.
Next Button is the Ready to Pair Button press this and it will search for a device to pair with. A light above the button will blink blue when it is ready to pair, white when making a connection and solid white when connected to a device.
Aux Button, press this button when you want to play a device directly plugged into the auxiliary port on the back of the speaker.
Play Button and skip button. Press once and it will play press twice and it will skip forward press three times and it will skip back.
And the next two are power up and down.
I find the buttons not always responsive and had to press the button twice.
Features of Bose Soundlink Color
Rechargeable lithium-ion Battery
Comes with Wall Charger and USB Cable. Giving you the option to charge the Bose Speakers in a power outlet or use the USB port on your computer.
On the Back is a power port and USB port. You can plug your speaker into a device that does not support Blue Tooth Capabilities or if you prefer a wired connection. You probably are interested in the Bose Sound link for its Bluetooth capabilities and its portability.
Pairing with any device is easy. Power on the speaker, go to your Bluetooth setting on your smart device. Find Bose on the list, Select and you are now paired with the Bose Speaker. You cannot pair two speakers to play at the same time, unlike competitors models.
You can pair the speaker with up to two devices at the same time. If you have a few devices you use regularly Example your smartphone and your tablet, you can easily switch between the two without any pairing setup required. It will also remember the last Eight devices paired with the Bose Soundlink speaker.  If you do have to pair a new device pairing is very fast.
The Bose Sound Link wireless speaker has a 30-foot range. Can be used throughout most homes. However, depending on the wall material you may have a few dead spots.
Battery life is 8 hrs. but I found if you keep the volume level at around 50% to 60% volume level. We found the battery would last about 12 hrs. But I imagine many users will be using it at close to full volume most of the time. But 8 Hrs. is still pretty awesome for a portable speaker.
Build Quality 
The Bose Soundlink has evolved over the years internally and externally. Some of the exterior improvements have been a switch from a hard plastic covering to a soft rubber covering. Making the unit have a soft durable feel that is rated as IP65.
It can take some direct splashing and dirt but is not rated for underwater use. Again not sure why you need music underwater.
The buttons on top as mentioned don't operate smoothly for my big fingers and I was often left repressing the button. Not sure if it worked.
The first unit my son received for Christmas died a few weeks later. It was easily exchanged as it was in the 30-day return policy. Not sure if this has happened more often and they had a bad batch circulating but this could be a concern.
The automatic shut off does not always work properly. It will sit and announce every 5 minutes it is looking for "Looking for connection" and will continue this for some time. Other units on the market shut off after ten minutes of inactivity. This is an important factor if you want to get the most out of your battery life.
It's small and portable but I feel it would fit in an indoor environment better as the sound loses its presence in open spaces, but has a nice warm sound that is surprisingly good for the size. At the same time if you need some good portable tunes with a package that is durable enough to take outside without worrying about getting it wet or dirty the Bose Soundlinks can deliver this too.
The Bose Soundlinks are a little lighter than the AQSTIX and the Bose have their signature design that is more suitable for an office or home setting than in the outdoors. Other wireless speaker competitors come with a Carabiner clip, to clip to your waist or backpack for greater portability, whereas the design of the Bose Soundlink is not as good for this type of application. Nothing stopping you from throwing into your pack to listen to by the campfire.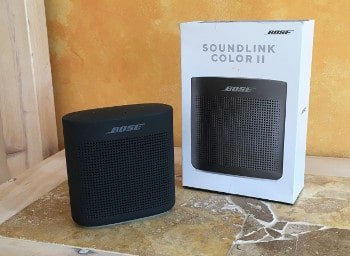 How does it sound?
The Bose Soundlink wireless speaker does have a great sound quality for such a small portable speaker. It has a deep base and good volume. Loudness and clarity are very impressive for such a compact unit.
Placement of the Bose Speaker is better to have it away from the wall. If you place it up against the wall the sounds will be more muffled. So my advice is to place it in an open area for the best quality sound.
The Bose Soundlink colors have a free App available, designed to help to make connecting and switching devices easier.
Overall a great portable wireless speaker for the money.
One concern is, some units mysteriously stop working, from my own personal experience and seeing this reported in a number of customer reviews.
Battery Power Tip: Turn off Bluetooth option on your smart device when not in use. This will help with battery life on your smart device.
---
Bose Soundlinks Colors
Pros and Cons
Pros
Great sound quality for size
Looks great with Bose signature design
Very durable and water-resistant
Easy pairing with other devices
Cons
Buttons don't operate smoothly still need work
Not designed to be a strap on to something for mobile enjoyment
No phone charging capabilities
---
Conclusion
The most inexpensive speaker in the Bose line. The Bose Soundlink Color has made a number of physical improvements since their last model, adding a full rubber exterior and improve buttons with a click feel. It is an improvement from their older model but I still found the response of the buttons did not work that well. 
 The Bose Soundlink Color is a great sounding speaker in this price range but comes up a little short on features that other competitors offer. Such as a charge port, handy to charge a phone in a pinch. Pairing with another speaker and longer battery life. Although battery life exceeded rating when keeping the volume at around 50%
There have been issues with the Bose Soundlink to mysteriously stop working. I think they may be having some battery issues and the units go dead. I experienced this myself.  We exchanged the unit and have had no problems with the second unit.
An ideal speaker for personal enjoyment in a small room. It has even a sound frequency with good bass and midrange, that works well with a variety of music.  Amazon Price
---
3.David and Goliath showdown Bose Soundlink Vs AQSTIX Bluetooth Speaker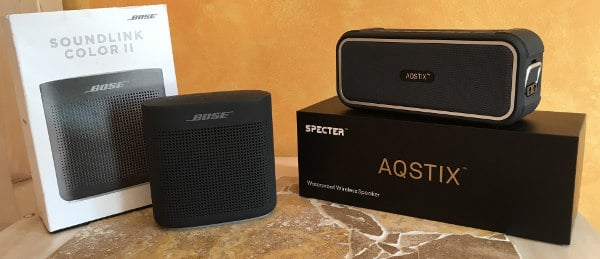 So now lets put the AQSTIX up against the Bose Soundlink.
The AQSTIX weights are a little more than the Bose Soundlink.
The Bose and the AQSTIX are water resistant they can get wet without worries. 
The AQSTIX has the added ability to charge a phone or smart device. Whereas the Bose Soundlink does not
Both can answer phones hands-free and both work quite well.
Bose Sound link Vs. AQSTIX Bluetooth Speaker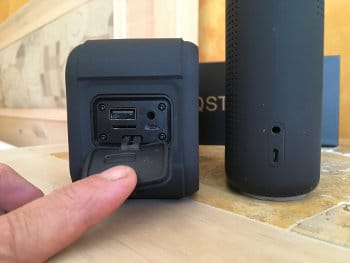 Side panel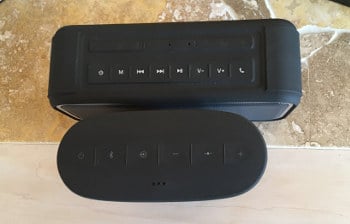 Top Control Buttons
Sound comparison
Playing music at different volumes and in different environments and switching between speakers.
For our test, we set both units beside each other with the volume set one notch below the full volume and again at half volume. We tried them both indoors and outdoors.
The volume between the two speakers, The AQSTIX comes out the winner with it duel 10-watt power compared to the Bose 5 watts. The AQSTIX has more presences and punch indoors and outdoors whereas the Bose Soundlink Color seems to lose its volume outdoors in an open environment.
The Bose Soundlink Color speakers are good for a medium to small size room. Good for personal enjoyment. Whereas the AQSTIX has that little extra volume and expansive sound that outperforms the Bose Soundlinks in an open environment. 
The Bose has a nice warm sound but when you switch to the AQSTIX it was like a filter had been turned off. The cymbals and guitar sounded much more live. The high-end sounds ring out more. But sometimes the high end was a bit much for some over-processed music.
Half volume test. They both performed well but again the AQSTIX has more of a big speaker sound.
---
Bose Sound link Vs. AQSTIX Blue Tooth Speaker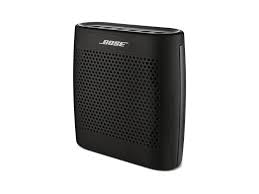 Bose Sound Link
5W speaker
Price $129.95
Hands-free calling with an intergraded microphone.
Water-resistant 
8 Hr Battery Life Higher at 50%
Built-in Phone functionality allows you to answer or decline incoming calls
Wireless connectivity up to 30 ft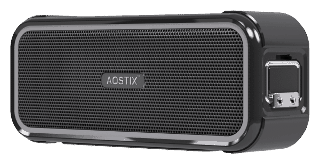 AQSTIX By Specter
10W speaker Dual independent drivers
Price $129.95 Now only $49.95
Hands-free calling with an intergraded microphone.
Water-resistant and rugged
12 Hr battery life at 50%
Built-in phone functionality allows you to answer or decline incoming calls
Output Charger
Micro SD slot
Maxxbass Technology
Siri and Google Assist compatible.
Wireless connectivity up to 50 ft
On the Go Charging for all your smart devices.
Conclusion:
After evaluating the two speakers there is no clear winner. Your final choice will be how you plan to use the speaker and your individual sound preference.
Both units have a rubber surface control panel located on the top. I found I like the AQSTIX controls much better than the Bose. The AQSTIXs buttons are very responsive when you press them and with the added thermal sensor to light up controls when your hand comes near.
Great for in the dark. Although Bose has made some improvements from earlier models. I find with the new buttons you are not sure after pressing a button. Pressing the off button sometimes does not turn it off.
The Bose speaker is great if you mostly intend to use your speaker indoors and occasionally outdoors. If you like a good sounding speaker with not too much high end and good bass. The Bose Soundlink colors would be a good choice for you.
If you plan to mainly use your speaker outdoors and need more volume and durability, the AQSTIX is the better choice. This is what the AQSTIX was specifically designed for waterproof capabilities are about the same, but I think the AQSTIX is a little more ruggedly designed.
I think the AQSTIX is a better choice if you are planning to use it a lot outdoors in all kinds of weather and need some good volume but yet appreciate a good sounding speaker. With the addition, 10% off code bring the AQSTIX in cheaper than the Bose with more feature and durability.
The AQSTIX with its heavier weight may not be a good choice for backpacking or where weight is a concern. The UE Roll 2 could be a better choice.  See our complete Top 10 Latest Speaker For 2017
For more features, durability and big speaker sound the AQSTIX by Specter is the winner and with the 10% discount, it comes in costing less than the Bose Soundlink Color.
See other articles on wireless speakers and headphones