You've probably heard about smart home automation and how it makes life easy and convenient. But it also might have gotten you wondering, do smart homes really save energy? Or do they, in fact, gallop more power than the traditional simple homes? Saving energy is a commonly touted benefit of automating your home with smart devices, but just how accurate is this?
Do Smart Homes Really Save Energy? Yes, a smart house will save you money. It will reduce the wasteful use of electricity when not needed. Turn down the heat when not required and add safety and security that can be controlled and monitored anywhere in the world from your smartphone.
Sustainable living and smart home movements have made strides in the last decade, and as time goes, they have somehow forged a beneficial partnership. Indeed, smart home automation devices can save you energy; however, not all of them will.
Remember, smart homes range from homes with basic automation such as automated smart garage doors and smart doorbells to more sophisticated homes with motion sensors, facial recognition, and remotely monitored surveillance systems.
Differing levels of, as well as the type of smart devices connected, will determine how power efficient your smart home is. Some smart home devices such as the always-on surveillance cameras and smart speakers add to your power load, instead of subtracting.
Yet others, such as the AI-powered water and energy monitoring systems, as well as smart thermostats lean towards saving you some energy, and money. This also means that you can make deliberate efforts of favouring energy-saving smart home automation devices in your journey to automate your home.
Do Smart Homes Really Save Energy?
Whichever way you look at, smart homes are here to stay. Other than their actual value, convenience and the prospects of saving energy, aggressive marketing has turned the market for smart homes into a multi-million-dollar niche in Canada.According to Statista, revenue in the Smart Home market in Canada is expected to hit US$1,211m by the end of 2019.
With an estimated annual growth rate of 15.9%, the smart home market volume is expected to hit US$2,186m by 2023. The Canadian household penetration of smart home devices is currently at 18.8%, and this is expected to grow to 34.0% by 2023.
​The world leader in smart device usage is the USA. A statista survey found that in 2017 20.4% of homes in the US, already have smart devices. In the last two years that has gone up to 32%. By 2023 it is expected that over 50% of homes in the USA will have smart device incorporated in their homes.
Clearly, the smart home industry is not showing any signs of slowing down, and you might as well just jump in now. But while at it, let's take a quick look at how smart home devices can save you on energy costs, and how to go about it.
How Smart Home Automation Can Help You Save Energy
As you probably already know, smart home automation devices include things like refrigerators, air conditioners, thermostats, smart lights and other smart devices that can be connected to a Wi-Fi.
Most smart home automation systems allow you to monitor and control devices remotely using apps or voice commands. Smart home automation is not cheap –but as earlier mentioned, it all depends on the level of automation.
While simple automation can cost a few hundred dollars, complete, sophisticated smart homes can cost thousands of dollars. So considering this, it will be probably years before you break even on your investment.
Keeping in mind their high initial capital requirement, complete home automation systems are probably best suited for homeowners and landlords. Most tenants acquire smart home devices for security and aesthetic purposes, not necessarily to reduce costs.
For both landlords, tenants, and homeowners looking specifically to save some money while making their homes smart, here are the smart home devices you should focus on;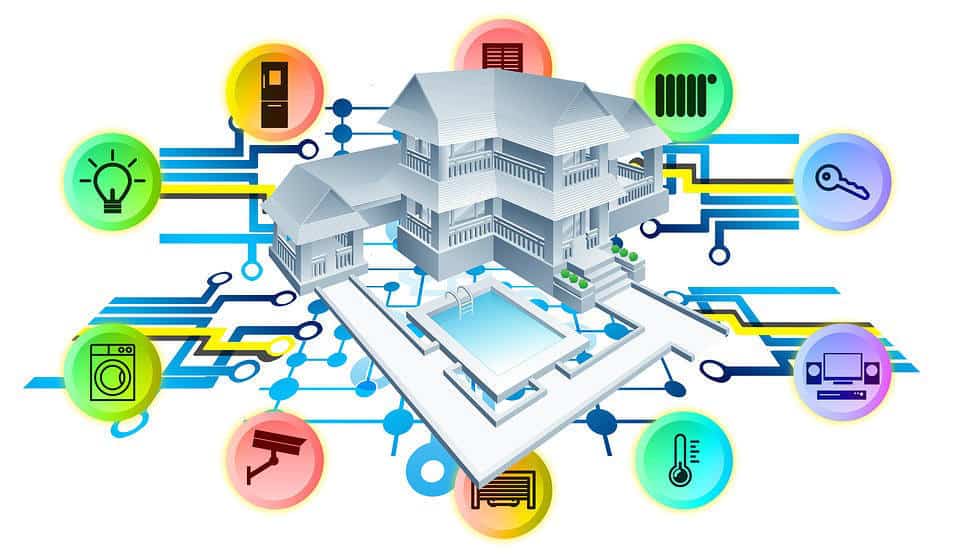 1. Smart Thermostats​
Cooling and heating your home takes the biggest chunk of your monthly energy consumption –more than 50% for most households. Using a smart thermostat, you can program the heating and cooling schedule based on whether or not someone will be at home.
Some smart learning thermostats will turn low or off the heating or cooling when someone is not around and automatically heat up the house when you get back home.
Programmable smart thermostats are perhaps the most aggressive energy-saving smart home devices. Nest, one of the leading thermostat brands, conducted a survey to see what energy bills for users were like, before and after installing a Nest Smart Thermostat. Users saved an average of 13% on the cooling and heating costs.
Another internal analysis conducted by Ecobee, leading smart thermostat brand revealed that Ecobee Smart thermostat users saved about 23% on their cooling and heating using their Ecobee3 Smart Thermostat. In fact, this is actually one of their biggest selling points.
2. Smart Lighting​
Smart lighting is another big reason homeowners automate their homes. For many standard homes, lighting comes in second after heating and cooling when it comes to power consumption.
Traditionally, you're told to always turn off the lights in rooms you're not using and interchange your bulbs with energy saving bulbs. But how about you try smart bulbs that have inherent energy-saving capabilities, and also work hard in many ways to lower your energy cost?
Smart lighting systems can turn off, dim or change the colour of your bulbs for ambience and maximum energy savings. Installing smart led bulbs instead of the regular fluorescent and incandescent bulbs can knock a few tens of dollars off your energy bill annually.
Exterior smart bulbs hooked to motion sensors will only turn on when motion is detected –like when you pull into your driveway, or when a would-be burglar tries to sneak by.
They don't have to be turned on the whole night. Smart lights such as Philips Hue bulbs can be hooked to your home automation system and controlled/monitored remotely. So you can actually check whether or not you left your lights on from your app.
If you find Philips Hue bulbs a little overpriced, you can always try out cheaper but equally effective alternatives from LIFX, Eufy Lumos or C by GE.
3. Smart plugs and switches
Standby electronics such as cable boxes, video game consoles, automatic coffee makers and DVD players are sometimes loosely grouped as "energy vampires". And that is exactly what they do they secretly suck in energy when plugged in. Sometimes this happens even when the plug is switched off. This energy waste has been estimated to contribute to about 16% of your energy bill.
Installing smart switches, plugs and strips allow you to monitor and restrict this energy drain. Strips come complete with motion sensors that shut down the electronic system when they detect that you've left the house.
Some smart switches and plugs allow you to monitor and turn on and off electronics remotely from your app. They can also notify you if you left things like the fan running and give you an option to turn it off.
So if you're prone to leaving the speakers, fans, lights, humidifiers and more running while you're away, that is a huge waste of electricity. Take advantages of smart plugs and switches to minimise power consumption and keep your house safe as well. Here are some Compatible Accessories For A Smart Home.
Recommended smart plugs are the iHome ISP6X Wi-FI Smart Plug and the Wemo Mini Smart Plug  both are smaller versatile, available at Amazon.
4. Smart Pool Pumps
The pool pump is another silent power guzzler in your home you can always find a way of running it less through smart automation. Instead of running the pump for 6-8 hours per day, you can install a smart timer to control the pump's cycles and only run the pump for about 3 hours a day. This can potentially save you up to 60% of energy.
5. Smart Water Systems
Apart from saving your energy, putting in a little extra effort will see you save on water bills as well. Installing touchless faucets, and smart shower heads are a great way to cut indoor water consumption. But a large percentage of water wastage actually happens outdoors.
According to the Environmental Protection Agency, close to one-third of your water consumption is outdoors, and about 50% of it is wasted.You can significantly cut down on exterior water wastage by installing smart irrigation systems.
Smart sprinklers such as Rachio 3 Wifi Smart Lawn Sprinkler Available at Amazon that allows you to run your sprinklers according to your local weather. So if it rains, the sprinkler automatically suspends irrigation. You can also program schedules and monitor water usage.
As you add more gadgets to your smart home automation system you will need a smart hub to communicate with all the different smart devices in your network. Your next question probably is, What is a smart home hub and how do you choose one?
Saving Money & Energy Is Great, But it Is not the Main Point
While saving money and energy is a great advantage if it comes along home automation, it's fair to mention that not all smart home automation devices are created to save you energy and money.
While smart thermostats, smart lights, and remote monitoring devices can save you money through reducing power consumption, other smart home devices such as smart speakers and smart doorbells exist primarily for your entertainment and convenience.
After all, most smart home devices aren't expensive, and you can start making your homes smart by installing simple things like smart bulbs, smart door locks, and smart speakers. For some smart devices, it may take more than one year before you recoup their costs, but perhaps you should think of that as a bonus.
Smart home automation devices are primarily about safety, convenience, and peace of mind. If a smart home security system can prevent home invasion and potentially save your life, I don't think you can put a price on that, can you?
More about smart homes