The Hover-1 is a lightweight, portable folding electric scooter meant to add a little bit of fun in your daily transportation. Read our Hover-1 Folding Electric Scooter Review and see if this fun little commuter is for you.
A quick glance may trick you into thinking this is a toy for kids, but it's not. The scooter is designed for use by adults for fun and transportation. In fact, it comes with a sticker labeled "Adults Only", although teens above the age of 14 with some riding experience will feel at home with it. 
The folding can be achieved in just a few seconds to save you both time and space when not in use. One of my favorite facts about this scooter is that it takes less time to charge compared to conventional electric bikes. While most electric bikes require 8-10 hours to recharge fully, this scooter takes just about 3–5 to fully recharge. So you don't have to wait for 10 hours just to have fun for a couple of hours.
The scooter bike comes with a number of impressive features including dual disc brakes, spring-loaded kickstand, wide 10-inch pneumatic tires and a padded seat that offers a pleasant and comfortable riding experience. The metal frame makes the bike strong but lightweight enough so you can easily carry it using one hand.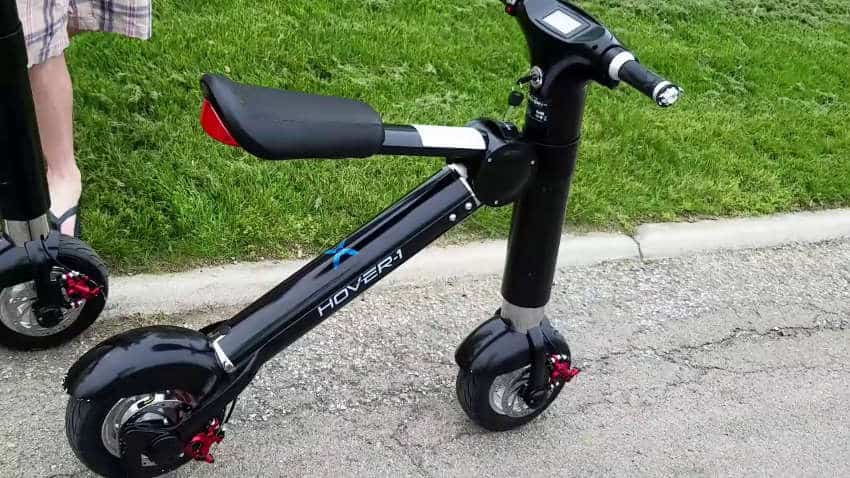 This is a purely electric scooter, no peddling. So I suggest that you learn a few operational essentials first before taking off. For instance, you need to make sure the scooter is unfolded all the way and clicks in place before you hit the road.
It has a built-in safety feature that won't allow you to ride it before switching on headlights where necessary e.g. when it's cloudy, dark or rainy outside. Additionally, check that the footrests are fully extended before riding. 
Once everything clicks in place, insert and turn the key into the on position. And when you hit the road, the scooter functions much like a motorcycle. You can control the speed using the built-in throttle on the right handlebar.
There is a small LCD display screen that indicates your speed, odometer, brakes status, temperature, and battery level. If you need to stop, simply release the throttle and gradually begin to pump the brakes.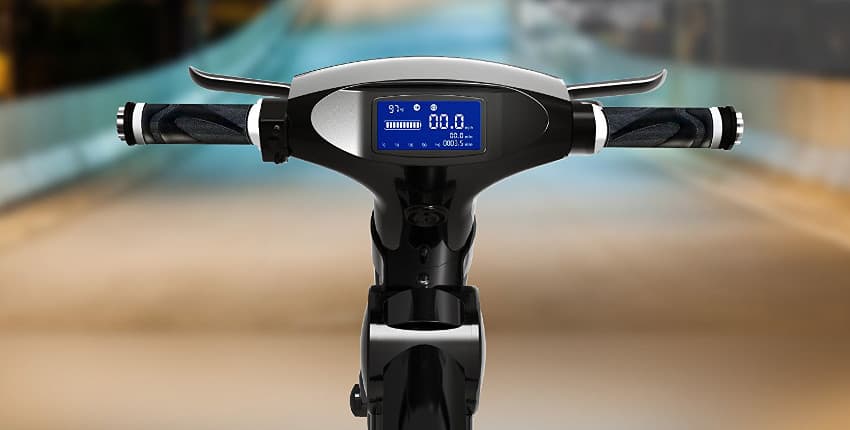 Features
Brakes: the dual disc brakes are cable operated and effectively designed to bring the scooter to an instant stop whenever you pump on them.
Battery: The removable lithium-ion battery fully charges in as little as 3 hours and can last up to 3 hours or 20 miles before recharging. This is exemplary performance compared to most of its immediate competitors.
Motor: The Hover-1 runs on a powerful 250W brushless hub motor which allows you to travel up to 20 mph on the level, smooth surfaces.   The scooter can travel up slight inclines, but the speed will lower and the battery will discharge faster if traveling on hills.
Tires: 10-inch pneumatic tires designed for smoother surfaces but can handle a bit of rough terrain. Coupled with the padded seat, the two offer a comfortable and pleasant riding experience.
LCD display: displays digital speedometer/odometer/trip-meter/headlight, temperature and battery life indicator and more.
Strong: Can hold up to a maximum load of 285lbs with 14+ adults only suggested age rating.
Safety: the scooter has a number of safety features including a Unique Key based system to prevent unauthorized use or theft. There is also Brake-activated power cut-off when both brakes and throttle are mistakenly applied.  
Minimum maintenance: Completely resettable fuses and circuits have been utilized on the overall system ensuring maintenance is kept to a minimum.
Headlights & Horns: should you find yourself in darkness or a tight spot, these two will make your life a little less frustrating.
Quiet operation: there are no squeaks or clacks on this scooter. Everything is designed tight and sturdy and even the motor is relatively quiet compared to most exclusively electric scooters and bikes.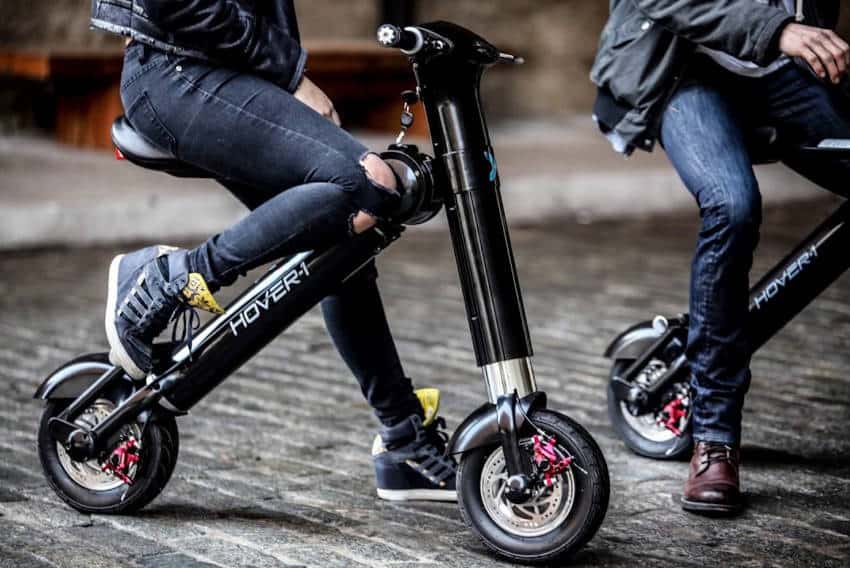 Specs For Hover-1 Folding Electric Scooter
Max Distance: Up to 20 miles
Max Speed: Up to 20 mph
Max Weight: Up to 285 lbs
Max Incline: Up to 15°
Motor Power: 250 Watt
Motor Type: Brushless hub motor
Tire Size: 10 in.
Standard Voltage: 36V
Brake Type: Disc Brake
Battery Type: Cylindrical lithium-ion battery
Charge Time: Up to 6.5 hours
Product Size (unfolded): 42.24" H x 375" L x 21.2" D
Product Size (folded): 45" H x 21.3" L x 11" D
Battery Capacity:10.4 Ah
Product Net Weight 50.7 lbs
---
Hover-1 Folding Electric Scooter
Pros and Cons
Pros
Foldable: the Hover-1is foldable and compact for portability. It can easily fit in a closet or the trunk of a car. You can even tack it nicely under your bed, considering its relatively small build.
Lightweight and strong: the scooter weighs just 50 pounds, which is pretty light compared to the average weight of most scooters. It has a strong and durable metal frame that will last through many years of fun and transportation.
Comfortable: It has comfort features such as shock absorbers, 10-inch rubber tires padded seats and footrests to give you awesome riding experience. This is a big plus. This is a common complaint on many bikes and scooters is that the seat is not comfortable 
Longer lasting battery: The lithium-ion battery takes just about 3 to 5 hours to charge and will give you up to 3 hours of fun and riding.  
The Hover-1 is bigger than the picture indicate. See the video below to get a better size perspective. 
Cons
Since the product is relatively new, the price is a little high and might be a deal-breaker to some purchasers on a tight budget.
Most users are not able to achieve the indicated 20 mph unless they are going downhill
The bike doesn't do well on wet surfaces and through puddles.
---
Hover-1 Folding Electric Scooter Review
Conclusion
Note: It's best to note that this is not an off-road bike; you will get the best performance on smooth, flat surfaces such as sidewalks and asphalt.
The Hover-1 is the kind of scooter you go for when you need to add a bit of fun in your riding. It's a great versatile scooter for daily commuting to work or school. It's a fun way to beat traffic and get to the office without breaking a sweat.
The scooter will travel up slight inclines, but this will lower the speed a little and discharge the battery faster. If you ask me, this is a great bike for both urban commuting and fun riding.     
Other e-bike reviews