Is the sound on your Toshiba TV not working as it should be?
I've been in this exact situation too! In fact, in my complete Toshiba TV problems guide, one of the most-read sections is the one related to specific sound issue from the TV. What is even more frustrating is that it's often not on older Toshiba TV's either; these issue can occur on brand new smart TV models as well as some of the old flatscreens that many of us grew up with.
Regardless of whether your Toshiba is old or brand new, you shouldn't have to deal with sound problems. So, let's have a look at the most common issues specifically relating to Toshiba TV's, and then outline how you can fix them (or when it's time to look for a new TV altogether!).
6 Toshiba TV sound problems, causes and how to fix them
1. Faulty Cables
This is by  far one of the most common reasons for sound issue on a smart TV. And, it makes sense. The more cables you have for audio and visual inputs, the greater chance of issues occurring.
How do you know if you have a faulty cable? Here are some common ways to check:
Noticeable fraying of cables at the back of the TV
Protrusions or lesions that clearly should not exist on a 'healthy' cable
If all cables look fine, then pay specific attention to your HDMI (especially if you're running your gaming device or a laptop through the TV to watch something). A faulty HDMI is often the cause of either audio or visual issues as an external connector, so make sure that your HDMI cable is not loose and is working as it should be.
It is always best to opt for a replacement HDMI cable in the event that it's clearly not attaching to its input slot in the TV. It's highly likely that your HDMI is the most troublesome cable for audio issues than any others, so make sure to start there in your troubleshooting.
2. Faulty connection to an external audio device
Even though Smart TV's are loaded with apps like Netflix, Amazon Prime and Hulu, many of us are also using them as a visual device for our gaming setups. Let's face it… The better the TV, the more awesome our gameplay looks.
However, if you're seeing no issues with visuals coming from the external device, then it may again be our nemesis the HDMI cable coming back to cause more issues.
For example, if you're watching Netflix on your Playstation 5, and you're seeing the visuals with no audio, it's likely that either you need to look at the specific audio settings within the external device to ensure that the HMDI/TV is set as an audio out (or output), but also check that the device is properly connected with a working HDMI cable (and any other supporting cables specific to the device).
3. System upgrade required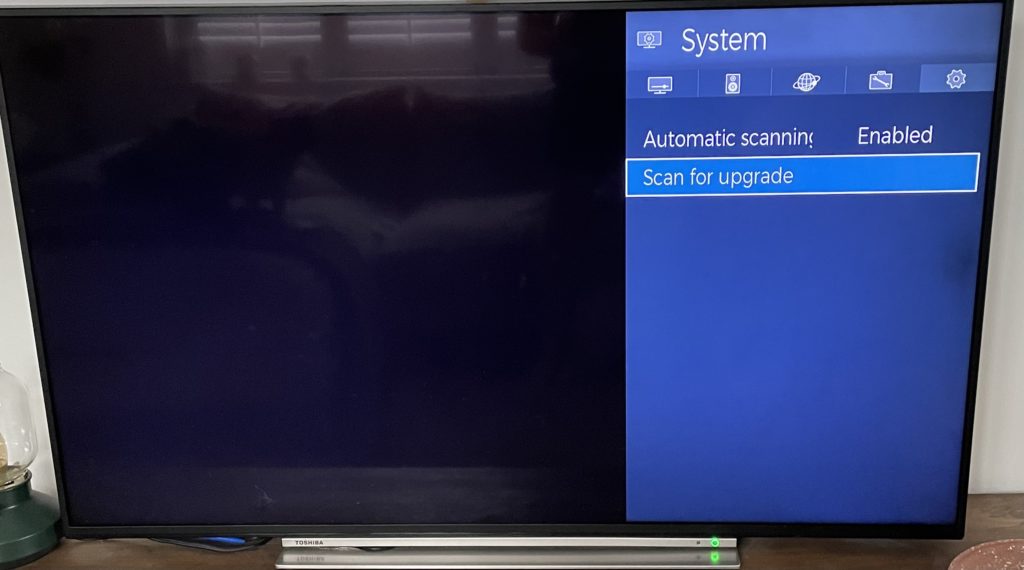 No one likes to wait around for system upgrades, but an out-of-date system can often mean a lack of compatibility with external hardware, or even cause audio and visual issues on singular apps (but otherwise be working fine on those still happily running on the previous system settings).
If you find that your cable connections are all in order but your require a system upgrade, then it makes sense to get this done sooner rather than later.
To find out whether your system needs an upgrade, get your remote control and go to:
Home button
Settings
System
Software upgrade
Scan for upgrade
Make sure that you also leave 'Automatic Scanning' set to 'Enabled', otherwise you may have to repeat this process at a later date
4. Audio sync issues
Audio to visual sync issues often come down to two main issues on Toshiba TV's:
Gaming Mode
Gaming mode enables the Toshiba TV to have decreased frame delays, but it can also mean that when you switch display mode back that there can be a noticeable lag, almost like the audio is trying to 'catch up'. When you're switching back to watching a show or a film, be sure to switch the display mode to cinema or standard by going 'Picture' and selecting the mode.
Audio Pitch Settings
Much like the decreased frame delay in game mode, you can also manually adjust audio pitches within the settings menu itself. This should not be an issue as standard, however if you have previously adjusted this then you need to ensure that pitch settings are back to their default to ensure either no sound distortion (which we cover below), reduced volume or delay in audio sync (most noticeable when you're watching people talk on screen).
5. Distorted sounds
If your Toshiba TV has distorted sound, you're not alone. I've encountered this issue quite a few times in the 5+ years of owning a Toshiba TV, and have found that it most commonly is caused by:
Issues with faulty cables
It's the return of the dreaded HDMI cable, once again causing those pesky distortions. This should be your first port of call to see if the HDMI cable is faulty or damaged as a potential distortion issue. Do the same checks on all audio cables at the back of the TV.
Hardware issues
On rare occasions, there can be a hardware fault that can lead to sound being distorted or otherwise being intermittent. Essentially, there isn't no sound, but the audio itself is not as it should be. This has been noted as a past occurrence with Toshiba TV's, so it's best to contact their support in this instance to confirm whether a potential hardware issue is at the root of the sound distortion.
6. No sound
In the same way that we can look for software upgrade requirements in the settings, we can also look at audio outputs specific to the TV. Many of the sound-related issues you'll encounter are specific to external devices, but this also means external audio devices such as speakers and sound bars.
The quickest way to check for your designated audio output is to go to:
Home button
Settings
System
Scroll down to 'more'
Speakers
Check that the speakers are set to TV if you are using it as the sole audio output
It also helps to check that, if you've used something like a soundbar in the past, that you've updated the settings you would've inevitably have to have changed when initially connecting the sound bar device as a preferred audio output
Conclusion
Hopefully this has shown you that not all hope is lost when it comes to sound issues. More often than not, it is a simple issue such as a cable or a previous TV setting within the Toshiba system, but you just need to know where to look (so don't go throwing your Toshiba in the trash just yet!).
If you found this troubleshooting guide helpful, you'll also like: