With more and more people listening to music on their smartphones there has been an increased demand from the average consumer for better sound quality listening devices.
Phone manufacturers have been steadily improving their audio output performance. Some of the latest phones now feature Hi-Fi DAC output for a significant improvement in sound output. The new ​LG V30 now supports a 32-bit Hi-Fi Quad DAC that only a short time ago was only available in high-end digital audio players. Earbuds and headphones have been pretty much the only option for personal audio listening.
A number of Bluetooth speakers with improved sound quality and battery life have been steadily coming to market and a relatively new concept in personal listening is the wearable speaker allowing the wearer to listen to audio without headphones and with minimal disturbance to the surrounding area.
In the last few years, a number of manufacturers like Bose and LG have entries in this wearable speaker style. JBL Soundgear entry was first introduced at last year's CES show and found in its final form at IFA 2017.
The people at JBL recently sent a Soundgear wearable speaker to me to evaluate and review. In this JBL Soundgear Wearable Speaker Review, I will tell you what I think of it and share my experience over the last few weeks.
Build and Design
When you first see the JBL Soundgear Wearable Wireless speaker the first thing that comes to mind is this is kind of cool. It has the appearance of an ergonomic horseshoe.
The Soundgear weighs in at 12.3 oz. or 350 grams. Its slides on your neck from behind and sits comfortably on your shoulders. Located on each side under each ear are two speakers for a total of four transducer speakers to immerse you in sound. The JBL Soundgear is built from rigid soft plastic and the top area is finished with a soft black fabric. Control buttons are located on either side of the unit with a USB port on the back for charging.
The JBL Soundgear wearable speaker comes in two models. The Soundgear and the Soundgear BTA. The Soundgear BTA comes with a Bluetooth Audio (BTA) transmitter that plugs into your television. This allows wireless transmission of your TV's audio to the Soundgear BTA. The AptX Low Latency Technology helps keep the audio in sync with the picture. The BTA 20 transmitter has optical and 3.5mm ports that will work with many televisions.
Functions
Located on both sides of the JBL Soundgear are the control buttons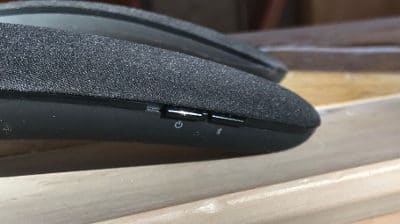 Right side controls JBL Soundgear
The left side controls JBL Soundgear
On the right side of the device are two buttons.
One is a power button that displays blue when on and has a sufficient charge. When plugged in to charge it will display red until it has reached its full charge and then turn to blue.
The next button on the right side is the Bluetooth pairing button. Press this and it will search for a device to sync up with.
On the left side are three buttons that perform double duty
Press two outside buttons to adjust the volume up + or down -. Press the + button for three seconds and it will move to the next song. Press the – button for three seconds and it will move back a selection.
The middle button is the play/pause and phone answer controls. Press once and play/pause audio selection. When an incoming call comes in, press the button once to answer incoming calls allowing you to take calls hands-free from your smartphone. Press and hold for three seconds to end the call.
I suggest if you need to read the instructions to use the following link. I found the tiny manual provided is hard to read. With this link, you can enlarge the page and it is much easier to read.  JBL Soundgear PDF instruction manual.
Features
Quad Transducers with bass boost
The JBL Soundgear has four bass-boosted 31mm drivers putting out a total of 6W. The bass is not overly powerful but some low frequency on some recording causes the speakers to distort at a louder volume.
Dual Mic Conferencing
Two microphones located on either side of the Soundgear speaker. This allows you to make clear phone calls handsfree. Works great! You can easily hear your calls but the two microphones pick up some surrounding noises.
Hands-Free & Ear Free
Once you have the Soundgear turned on and connected to your Bluetooth device, you can listen to your favorite music within your own personal sound zone and control everything from your smartphone without touching the wearable speaker.
Six-hour battery life
The Soundgear has six hours of battery life. The time can vary as with most rechargeable devices depending on the volume you listen to.
Normally at top volume battery life is reduced to about 4 or 5 but most likely you will be listening to a little above 50% volume and you should then get closer to 6 hours of playtime. Charging the JBL Soundgear from dead with the red light flashing only takes about an hour and a half to be fully charged and turn blue.
I found it got pretty close to the 6 hours in my testing mostly listening at 50 to 70 percent volume. Charging took less than two hours.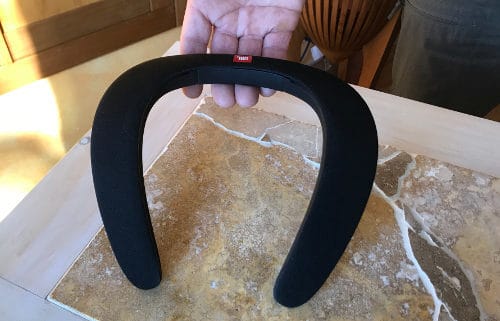 Sound Quality
First putting on the Soundgear wearable speaker is a different experience and sensation in music listening. Part of the experience is that you feel the sound. Vibrations emit from the speakers and this causes your body to feel the vibrations of the music. The first reaction with some people when they try them is it makes their neck feel tingly.
The sound has even mids and highs with a nice bass. I did find the bass distorts when listening at top volume with some bass-heavy recordings.  Turning down to half volume improves the sound but still, some distortion comes through.
A song I sound tested with is a Youtube recording of Ed Sheeran's duet with Bocelli."Perfect" it has a big upright bass featured in the track everything in the track sounds great but at a certain frequency the Soundgear distorted.
I am not totally sure if the speaker is distorting or if it's the vibration from the bass-boosted 31mm drivers that are vibrating through the device. It seems to happen with songs that feature a very pronounced bass and distorts at one particular resonating frequency.
The overall sound is a little bit of a disappointment from JBL's signature sound quality. The sound just seems a little flat overall and not quite as vibrant as in other JBL products.
The JBL Soundgear does not magically make sound disappear for people that are surrounding you when you have them on. If you have them at top volume people that are near will hear the sound of a small speaker.
For the listener, at top volume, the sound completely drowns out other sounds and when someone talks to you, you will be relying on reading lips.
At half volume, it now becomes more of a quieter sound for surrounding people but they still can hear the audio clearly.  For the listener, they now hear when someone is talking to them.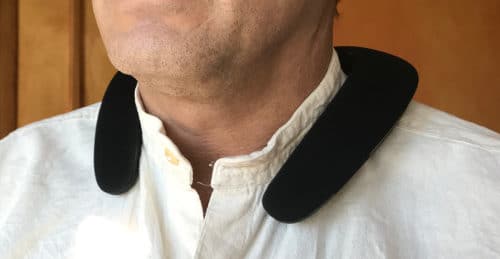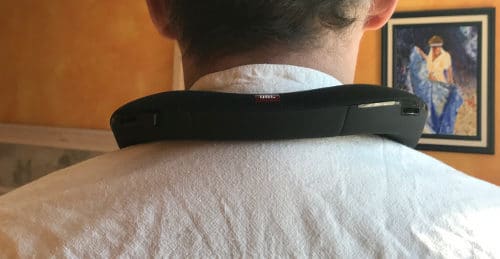 Sound Frequency Analysis
Bass
I found the lows and bass are present but sometimes lacking a little punch. The bass experience is more vibration feeling as compared to the warm rumble sound that you experience with a more conventional speaker.
Mids
The mid-range frequency sits in the sound spectrum well. Vocals are clear and slightly forward.
Highs
The highs are not overly crisp, but the sound can get a little bright at higher volumes than 70%.
The sweet spot seems to be at about 50% volume. The overall sound is clear with a nice low end and you still feel the slight vibration in your body making the Soundgear a little different listening experience. Also at this volume people that are surrounding you hear a minimal amount of sound and when someone talks to you you can hear them.
JBL Soundgear Wearable Speaker Review Specs
General Specifications
Dynamic frequency response range 100 Hz – 20 kHz (-6 dB)
Sensitivity 96 dB
Playtime 6 hours
Charging time 2 hours
Maximum SPL111 dB
Microphone sensitivity @1kHz dB v/pa-42
Impedance 32 ohm
Weight 350g
What's in the box?
One Soundgear wearable speaker
USB Cable
Dimensions
Driver size 4 x 31mm
JBL Soundgear Wearable Speaker
Pros and Cons
Pros
Unique listening experience
At lower volume, you easily hear when someone is talking to you
Not as anti-social as a headphone
Great alternative for personal listening, especially with loud TV watchers
Cons
Bass distorts with some bass-heavy songs
Could be a little more flexible. Putting on and removing them can rub on your neck
Should you buy the JBL Soundgear wearable speaker?
This is a brand new concept in speakers and in listening. The JBL Soundgear will not magically let you walk around listening to music without other people hearing the sound. They are ideal for around the house. At the office, they can be used as an alternative to headphones/mic headsets but you will have to have a private office because everyone will hear your conversation.
The uses for the JBL Soundgear are more limited than headphones and they are not designed to stay on if you do a vigorous activity. Using them down at the gym may work for walking on a treadmill but anything more vigorous is not a good idea. Also, other members at the gym may find it annoying listening to your music.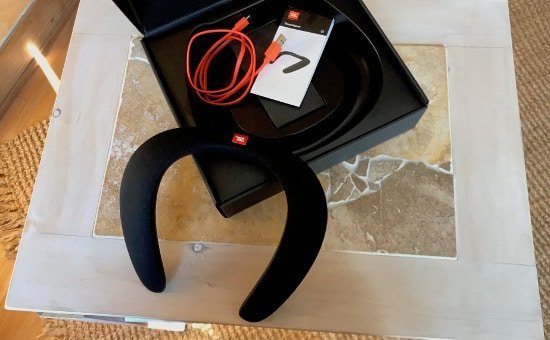 Often early in the morning, I listen to podcasts on my Ipad speaker when I am working in the kitchen and as I walk away from the Ipad I sometimes cannot hear it clearly. I found the JBL Soundgear was great to use at a lower volume. I could walk around working in the kitchen and not disturb others in the house.
The Soundgear is nice to use in the kitchen but because the finish is black fabric, I found if you were working with flour or just getting your hands dirty or wet, as you normally would when cooking, I was afraid to touch the Soundgear for fear of messing it up. Even after quickly wiping my hands. I think the finish of this product could be improved to make it a little more practical to use in the kitchen.
They are great for sitting or walking around the house contained in your own little audio world. They would work great at the office, you can listen to music and still hear other people when they talk to you.
Virtual Reality
Another area that the JBL Soundgear wearable speaker would be good for us in the virtual reality world. The Soundgear was made for VR headsets provided, your device can connect via Bluetooth with the JBL Soundgear they should work great.
As this technology evolves I can see virtual reality programs utilizing the vibrating capabilities of wearable speakers adding another sensation to the virtual reality world. I can see future models adding other effects to increase the real sensation. Like a puff of air coming from the speaker or adding sensation pads that can create the feeling of an electric shock or manipulating vibrations to mimic other effects.
I think they are a great start in this new style of a speaker but as with new concepts, improvements can be made. I think a few adjustments might make this product better for future models. My suggestions to improve the design would be:
First I would make it a little more flexible and mark on the unit that it is bendable. It took me a week to realize this feature was available. I am always reluctant bending plastic things for fear of breaking them.
Second I understand that material needs to be soft to the touch in the area of the speaker located behind the back of the neck. I suggest a more durable but still soft material on the back. Down towards the tips of the unit they could change the material to a more finer material of what JBL is using to finish their waterproof speaker line. On the inside tips at the front, I can see this fabric wearing out first due to rubbing when putting them on and off.
Third I think again taking from the JBL waterproof speaker line the style of buttons from JBL waterproof speakers and make them smaller. This will make them a bit more user-friendly in the kitchen with messy or wet hands and add to its overall usability and durability.
Finally, if the area on the back where the battery is could be made smaller. I found and read from other users that it's not very comfortable against the back of your neck when lying back on the couch.
Compare to Bose Soundwear
Bose also manufactures their own version of a wearable speaker with their Soundwear wearable speaker. Similar design as the JBL Soundgear but a little more flexible and at around $100 more than the JBL Soundgear and $50 more than the JBL Soundgear BTA.
I cannot give you a direct sound comparison as I don't have a pair of Bose Soundwear to try out. But from various reports, they do fit comfortably and sound very good. The Bose also has 12 hours of battery life and has an IPX4 rating. Meaning it can handle a little water splashing.
You can watch TV with Bose Soundwear provided your TV has Bluetooth capabilities. The JBL Soundgear BTA comes with a transmitter that plugs into your TV or other audio devices without Bluetooth capabilities.
Should I get The Soundgear BTA or Soundgear
I think getting the Soundgear BTA is a better way to go than the Soundgear. Having the ability to sync to your TV increase the usefulness of this product by about 50%. I think the Soundgear BTA can be ideal for older people that refuse to get a hearing aid and watch TV too loud or that husband that watches sports at high volume.
If you have no intentions of watching TV then save $50 and go with the Soundgear but keep in mind if you change your mind you cannot buy a separate BTA transmitter you will have to purchase a Soundgear BTA.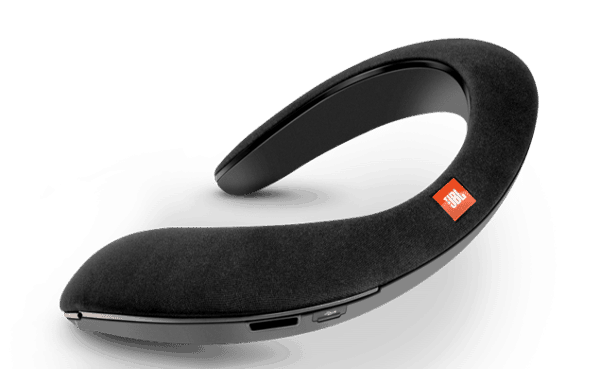 Soundgear MSP: $199
Soundgear BTA MSP: $249
Optional Hard Travel Case for the JBL Soundgear Wireless Wearable Speaker is also available from Amazon
Conclusion
The JBL Soundgear wearable speaker is not just a new product but a whole new way to experience and listen to music. As with most brand new concepts, it takes a little time for the public to come around. They need to be exposed to the product and see how they can use it in their everyday lives.
The developers of new products need to get feedback from real users and use this knowledge to improve their products. I have no doubt that this unit will be improved and evolve as more people discover wearable speakers.
The JBL Soundgear may not be for everyone but it is a great new alternative to listening to various media. It will not replace your headphones as a listening device when out and about. The audio is minimal at low volume but you still are walking around with a speaker on your shoulders and other people may not appreciate it.
It is great to use around the house for watching TV, working in the kitchen or laying in bed surfing Youtube watching videos on your Ipad.
What I really like about this new style compared to headphones is you are better able to hear other people that are speaking to you and they just have a more social look than the anti-social covered ears look you get with headphones.
Although not inexpensive they are a nice addition to your audio listening arsenal and exciting things are to come with this new concept in wearable speakers.
Price: $199.95 US
Where to buy: Amazon
Source: The sample of this product was provided by JBL
Other reviews on the latest in wireless speaker technology