Skullcandy is going through its range of headphones and removing the cables. First, it was Grind Wireless, now the company has also untethered the Crusher headphones. One of the best selling features of the Crusher cans was the "haptic bass", now you get that plus the wireless freedom. Let look at our Skullcandy Crusher Over-Ear Headphones Review.
Skullcandy Crusher Wireless headphones promise to give you bone-rattling bass. The kind of bass you can only get when standing next to a pile of monster speakers at a live gig. Other premium headphone makers such as Bose and beats should really be scared because this pair hits their target sound and market at an even cheaper price point.
The Skullcandy Crusher employs "dual-channel haptic bass," which means the cans literally vibrate with deep lows in response to what is being channeled in. If you are a big bass lover, you will immediately fall in love with the feature that allows you to adjust the bass level. But even you might find the bass levels too strong at the higher end of the bass slider.
This feature does increase the bass but if you go too far the sound gets a to muddy. A little goes a long way about 25% seems to be a good sweet spot to emphasize the bass and not take over the high-end sounds on the track. If you want a better quality headphone with adjustable bass then the Beyerdynamic Custom One Pro is a great choice for about $100 more then the Skullcandy Crushers.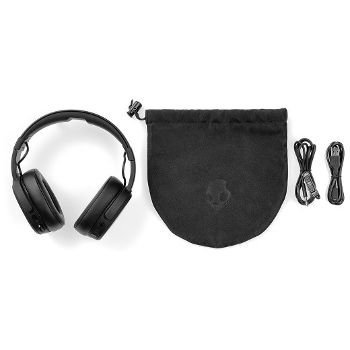 Build and Design
The Skullcandy Crusher Bluetooth Wireless Headphone is available in matte black and offers an exceptionally comfortable fit with well-cushioned memory foam ear pads. The ear cups completely envelop the ear to offer a moderate level of passive noise isolation. Not the best in the industry, but enough to keep off surrounding office chatter or tamp down the train ambient noise.
The headphones are predominantly made plastic which looks fine and nicely polished. The adjustable headband and hinges are sturdy and metal. The backs of the ear cups have a nice finish on them while the headband is made of a mix of leatherette on top and is nicely padded rubber on the underside. The buttons are sturdy, good-looking and built to last.
The overall look is subtle, classy and screams premium value. The ear cups are big ovals with a soft leatherette cover on the outside and a ring of memory foam padding on the inside for added comfort and to prevent sweat build-up.
The headphones have a rather tight clamping fit once you put them on, but you can still wear them for hours, thanks to the memory foam padding. If the clamping seems to bother you, just make sure you've got the right fit, and you won't have a problem.
Skullcandy Crusher Over-Ear Headphones Review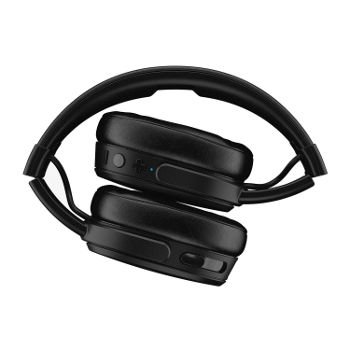 Crushers come with three buttons on the right ear cup. The central multifunction power button handles playback, Bluetooth pairing and call management. The plus and minus buttons handle both track navigation and volume.
The left side ear cup features a 3.5mm connection for wired listening and a micro USB port for charging. The micro USB charging cable and a flat 3.5mm audio cable for wired listening are also provided. The supplied audio cable features an inline remote with a single multifunction button for call management, playback, and track navigation using a series of clicks. There is also an adjustable bass slider on the left ear cup for your convenience.
The Skullcandy Crusher wireless battery life is a whopping 40 hours of continuous playback. On this, I must give it to Skullcandy for pushing the limits that very few other headphones makers can measure too.
You may, however, run a little lower than 40 hours if you play at higher volumes with the bass slider on the higher end, but still, it's just great. If your battery runs out, simply plug in the audio cable and the headphones will automatically power off but leave you with the bass slider functionality.
Noise isolation is quite exceptional for a non-active pair of headphones. The tight seal around the ears prevents most of the external noises from sneaking in. While noise isolation may not be as effective as what you get from QC35 or MDR-1000X, they still do a great job.
Sound Quality
The Skullcandy Crusher Bluetooth Wireless Headphone is a bass monster. And one of the features that stand out is the ability to adjust the bass to your perfect balance. All you need is to find the ideal point by sliding the bass slider up and down, although chances are you will not go past the halfway mark after your first attempt.
Without the haptic bass slider turned on, this pair presents a slightly warm and lovely sound with plenty of details. The soundstage is wide, and the highs are presented in details without any fatigue or grain. If you are not a bass fan, you could use them just like this forever without any compromise in sound quality.
If you really need some crazy bass, get your fingers on the bass slider. Each ear cup comes with one Skullcandy's in-house designed 40mm driver and a second 34mm driver that kicks in when you use the bass slider.
Skullcandy Crusher Over-Ear Headphones Review
Pushing the slider up slowly transfers the bass frequencies from the main drivers to these bass-specific drivers. Turning the slider all the way up for songs that have incredible bass may give some ridiculous results. You will feel the throbbing and hear more of the bass than quality sound. They do not have noise cancellation but rather an impressive level of noise isolation.
The bass is generally intense, punchy, controlled and sometimes hilarious. The headphones box says "Bass You Can Feel," and indeed that's true. If you're a bass-head, you will feel completely at home with this pair. You will most probably find a sweet just below the halfway mark.
At unwise top volume levels, your headphones deliver great sound quality without distortion at the lowest bass levels. However, turn the bass all the way up at top volume, and you will feel like a subwoofer has replaced your brain. Even on tracks with less deep bass and the bass slider turned off, the headphones still deliver powerful, rich bass sound
Skullcandy Crusher Bluetooth Wireless
Pros and Cons
Pros
Firm comfortable fit
Bass can be adjusted
Long battery charge 40 hrs or more
Good wireless signal up to 40 ft 
Cons
Poor noise isolation
Lacking features
Audio signature not very accurate 
Conclusion
The Crusher Wireless headphones will appeal to any bass lovers, while still giving the modest guys an option to turn the base down or off using the bass slider. The headphones really shine when you are watching movies or playing video games.
The big bass and dynamic sound work well with explosions and sound effects come through very punchy. If rechargeable battery life is important to you then you can't beat the incredible 38 Hrs Plus on one charge that you will get from these headphones.
As for listening to music, if you like a lot of bass then these headphones would suit you well. If you like a clear even sound spectrum I would choose something else like the Sony MDR-1000X they are about $100 more than the Skullcandy Crushers but they are a much more quality pair of headphones with an even sound spectrum that works well with a variety of music styles.
As always keep an eye out for sales and you probably will not pay much more than the Skullcandy Crushers or the ELUX by Specter for about half the price. See our ELUX Sport Headphone Review
The price range is also just about right for this kind of over the ear headphones, and anyone who takes their music seriously will feel at home with it. Keep an eye out as these headphones often go on sale for 25% off. Making them more attractive to purchase at this price range.
Helpful reviews on some of the top-selling headphones.