In the dead of winter after a – 40 Celsius journey across Canada in a polar vortex, my new Voltbike Mariner 2019 Edition arrived. Not the best time of year to get a new bike but the Voltbike Mariner is not your regular bike. The Mariner is a foldable fat tire electric bike with a 500-watt motor that can be used year-round and works great in the snow.
The new Mariner 2019 has evolved and improved since its first edition. There are other manufacturers making this same style bike but Voltbike seems to be staying ahead by offering better components and features every year.
The Voltbike Mariner folding electric bike features feature front suspension, improved battery performance and this year they have replaced the back rack with a beefier solid rack and now have an optional front rack that can be purchased separately.
The Voltbike Mariner is an Ideal electric bike for anyone. This bike can easily be adjusted to fit a broad range of people from a smaller 5 ft 4 woman to a larger 6 ft 3 man. This bike is built to handle someone as heavy as 300 lbs. The easily adjustable seat and handlebar make it comfortable for anyone to ride. Voltbike Mariner Read more with my Voltbike Mariner Overview and Review.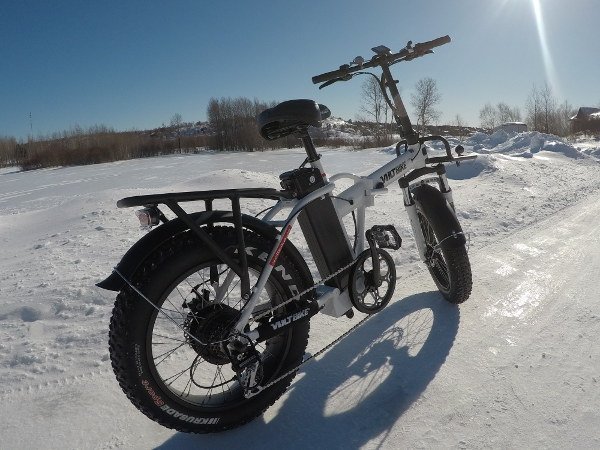 Voltbike Mariner 2019 in the snow
Voltbike Mariner Overview and Review
First Impressions
The Mariner arrived after its long journey from British Columbia to Ontario. It arrived in a large box that was slightly damaged but luckily the bike had no issues. The Mariner has 20-inch tires and from pictures, I have seen this bike may appear small but in person, this bike has a lot of substance and has a surprisingly big feel. The look of the bike reminds me of a jeep.
I choose the white version because I think the glossy white finish will offer more protection from the salt when winter riding. I was not disappointed I think the white finish looks less utility than the flat black. The quality and feel of this electric folding bike are excellent. Out of the box, this bike is petty well ready to go.
From opening the box to tearing off the bubble wrap it will take you about 10 minutes to get up and running. The main handlebar stem needs to be folded up, inserted and adjusted to the desired height and clamped down on the quick release.
You will need to screw on the pedals. There are left and right pedals which are distinguished by the left hand and right-hand thread: be careful not to cross-thread and don't forget to use the washers provided.
---
First Ride
My first ride was not in the nicest weather. It was about – 25 celsius with the windchill. I went out in the snow with the same tire pressure as the bike had arrived. I found the traction was not the best. I then let out some air so the tires were much softer.
I did not use a pressure gauge and just pressed on the tires until they felt a little squishy. This improved the traction dramatically and give me a much more reassuring feel in the snow. I did go out a few days later after we had some freezing rain and snow to cover the ice. The traction was good but I did slip on the ice.
I think if I let out more air the traction would improve, but with cold temperatures and ice-covered in snow, all tires would have a problem. The Mariner is very comfortable to ride. It has a seat and handlebars with quick-release clamps that make adjustments easy.
It felt very natural to ride. I could get up to 18 to 20 Km per hour very easily in level 7 to 8 assist mode. From seeing other videos from previous models, the new Voltbike Mariner seems much quieter and I found you can hardly hear the motor.
Build Quality
The quality of the new Mariner is very good and assembly is a breeze. It took me only minutes to set up. The bike I received was set up and runs perfectly right out of the box. It may be a folding bike, but when the center bar is clamped down, the bike has a very solid feel. Many components are better than average.
The front suspension forks are Mozo Fatman-20 with 80-120mm travel that gives the bike a comfortable ride. The Mariner comes with Shimano Acera RD-410 6 speed direct rear derailleur which is a step up from the Shimano Tourney RD-TX35D 7 speed direct rear derailleur that comes with many electric bikes in this price range.
Voltbike seems to be upgrading many of their newer models to the Acera derailleur. I find shifting very smooth and easy to use.I went for the white option as opposed to the flat black and the paint finish is excellent.
The white paint is a gloss finish and is easily wipeable and I feel offers better protect from winter salt and it makes the bike a little less utility looking than the flat black option.
I also choose the white option because I have a friend with a Yukon in flat black and he went out for a winter ride and spent more time clean the salt of his bike then he did on his ride. The flat black and salt are highly contrasted and prominent against the black.
---
Features
Frame
The custom-built frame is made with super-light aluminum-alloy 6061 for easy pedaling. The Mariner has quick-release seat clamp and handlebar that makes for easy adjustment to suit a wide size range of people. As you can see by the pictures below, the Mariner can be adjusted to comfortably fit a 5 ft 5-inch woman and a 6 ft 3-inch man. I am right in the middle at 5 ft 9-inches and the fit is great for me.
When folded the frame measures 39″x29″x22″ (length x height x width) making it easy to store in a small space and easily fit inside a minivan or SUV.
The Voltbike Mariner can fit a wide range of people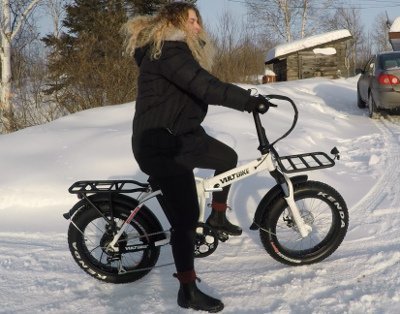 My 5 ft 5-inch daughter on the Mariner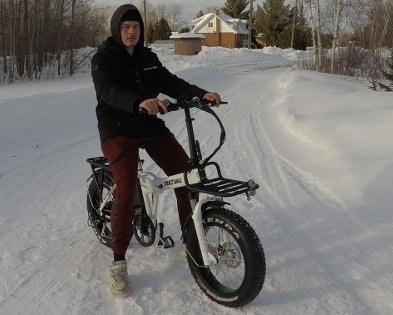 My 6 ft 3-inch son on the Mariner
500 Watt Motor With Shimano 6 Speed Cassette
The motor is an 8Fun 500 watt rated 850-watt peak brushless motor. I find the motor has plenty of power and runs very quiet. This motor meets Canadian regulations and is street legal in Canada. The Mariner has a Shimano MF-TZ20 Tourney Freewheel Cassette 6 Speed 14-28T.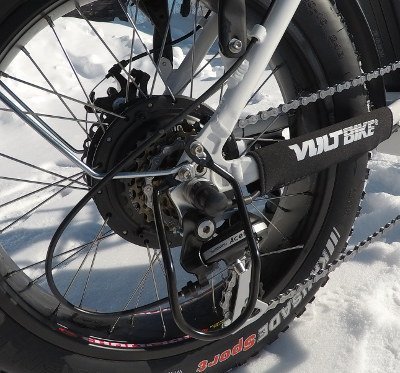 Canadian regulations allow E-bike with motors up to 500 watts to operate on roads without license plates or insurance. For more E-Bike info see A few common questions about E-Bikes
Handlebars and grips and headstock.
The handlebar is a straight no-nonsense bar with measurement increments. The handle grips are nice soft rubbery Selle Royal that has a nice feel. The new Mariner also now has a twist throttle as opposed to the thumb throttle that was on previous models.
I like the twist throttle but for winter riding with big gloves on, the thumb throttle maybe better. I think it depends on your personal preference.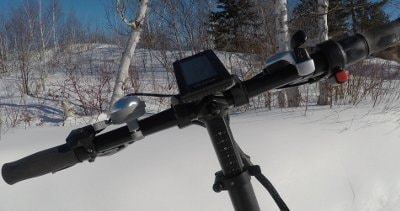 Pedal-assist controller with LCD Display Control Panel
The pedal assist controller located on the left side has nine peddle assist modes that adjust the amount of assistance. The higher the number, the more peddle assistance you get and also walk assist. It has Cadence Sensing Pedal Assist with 12 Magnet Disc.
The controller is easy to use, but it is made of plastic and a little fragile. I find the pedal-assist button can be easily worked even with gloves on, but be careful not to catch your gloves on its edge or it may be damaged.
The LCD control panel will display the levels of pedal assist selected as well as other speed and battery states. Parameters such as backlight brightness, max speed, metric or imperial units and a number of other functions. See full manual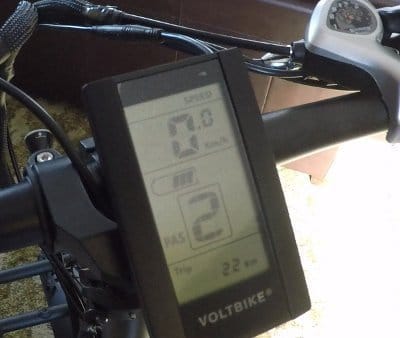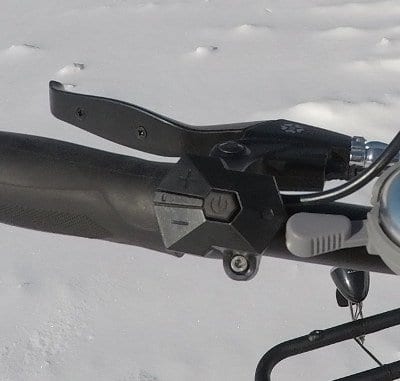 Derailleur with Guard
The Voltbike Mariner comes with good quality Shimano Acera RD-410 6 speed direct rear derailleur. A step up from the Tourney and will most likely last longer. You get six speeds that shift very smoothly. They also have added from the original a derailleur guard that protects the derailleur.
I was glad I had it on my bike because on one of my test runs I slipped on the ice and fell on the derailleur side of the bike. The guard was bent but the derailleur was unharmed. I simply bent it back in shape and I was good to go. I have a feeling I would have damaged the derailleur if I did not have the guard.
Battery
The 48 volts 14.5 Ah battery is a beast weighing 10 lbs and adds a significant amount of weight to the bike. The battery is situated under the seat standing upright. This lower location provides good balance and a good natural feel to the bike.
The battery can be easily removed by removing the seat and unlocking it with the key. The handle on the top makes it easy to carry. The only thing I don't like is the key has to remain in the battery to turn on the power. Unlike the battery on the Yukon or Elegant, the key has to remain in the battery to turn on the power, a feature I'm not fond of.
I find the key protruding out could easily be hit and possible damage the lock mechanism or break the key. Not a big deal but something to be careful of.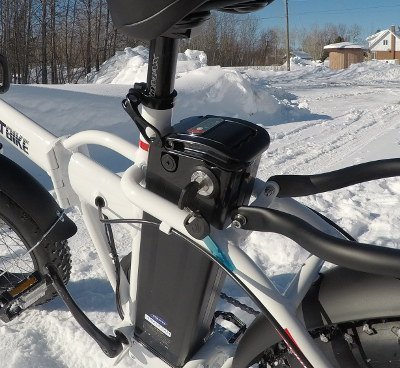 Voltbike Mariner 48 volt battery
Brakes
Manual Tektro Novela MD-M311 disk brakes are in the front and rear. Hydraulic brakes would be nice but this could be an easy upgrade in a few years if you want more premium brakes. The Mariner having 20-inch tires and for its size I find the manual brakes work great and get the job done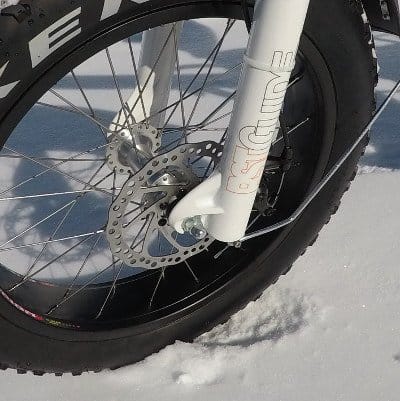 Tires & Wheels
The Mariner 2019 comes with Kenda Krusade tires with 60 TPI (threads per inch). Not the top of the line tire but very good tires nonetheless. On my first ride, I did not change the tire pressure from how the bike had arrived and I found the traction not too reassuring.
I let some pressure out until the tires were more spongy and this gave the bike much more traction.We had very icy conditions (black ice) and I did slip and fall when I hit an ice patch when I was turning. Lowering tire pressure more will help.
I am still experimenting with different tire pressures but reducing the pressure really did improve the traction. If you ride a lot in icy condition splurging on a pair of studded tires might be a good idea.
Front Forks
A new addition since the original version, the Mariner now comes with Mozo Fatman-20 front shocks with 80-120mm travel. The shocks have adjustable preload with a spring pressure system with hydraulic, remote and mechanical lock-out. The shocks work great and give you a comfortable ride. I find them stiff but not too spongy.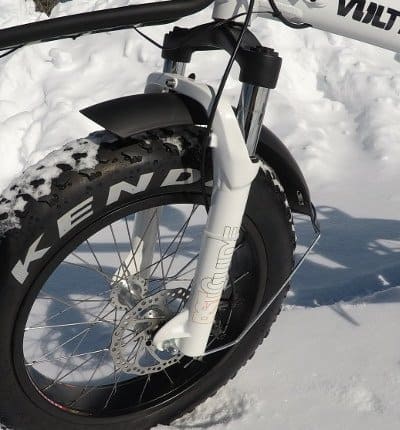 Front and rear lights
The Voltbike Mariner comes with integrated front and rear lights to help you be seen at night. Holding down the top + button on the control turns them on and off. The rear light is tucked away under the rack but I am not sure how the front light will fair mounted to the front rack especially if you are out in the bush.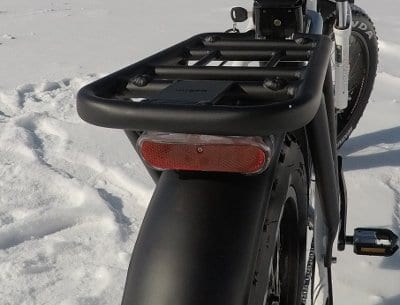 Seat
A comfortable Velo seat comes with the Mariner and can be easily adjusted and removed with the quick release mechanism. The older Mariners had Seatpost-suspension.
I'm not sure why they got rid of that. When parking your bike don't forget to include locking the seat to the bike or bring it inside. Thieves also love the option of quick release.
See my How to lock up your bike.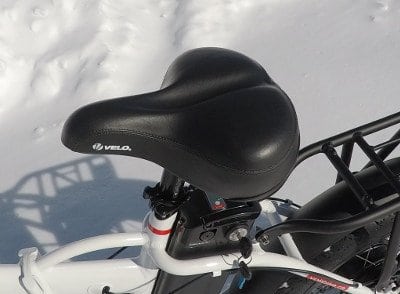 Front and Rear Fenders with a new better rear rack for 2019
The new Voltbike Mariners comes with front and rear metal fenders. I find them very solid and do not rattle or make noise. The rear rack on the 2019 model has been upgraded to a beefier solid rack that makes it ideal to add a pannier bag to carry your stuff around.
Voltbike offers its own waterproof pannier bag that is reasonably priced and is very good quality. They are made very durable with seam-welded, fully waterproof PVC material and for added safety, the logo is reflective to help you be seen at night.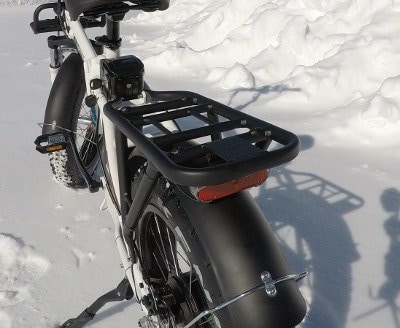 Bell
The bell on the Mariner is a little disappointing. I wish they would go back to the compass bell that was on previous models. I thought the compass fit better with the overall look of the bike and was better quality.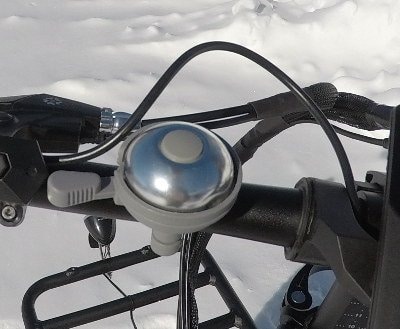 Chainguard and Foldable pedals & Rustbuster Chain
They now have protection on both sides of the rust buster chain providing a little extra protection and help to prevent the chain from falling off. The Mariner comes with Wellgo pedals made from metal. They fold up and out of the way to give you a little more room when storing.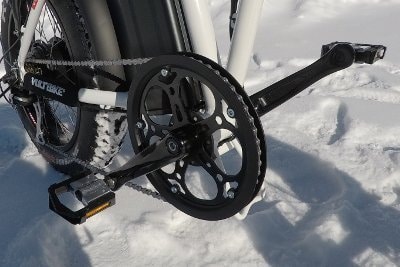 Beefy kickstand
Standard on all new Voltbikes is a nice solid kickstand. This stand does not sink in the snow or sand. But I suggest keeping an eye on the fasting screws as they could possibly get loose and cause the stand to rattle and eventually fall off. This should be included in your daily check. See ABC Check List.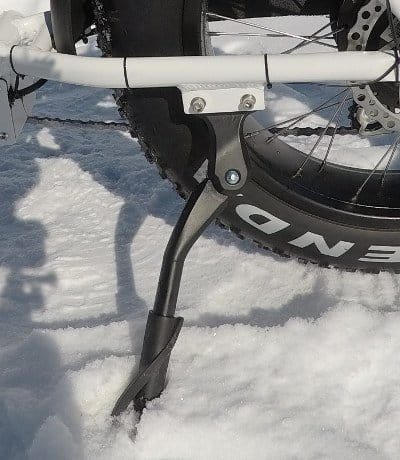 New Optional Front Rack
New for this year is the optional front rack. This rack is rock solid and can handle a heavy load. A very practical option for an extra $40 US. See it at Volbike.com When I was younger, putting a basket on your bike was very uncool. But this rack is the exact opposite and adds to the utility Jeep look of the bike.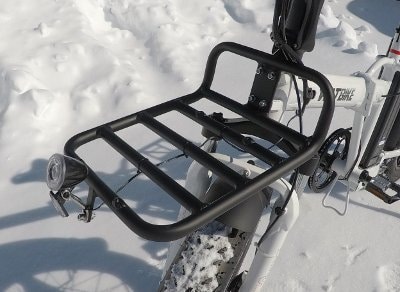 ---
Free motorcycle grade helmet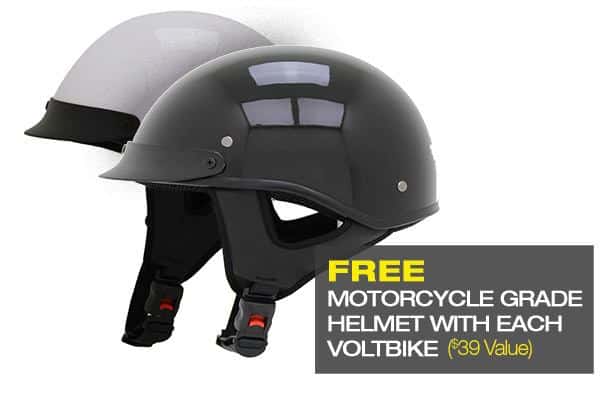 With every E-bike you buy from Voltbike, they include a free motorcycle grade helmet. So you are ready to go riding when your new bike arrives. Your choice of black or white. You must wear a DOT-approved helmet to operate an E-bike on the streets and it's a great idea to have a good helmet on when off-roading.  
---
Voltbike Elegant Specifications
Components
What You get
Dimensions
Components
Weight 58lbs
Battery Type  48V 14.5Ah / 696Wh Lithium-ion with Samsung INR18650-33G cells
Range around 20 to 25 miles (32 to 40 km) per charge.
Motor 8Fun 500W Rated (850w Peak) Electric Brushless DC Motor
Hubset Alloy 6061 Electric Motor
Crankset Aluminum Alloy-6061 52T Crank, 165mm with Outer Guard
Fork Mozo Fatman-20 with 80-120mm travel
Shifter Type Shimano Tourney TX50R6CT Thumb Shifter Plus 6-Speed
Chain KMC Rust Buster
Freewheel / Cassette Shimano MF-TZ20 Tourney Freewheel 6 Speed 14-28T
Rear Derailleur Shimano Acera RD-410 6 speed direct rear derailleur
Brakes Disc brakes front/rear Tektro Novela MD-M311
Brake Lever Wuxing 108PDD+BS108 with safety power cut
Tires Kenda Krusade K1188 20×4, Wire Bead
Pedals Wellgo F-265T Folding Pedals
Derailleur Guard Rear Metal Derailleur Guard
Rims 20 inches with 36 spokes
Seat Velo VL-8020E
Handlebar ALUMINUM ALLOY
Stem Aluminum Alloy SVMONO SM-A150-8R, diameter 28.6mm, bore: 25.4mm, weight: 520g
Seat Post-Promax SP-252 Aluminum 6061 Alloy, 30.4mm*350mm
Bottom Bracket Neco 910, 23.5mm + 120mm + 23.5mm
Folding dimensions  39″x 29″x 22″ (length x height x width)
What You get
Bike
Charger
Tool kit
Helmet, choice of black or white
Dimensions
Comes in one size
Folded dimensions 39″x29″x22″ (length x height x width)​
---
Voltbike Mariner
Pros and Cons
Pros
Good solid folding bike
Continued upgrades from the original model
Solid rear rack upgrade with optional front rack available
Foldable for easy storage and transport
Good battery range
Cons
Could still be too heavy for some people
The bell that comes with it is a little disappointing
---
Voltbike Mariner Unboxing And Overview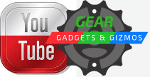 Should you buy it?
If you are thinking of buying a good quality folding electric bike the Voltbike Mariner stands out as a good value for the money. Other manufacturers are producing a very similar model but Voltbike has a few more premium components that make this bike stand out at a great price.
Kind of like the Jeep of bikes. The Mariner is a good solid practical utility electric bike that can be used for a daily commuter or going out on the trails. Solid rear rack and optional front rack add to it versatility.
I think Voltbike Mariner is an excellent bike that is very versatile. With the easily adjustable seat and handlebars, this bike is ideal for a bike rental company or a family that would have multiple uses in the household.
For those that do not like fat tires and find the Mariner too heavy, the Voltbike Urban may be a better choice weighing 10 lbs less, with no flat tires and priced at $350 less and is a little more compact.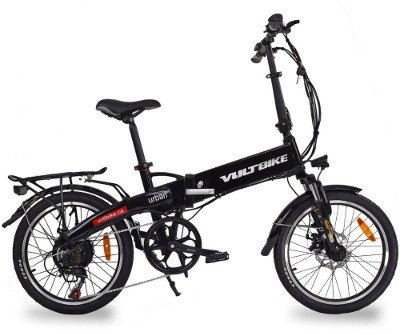 As I mention in every E-bike review, are you going to use your E-bike often? If not, I would just buy a regular bike. E-bikes like to be used and not sit around forever. It's not so much the bike, but the battery that you will most likely have to replace sooner. A good battery can cost as much as a reasonable quality standard bike. Here is another post that can help you learn about battery care.
Conclusion
The Voltbike Mariner is a solid smaller folding electric bike made with above-average components. A good versatile bike that will work for many different size riders making it a good choice for a family someone with a disability or older person.
The Mariner is also an ideal bike for anyone in the bike rental business. Contact Voltbike for special fleet pricing and tell him Pete sent you. It is made with good quality components and featuring front suspension and a powerful 500-watt motor.
The foldability of the Mariner is also a big plus making it easily fit inside a minivan or SUV and if you have limited storage space.
This means you can bring it inside and store it in a corner without taking up as much room as a non-folding bike. Other then the bell there is not much to complain about with the new Mariner.
---
If you are going to purchase the Voltbike Mariner please fill in the name "Pete Lautenschlager" in the box that says Enter name of the person who referred you to us. This will help out this website and allow me to make more helpful videos. Thanks, Pete
Price: $2699 reduced to $1,699 Canadian Dollars
Where to buy: Voltbike.com
Source: The product was supplied by Voltbike.com
Other e-bike reviews