I was planning to buy a Voltbike Yukon Limited Edition later in the year and write a review, but a good friend I showed the Voltbike Yukon Limited Edition to when I was doing my research fell in love with the bike and beat me to it and bought one. He ordered the bike, and it made it to him a little over three weeks later from the original order date. Here is my Voltbike Yukon 750 Limited Edition First impressions and review.
I fell in love a few years ago with fat tire bikes, and now that we have fat tire E-bikes they are my new favorite thing. For the last year, I have have been learning about E-bikes for this website and have been drawn to E-bikes with unique styles and fat tires.
I am a 200 lb man and like the idea of a beefy bike that can take a few potholes. The city I am from in Northern Ontario Canada has very pothole-ridden streets that are not very bike-friendly, and the shoulders on many Canadian highways are also pretty rough so a fat tire E-bike sounds like a good idea. During my searching, I found a number of fat tire e-bikes available on the market.
The prices started at around $1000 for a poor quality E-bike and more often jumped up to $4000 to $5000 and beyond very quickly for a good quality E-bike, many arguably overpriced. Then I came across Voltbike E-bikes. Voltbike makes a quality E-bike with top-quality components made in Canada and meets Canadian street-legal regulations. The price of their bikes is at a very reasonable price point of under $2000.
The Enduro a full suspension trail E-bike is the only model priced over $2000 but compared to other full suspension trail E-bikes the Enduro comes in at about half the price. Voltbikes is a company started in BC Canada by George Krastev, a former web developer for Best Buy.
He was interested in buying an E-bike and found the prices very expensive. Since he had a master's degree in engineering, he set out to build a cool looking quality e-bike for a reasonable price.
Voltbike released their first production E-bike in 2013. Their philosophy from the beginning was to create the best possible E-bike designed for the North American market at a more reasonable price point than what other manufacturers have to offer.
Voltbike is direct to consumer E-bike company, this helps to keep the retail price down. There is no middleman. When you order your E-bike chances are you will be talking directly to George himself. This keeps him in direct contact with his customers and to get direct feedback from his customers.
They do listen to customer feedback and continually make improvements with every new E-bike model. Since they rolled out their first E-bike in 2013 they have introduced five different models and have had a keen ear to customer feedback and have consistently added and made improvements to their bikes every year.
They have made thousands of E-bikes and have shipped them off to many parts of the world with many happy customers.
Voltbike Yukon 750 Limited Edition First Impressions And Review
The Voltbike E-bike line
Voltbike now has five different models to choose from and most are available in flat black or white. Prices stated are in Canadian dollars making a Voltbike E-bike a great deal in the US. They ship anywhere in Canada or the US for $49, and they also send them around the world.
---
Voltbike Urban Foldable
The VoltBike Urban E-bike is Voltbike's smallest commuter. It is ideal for a smaller person that wants a nice compact ride. Its 48 lbs weight is relatively lighter than many comparable bikes on the market and the ability to fold in half makes the Urban E-bike ideal for taking on trains, tucking it away in the corner at the office or storing in the trunk of your car and have the ability to go for a ride any time anywhere.
The wheels are 20 inches with Kendra tires that give you a nice smooth ride and good grip for nimble handling.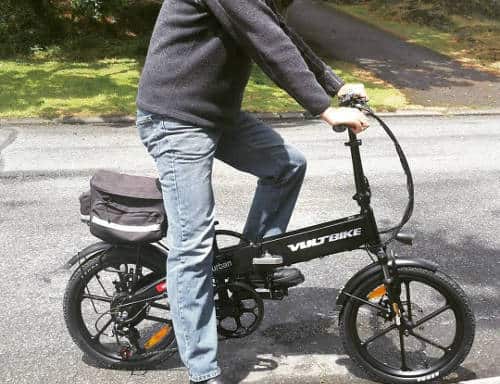 Voltbike Urban
$1,499 reduced to $1,349
It has a powerful 350-watt motor that gets this little bike going range up to 28 miles (45 km) on pedal-assist or up to 16 miles (25 km) using only the throttle cruising at speeds up to 25 miles per hour (40 km per hour).
The battery is 36V 11.6Ah with LG Li-ion cells and takes about 5 hours to charge from dead. The Urban is Voltbikes least expensive model E-bike they offered. Priced at $1500, but right now they have ten percent off. See Voltbike Urban for more info.
---
Voltbike Mariner
For a smaller bike that is more substantial than the Urban, the Voltbike Mariner with its fat tires will deliver. The Mariner, like the Urban, can fold easily for transport or storage.
It does weigh 10 lbs more coming in at 58lbs, so you are not going to throw this bike around. The 20-inch fat Kendra tires absorb some of the bumps and give you a smooth ride. Handling is nimble and quick with an assuring feel. The newest modal has upgraded front forks for better suspension.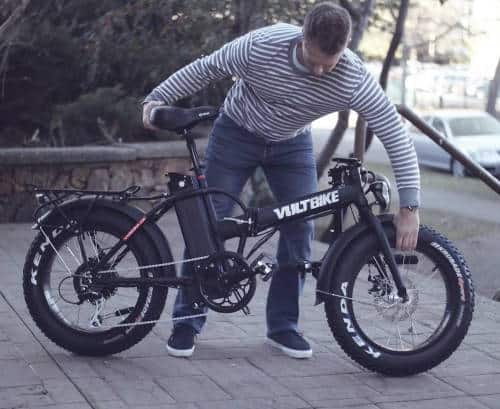 Voltbike Mariner
$1,899 reduced to $1,649
If you like the Yukon but unfortunately found that it is too big for you the Mariner is a great alternative. A bike that is too big is not a great idea. You get a rugged beefy bike with nice fat tires, 500-watt motor and a size that is better suited for a smaller person. Don't worry you can easily keep up with the Yukon on a Mariner. The smaller tires also make it fun on the trails.
The Folding Mariner E-Bike is a beefy more powerful version of the Urban and priced at $1900, but right now they have thirteen percent off. See my full Voltbike Mariner Overview and Review
---
Voltbike Elegant
The Voltbike Elegant E-bike is Voltbikes more refined city cruiser. It has beautiful, clean lines and a solid build with 26-inch wheels. It comes in black or white and has a nice low-bar for easy mounting that would appeal to women.
Not as rugged a the Yukon E-bike Series but a very solid bike nonetheless. This E-bike is ideal for a lady that wants a full-size e-bike but not the big fat tires like on the Yukon series.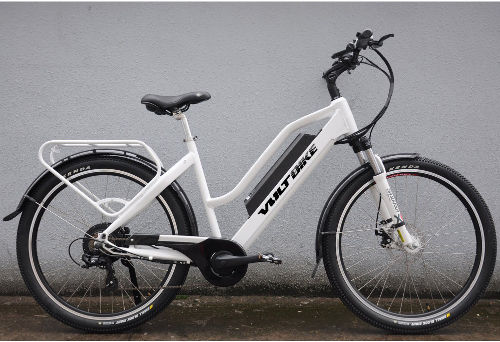 Voltbike Elegant
$1,899 Reduced to $1,699
The Elegant packs a powerful 500-watt motor powered with a 48 volt, 11.6Ah Lithium-ion battery. This bike is ideal for a large person that weighs more than 200lbs but is still not too big for a smaller person. The Elegant is an ideal E-bike for a lady priced at $1800, but right now they have eleven percent off. See My full Voltbike Elegant first impressions and review
---
Voltbike Enduro
The Voltbike Enduro is a full suspension E-bike and is one of the best value full suspension E-bikes on the market. It is priced at about half of what the competition is offering. The Enduro comes with a center hub motor that makes this E-bike great on trails and for hill climbing.
This bike is built with good quality entry-level components. As with all their bikes, Voltbike has listened to their customers and have made many improvements to the newest Enduro E-bike. The latest revision of Voltbike Enduro includes adjustable stem, longer seat post and quick release on the front rim and a lower price.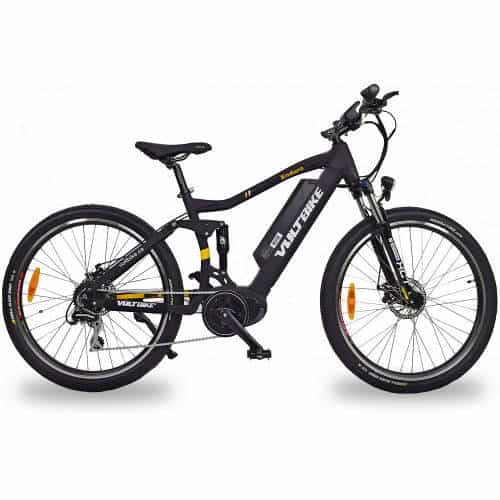 Voltbike Enduro
$2,799 Reduced to $2,399
The Voltbike Enduro is powered by a center Hub Bafang Max Drive System 48v motor that gives you 80 N.m of maximum torque to get you uphill fast. The battery is 11.6Ah Lithium-ion removable battery. The Enduro is an excellent bike for someone that wants a full-suspension E-bike that can absorb the lumps and bumps for a better ride.
The Enduro is a great E-bike to use for daily commuting especially on bad roads and to take to the trails on weekends. If you are a more demanding off-roader, then a few additional upgraded components can easily bring this bike up to the quality of a bike costing much more. The $2400 sale price leave you a few dollars for upgrades if you need them. But as is, it will work great for most people. See Voltbike Enduro for more info
---
Voltbike Yukon 750
The Yukon 750 is an upgrade from the original Yukon. The original 500-watt motor has been upgraded to a 750-watt motor. It is the same bike as the Yukon 750 Limited Edition but without fenders and a back carrying rack.
The Yukon is an excellent E-bike for someone that wants to go off-roading, head to the beach or cycle in the snow in winter but still be street legal. A solid value, the Yukon 750 Limited Edition E-bike is comparable in quality to many other fat tire E-bikes that come in at almost double the price.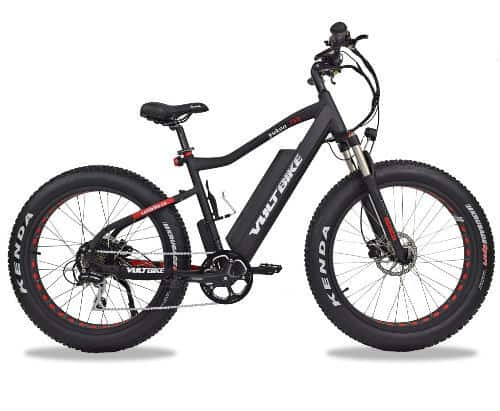 Voltbike Yukon 750
$2,099 reduced to $1,899
It has all the same hardware as the Yukon 750 Limited Edition and packs a 750 watt motor with 48v 16Ah Lithium-ion battery. The Voltbike Yukon 750 is an ideal E-bike for anyone that wants a versatile bike at a reasonable price. The Yukon is available in black or white and priced at $2,099, but right now they have eleven percent off. See Voltbike Yukon for more info.
If you are going to purchase a Voltbike, please fill in the name "Pete Lautenschlager" in the box that says Enter name of the person who referred you to us.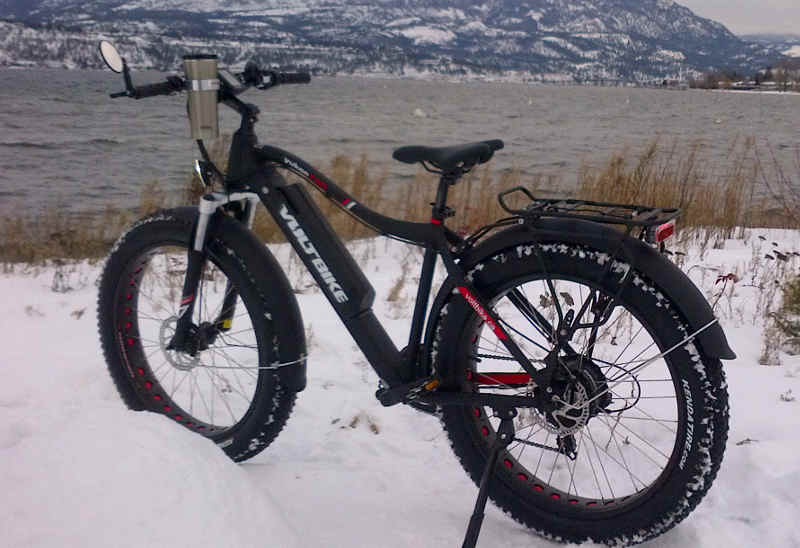 The basic Yukon comes without fenders or a rear rack, but they can be purchased as add-on options. The Yukon Limited Edition is Voltbikes latest evolution and gives you all the bells and whistles including fenders and rake accessories. The best part with the Yukon Limited Edition is they have added extra accessories and lowered the price.
That, you don't hear too often. With customer feedback and the desire to always improve their bikes, the latest Yukon 750 Limited Edition has a new custom aluminum alloy frame with battery integration that is less balky and distributes the weight more evenly. They have also made many upgrades and changes to various components.
This evolution has produced an overall sleeker and more refined bike compared to the original. They are continually trying to add better components and make a better bike, but at the same time, they do not want to increase the overall sale price of their bikes. In fact, they would like to reduce the retail price if they can, and they have proven this with reduced pricing.
---
Voltbike Yukon 750 Limited Edition First Impressions And Review
Original Voltbike  Yukon 750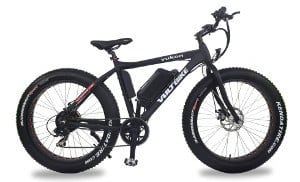 Latest Voltbike Yukon 750 Limited Edition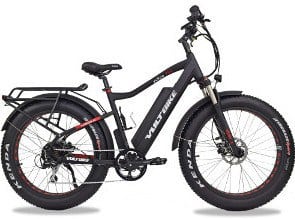 The original Voltbike released in 2013 has gone through many improvements they also have added three more models to the Voltbike line. With customer input and Voltbike's philosophy of providing the best possible E-bike at a reasonable price Voltbikes, newest bikes have seen many improvements over the last five years.
Like a more streamline battery improved front shocks, upgraded brake levers, wider 680mm bars, bigger grips with a classy stitched leather and beefier pedals. They really do listen to their customers.
---
First Impressions
The Yukon LE comes to your door in a large carefully packed box and is 90% assembled. Extra styrofoam and bubble wrap is added to ensure safe shipping. Assembly is very simple all you have to do is mount the handlebar and put on the peddles.
Note: There are left and right peddle. A basic tool kit is provided but ironically the one Allen key that was needed to put on the handlebar was not in the kit, and we ended up using our own tools.
A few personal adjustments can be made, like the angle of a digital display screen and brake lever placement. But basically, in less than half an hour, you will be ready to ride. Be careful when opening the box if using box cutters you do not want to slice the tires.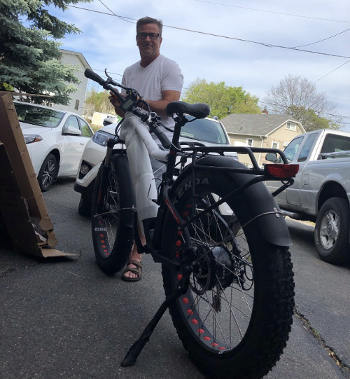 When you first see the Yukon Limited Edition you might be taken aback at how big it is. This bike is a beast. The fat tires and high frame give this bike a real presence. The look is reminiscent of an older style motorbike at the turn of the 19th century. The Yukon LE weighs in at a hefty 68 lbs, so it is not a lightweight.
The frame is custom built with a strong super-light aluminum-alloy that has sleek lines and nice clean welds that are done right. Look closely at the bike and you can see it was put together correctly and not slapped together to get it out the door.
---
First Ride
Getting on the Yukon LE for the first time can be a little awkward because of its weight and the fact that it is a big bike. But once you get on the fun begins. You will notice the difference immediately when you start peddling with a boost that gets you going unlike the wobble start of a conventional bike. For a real boost, you can pull the throttle just like a motorbike.
Peddling moderately gets your speed up to 25 km per hour in no time and hills don't slow you down. There are nine different power-assist modes to select from depending on how much assistance you want when peddling. The feeling is like a push when you start peddling. It's hard not to smile when you first try an E-bike.
---
Features
The VoltBike Yukon 750 is an upgrade from the first Yukon model that had a 500-watt Bafang hub motor. The new Yukon 750 Limited Edition features a more powerful 750-watt Bafang G06 series geared motor providing 80 N.m. Max torque and 750w of power motor, with a large bike-specific wide hub.
Canadian regulations allow E-bike with motors up to 500 watts to operate on roads without license plates or insurance. When I first saw the Yukon 750, I was concerned it would not be allowed on the road. I spoke with George the owner he told me that they limit the motor to 500-watts to comply with Canadian regulations. US customers will get the full 750 watts of power.
The original Voltbike Yukon was sold without fenders or rear rack but were available as an additional option to purchase. The VoltBike Yukon 750 Limited Edition is Voltbikes top of the line E-bike with all the bells and whistles included in the price. From talking with George the Limited Edition is selling very well. It may take a few more weeks to get one depending orders coming in and on parts coming in from overseas.
Spring is a busy time and delays may happen but during the year bike orders generally, get to the customer within a few weeks. They go over every bike to ensure it is set up right and to make it very easy for customers to set up and start riding their new E-bike. The Yukon Limited Edition is an entry-level fat tire E-bike built with good quality components.
This bike is ideal for someone that wants to do a little off-roading and use it as a daily commuter as is. The E-bike as is has everything you need but for someone that has higher off-road demands can upgrade to higher quality components, and it will still be cheaper than buying a four or five thousand dollar E-bike. The $2000 base price gives you money left over to add higher quality components if you need to.
If your primary use will be off-roading and riding trails, the Voltbike Enduro with it center hub motor and full suspension for $500 more maybe a better choice. Overall the Yukon bike is a solidly built bike and has good quality components. The average weekend warrior and daily commuter will be happy with the Voltbike as is.
---
Build Quality
The evolution of the Voltbike Yukon since it was introduced has seen some noticeable upgrades and improvements. They have been listening to customers, sourcing better parts and continually improve their bikes. Doing this while still reducing the price.
This bike is a solidly built bike and was put together properly. I check around the bike, and everything was nice and tight and in proper alignment and not slapped together to get out the door. It comes 90% assembled and with a few minor adjustments the bike is ready to go.
Handlebars and grips and headstock
The handlebars have been changed to larger Promax Aluminum Alloy 31.8mm*22.2mm*680mm, 9 degrees. They are a little wider and more comfortable than the original, and the headstock has been changed to a wider Promax Model MA-596 with adjustable angle of 35° – 145°.
Pedal-assist controller
The pedal assist controller located on the left side has nine peddle assist modes that adjust the amount of assistance. The higher the number, the more peddle assistance you get. The controller works great, but it is made of plastic and a little fragile. The buttons can easily get broken off and is a part that may need to get replaced if you are not careful.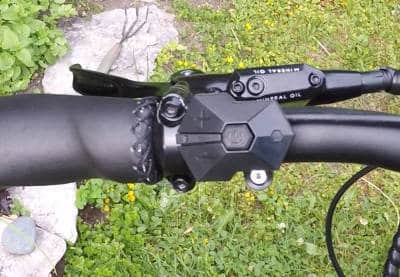 Improved front light
Most bike manufacturers do not include a light. But not Voltbike. They include a light on all their bikes. The new Yukon has better front light than previous models. I think they found a better supplier and a better light. This is in keeping with their philosophy of improving the bike but not increase the overall end sales price.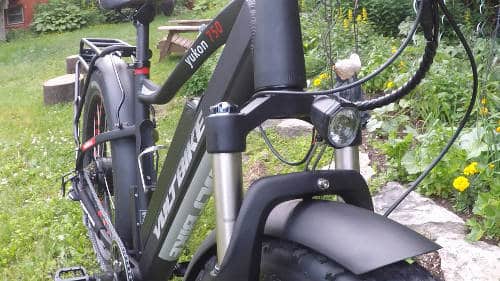 Battery
They have added a more streamline 48v Lithium-ion battery compared to the original that now sits in the custom frame. The first year they changed over to the new frame style there were reports of the battery being a little loose. I tested the new battery by vigorously shaking the battery. I can confirm that it is on there solid as a rock and I found no play or looseness. If you have an older model that has this problem. Contact Voltbike, and they may have a fix for you.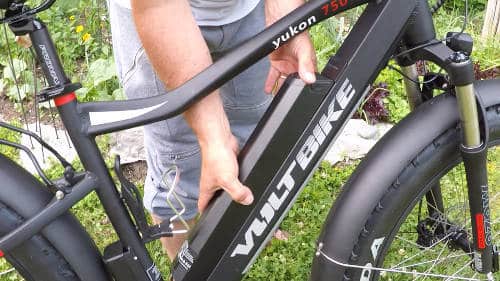 Re-positioned and reduced size of the controller
They reduced the size of the controller from the original Yukon and moved it down lower on the bike. I think it looks less cluttered and this keeps the weight lower on the bike. This freed up a spot to put a water bottle holder. With the new sleek battery, custom frame and other improvements, the Yukon have evolved into a better-looking refined E-bike.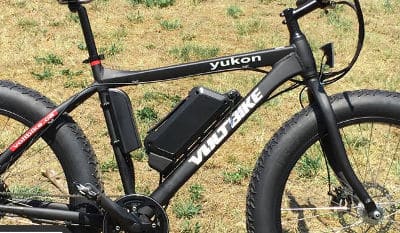 Old version Yukon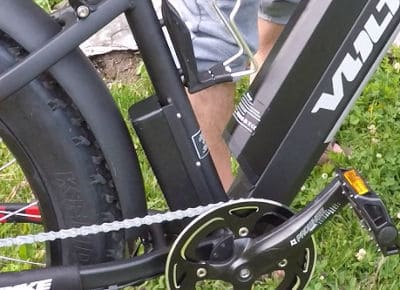 New version Yukon
Added a water bottle holder
Some customers were disappointed the first model Yukon did not have a water bottle holder. With the freed-up space from moving the controller to a better location, they added an adjustable water bottle holder.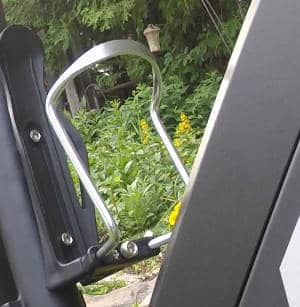 Frame
The frame is now a custom made frame, explicitly made for Voltbike. It is a much more aerodynamic design with much more style than the original Yukon. The battery fits more streamline with the frame, and the center bar is a little lower to make it easier to get on or off.
Brakes
The mechanical brakes that were on the original Yukon model have been upgraded to hydraulic Tektro Auriga HD-E500 brakes with power cut inhibitors. When you touch the breaks, the power turns off. This is a significant upgrade that gives you a more confident feeling when braking. Good brakes are critical. Generally, E-bikes weigh more, and riders tend to ride faster and brake more often as compared to a conventional bike.
Front Forks
The front forks have also been improved with Ozo FatMan aluminum alloy suspension with lockout function, 90mm travel with 135mm dropout and 32mm stanchions, replacing the older front forks that were not an adjustable suspension. It's nice to have the ability to adjust the front suspension for the type of terrain you will be riding.
They also have added quick-release fasteners to the front tire as requested by customers. Careful what you wish for. Although very convenient for repairs it also makes it very easy for someone to steal your front tire. So take this into consideration when locking up your bike.
---
Additional upgrades since the original version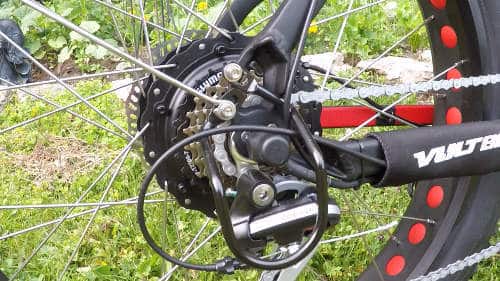 Upgrade to a 7 speed Shimano Acera, derailer guard, and chip protection wrap
Beefy kickstand
No flimsy kickstand here. The Yukon has a nice kickstand that does not get in the way when riding and securely keeps your bike upright when parking.
---
Free motorcycle grade helmet
To add to the retro look. They also include a free motorcycle grade helmet with every bike they sell and ship with the bike. So you are ready to go riding when your new bike arrives. Your choice of black or white. You must wear a DOT-approved helmet to operate an E-bike on the streets and it's a great idea to have a good helmet on when off-roading.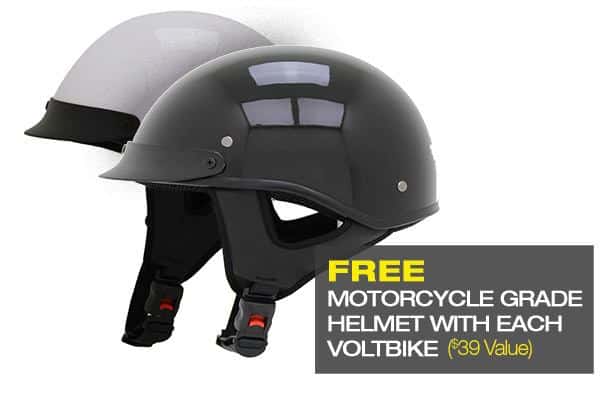 Voltbike Yukon Specifications
Components
Weight 68lbs
Battery Type 48V 16Ah / 768Wh Lithium-ion with Panasonic NCR18650B 3400mAh cells
Motor Bafang (8Fun) 750W Electric Brushless DC Motor G06 series. 80 N.m. max torque.
Hubset Alloy 6061 Electric Motor
Crankset Aluminum Alloy-6061 44T Crank, 170mm with Outer Guard
Fork Mozo FatMan aluminum alloy suspension with lockout function. 90mm travel. 135mm dropout. 32mm stanchions.
Shifter Type Shimano Tourney TX50R6CT Thumb Shifter Plus 7-Speed
Chain KMC Rust Buster
Freewheel / Cassette Shimano MF-TZ20 Tourney Freewheel 7 Speed 14-28T
Rear Derailleur Shimano Acera RD-410 7 speed direct rear derailleur
Brakes Hydraulic disc brakes front/rear Tektro Auriga HD-E500
Brake Lever Tektro Auriga with safety power cut
Tires Kenda Krusade 26×4, Wire Bead, 60 TPI casing, Weight is 1285 g. Tread 2mm in the center.
Pedals Wellgo LU-313 with reflectors
Derailleur Guard Rear Metal Derailleur Guard
Rims 26 inches with 36 spokes
Seat Velo Plush VL-6142
Handlebar PROMAX ALUMINUM ALLOY 31.8mm*22.2mm*680mm, 9 degree
Stem PROMAX MODEL MA-596 with adjustable angle 35° – 145°. 105mm extension with a bar bore 31.8mm.
Seat Post Promax SP-252 Aluminum 6061 Alloy, 30.4mm*350mm
Bottom Bracket Neco 910, 23.5mm + 120mm + 23.5mm
Spokes Rear 13G 209mm, Front 13G 248mm
What You get
Bike
Charger
Tool kit
Helmet
​Assembly Instructions and owners manual
Dimensions
Tob Tube Length (mm) 602.3
Head Tube Angle (degree) 70.0
Head Tube Length (mm) 160.0
Seat Tube Angle (degree) 73.1
Seat Tube Length (mm) 483.0
Chainstay Length (mm) 465.0
Wheelbase (mm) 1173.3
VOLTBIKE YUKON 750 LIMITED EDITION
Pros and Cons
Pros
Great E-bike for the money
Fat Tires give it a smooth comfortable ride
Cool retro motorcycle grade helmet included with every bike
Powerful 750-watt motor
Easy assembly
Cons
Only available online. Not available in stores
Tires a little noisy when riding on pavement
Tool kit provided is of poor quality
Should you buy it?
The Yukon is a big bike and has a good amount of weight to it that could be a bit much for a smaller person. This bike would not be suitable for a small woman or man under 5 ft 6 inch. If you have no intentions of going off-roading and will be using the bike as a city commuter, then the Voltbike Elegant would be a better choice. It has a lower center bar that makes it much easier to get on and off.
The Voltbike Urban is a smaller compact foldable E-bike that is ideal for smaller people and can easily be put in the trunk of a car. The Voltbike Yukon is ideal for a larger heavy person. My six foot three son makes the Yukon look small, but a five-foot nine-man looks small on the Yukon. This bike can handle a rider over 300 lbs, but you must be at least five foot seven for a good fit.
If you are vertically challenged but still carry a good weight, the Volt Mariner would be a better fit. A smaller beefy E-bike with fat tires that can handle a heavy person and provide a good ride.Too big for most kids, but if you have a large 13 or 14-year old that is about to shot up this bike could work. If they take care of it, they will get many years of fun out of this bike. Keep in mind; they must be 16 years old to drive on the road legally.
If you live on a farm or in the country, this bike would be ideal. If your primary use will be off-roading and going on trails, depending on your riding style, you may find the Yukon a little big. A lighter Enduro E-bike would be a better choice.
An Enduro E-bike has a center hub motor for better balance and torque, better for climbing hills, and the full suspension gives it a better ride over bumps and branches. There are many Enduro E-bikes on the market, but not many come close to the price of the Voltbike Enduro at $2,799 reduced to $2,399 is worth having a look at.
Are you going to use your E-bike often? If not, I would just buy a regular bike. E-bikes like to be used and not sit around forever. It's not so much the bike, but the battery that you will most likely have to replace sooner. A good battery can cost as much as a reasonable quality standard bike. Here is another post that can help you learn about battery care.
If you don't want fenders and a rear rack, order the Yukon it is the same bike but without the extra accessories. But if you do have a little desire for fenders and a rack the $100 more you pay for the limited edition is well worth it. You can take them off, and in the future when you want to use them, you will have them to put on.
A significant benefit of choosing a fat tire bike is you can extend your riding season into winter months. The fat tires give you much better traction than a thin tire bike and this can make riding in wet weather safer by having more rubber on the road. Riding on the side of the road in many cities, mine, in particular, is quite hazardous with numerous potholes and shifted drainage covers.
Hitting one of these hazards with a smaller tire bike can easily bend the rim with a high likelihood of crashing. A fat tire E-bike can keep you safely flowing with traffic and have tires that can take a few lumps and bumps for a safer comfortable ride.
A big benefit of a fat tire bike is you can extend your riding season into winter months.
Conclusion
If you have been looking around for E-bikes, you will soon find out that the Voltbike Yukon Limited Edition will stand out as an excellent value for the money amongst many competitors. The components on the Yukon E-bikes as with all their bikes have been carefully selected with a balance of quality and cost to ensure the best components for the money and an overall bike that remains affordable. They have been proving that by continually improving their bikes and reducing the price.
The only complaints I have read have to do with simple adjustments, like derailleur out of alignment or brakes need adjusting. Although they try their best to ship you a completed bike the shipping process can knock the bike around and cause things to go out of alignment.
The best thing to do is find a good bike repair shop in your area to give it a once-over, they will fine-tune the bike for optimal performance. Don't be afraid to ask questions and learn how to do it yourself. Brake and derailleur adjustments are a regular part of riding a bike.
And since you will be putting on more miles and using the brakes more you will have to make adjustments more often. So you might as well learn how to do it. See my Electric Bike Maintenance Guide help you get the most out of your new E-bike.
The other common complaint is they do not always respond to emails and sometimes orders are delayed. I think they are a small company experiencing growing pains and get overwhelmed with orders and emails. I think they will get better as they progress. I would suggest calling directly and talk to George if you have any issues.
I get a sense after reviewing this company; they really do want to produce the best quality E-bike for the money. The progress they have made in the last five years has been very impressive.
I think a few more small tweaks and further production streamlining will further reduce delivery delays, improve their customer service and continue to create reliable quality E-bikes that are affordable.
The Voltbike Yukon Limited Edition is a reliable bike that will get you around for years to come. The fat tires add to the ride and give you more versatility over different terrain. I can guarantee you one thing you will be smiling after going for a ride. This bike is fun.
If you are going to purchase the Voltbike Yukon, please fill in the name "Pete Lautenschlager" in the box that says Enter name of the person who referred you to us. This will help out this website and allow me to make more helpful videos. Thanks, Pete.
Price: $2,199 reduced to $1,999 Canadian Dollars
Where to buy: Voltbike.ca
Source: The product was purchased at Voltbike.ca
Other e-bike reviews