If you have ever dreamt of the idea of traveling across the country on a bike but have always been intimidated by the physical demands that such a journey would take. You may have a physical condition like COPD or other restrictions that you think will make this dream impossible. The good news is E-Bikes are becoming more popular than ever and more Electric Bikes are coming to market every year.
An E-Bike can really help some people get out biking. Physical peddling is still required but an E-Bike can give you that extra boost you need when going uphill or help increase your overall speed. It gives you the feeling of the wind at your back. In recent years with all the new E-bike manufactures battery range has increased and prices have dropped.
But a good E-Bike still can cost anywhere from $1000 to $6000 or more. Not cheap, but I believe prices will continue to drop and more good quality E-Bikes will be available for under $2000. There are a number of good quality E-Bikes available for under $2000 today. See my E-Bikes for Under $2000.
You may be here because you recently purchased an E-Bike and are ready to go out a little further and tour with your E-Bike. A day trip is one thing but traveling for a few days requires a little more planning. Going for a long journey requires even more things to consider and prepare before your journey.
Before going on a cross country trek I would recommend taking a few rides for a few days or a week to get a good idea of what it will be like on the open road for a number of weeks or months.
I have compiled a number of Tips When Travelling With An E-Bike before heading out for a long journey.
Tips When Travelling With An E-Bike
---
1. Prepping before ride
Regular maintenance and frequent checking your E-bike is a good idea to ensure your bike is working at its best. If you plan to take your E-bike and go on a more serious ride than just around the neighborhood and take your bike with you to explore different areas on vacation then a little more preparation is a good idea.
Perform the ABC Quick Check daily as always but take a little extra care and check that things are all in good condition to reduce the possibilities of a breakdown. See my Electric Bike Maintenance Guide learn how to keep your bike in top shape.
---
2. Getting charged and staying charged
Compared to a conventional bike an E-Bike has one major challenge, having to charge the battery. If it is a pedaling assist model than you can still pedal when the battery dies, but it can get tiring as an E-bike weighs more than an average bike.
If it is a throttle powered only E-Bike you will have to push your bike and that no fun. If you are going on a longer trip calculate your trip plan by how long your battery will last.
Plan on places to charge your battery many places will allow you to charge your battery if you ask nicely. Hopefully, the area has things to see and do because recharging a dead battery takes anywhere from 2 to 4 hours. You will have lots of time for sightseeing.
Many people travel by car and carry their E-bikes to a destination and use it in the surrounding area. Keeping an extra battery and parts back in the car can be very convenient. If you are on the open road riding your E-Bike only, then carrying a second battery is not that practical.
Taking an extra battery with you on the bike will add additional weight to carry and if you are on the road for a few days you probably have a few other things to carry and it just one more thing that could get stolen. But for longer distances, a second battery might be a good idea.
Another option that is gaining in popularity is a solar bike trailer. They give you a constant power source (if the sun is shining) and a convenient way to carry your supplies for long journeys. There are not that many Solar bike trailers available on the market today and many people are building their own versions.
If you are a little handy you can build one yourself for a relatively low cost. I think a number of companies are working on developing solar trailers and as demand increases there will be more available in the coming years.
---
3. Good helmet
A good comfortable helmet is a good idea. Be sure it's light and breathable because you will have it on your head for long periods of time. It can serve three forms of protection.
Impact protection in case of a fall, sun and heat protection and also a helmet can keep your head warm in colder weather. You must wear a Dot approved helmet like this one from Amazon on to ride on the streets legally.
---
4. Weather protection including sun and rain
Be sure to bring sunscreen protection since you will be exposed to the sun for long periods of time and some rain protection. A poncho is a good choice with rain pants. But I think if it is going to rain a lot it may be a good day to take in a few museums and stay indoors.
---
5. Locking things up
E-Bikes are generally worth a lot more money than a regular bike and unfortunately, this makes an E-bike even more attractive to steal. Add to that valuable component like the battery, tires, and seats that are designed to be removed quickly. Great for the owner to easily work on their E-bike but unfortunately also makes it easier for a thief to steal parts.
The best place to leave your E-Bike is locked up inside a safe place, but oftentimes you have to leave your E-bike outside in not so safe of an environment.
Be sure to purchase a good quality lock. Check the information on toughness as many locks are not very good. On two occasions I had to remove a lock from a bike and was surprised to see how easy it was. A few different types of locks are needed to completely secure your bike.
To lock up your bike properly. You will need.
One U-Lock and two cables or chains. Here are some good quality locks and cable that are available at Amazon.
One U-Lock
Two cables or chains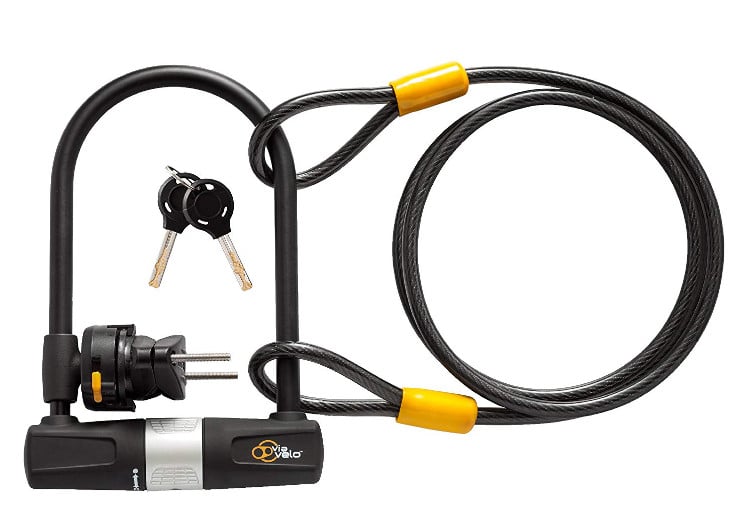 Best E-Bike Locking Practice
The best way to lock your E-bike is to start with a good bike rack, two kryptonite cables, and a good quality U-lock. First, thread the cable to lock your front tire and back tire and join them above the back tire with a U-lock.
This will secure all the components of your bike. If you have a removable battery it is a good idea to take it with you.
The video below is an excellent example from the guys down at Electricbikereview.com on the best way to lock up your E-bike.
If you can. Try to avoid parking your E-bike in direct sunlight on a hot day. Batteries do not like hot temperatures and batteries overall life will be greatly reduced if overheated.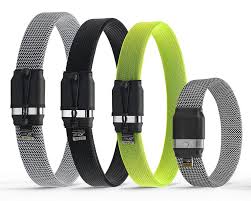 Litelock is the best lock that I have ever had. It is strong and extremely lightweight. You can even wear it as a belt instead of mounting it on your bike. It also has added reflectors. LITELOCK offers an insurance policy if you buy a bike lock from them. Coverage world wide. The Litelock can also be purchased from Amazon.
---
6. Carrying your stuff
When going for a day ride or on trails for a few hours all you need is some water and maybe a few snacks a small repair kit and your set.
​The challenge on longer trips when more supplies are needed is where to carry all your stuff when cruising on your E-Bike. A packsack although great for everyday life when riding a bike can really make your back sweat.
If you are going for shorter distances and doing the minimal amount of peddling and rely more on battery power to get you around you can get away with it but for longer trips with more stuff required there are a number of better options available.
Since bikes are used as a major form of transportation in many parts of the world. The need for better carrying has been addressed by many manufacturers. There are many different carrying bags on the market that can be located in a number of places on your bike that are designed to be easily installed and removed.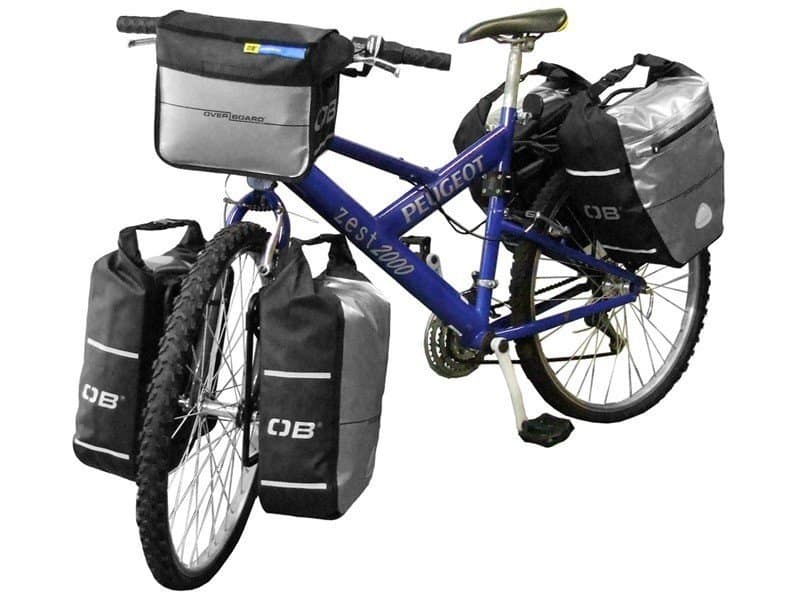 Saddle Bag
There are a number of saddlebags available that simple is strapped on below the seat. They are surprisingly big and you can hold a good amount of stuff like a repair kit, extra tube, snacks, windbreaker can easily be stored under your seat.
Many also provide additional reflectors that add to your night visibility.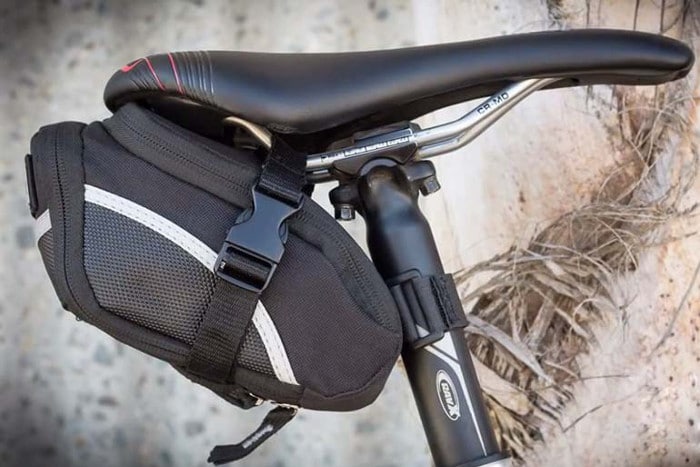 Other locations can be under the front crossbar or on the front handlebars. Here is some good quality under-seat saddlebags Available at Amazon.
Here are some good quality front seat saddlebags available at Amazon.
Under-seat saddlebags.
Pros: Great spot for extra storage.
Cons: Minimal storage.
Front Crossbar
A good place to mount an additional storage bag is on the front crossbar. Many are design to display and protect your smartphone and can carry a minimal amount of stuff. This is a great place to store your keys, wallet and other things you need access to often. Under the crossbar is another option.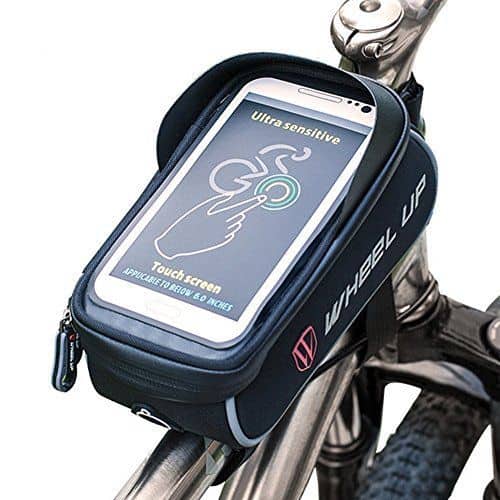 Here are some good quality front crossbar bags Available at Amazon.
Front Cross Bar
Pros: Great spot to carry a few items that are easy to get to.
Cons: Can affect the handling of the bike if overloaded.
Front Handle Bars
The front handle is another place a bag can be mounted. Again many manufacturers have designed their storage bags to easily display and protect a smartphone and can store rolled up extra clothing or a number of small items.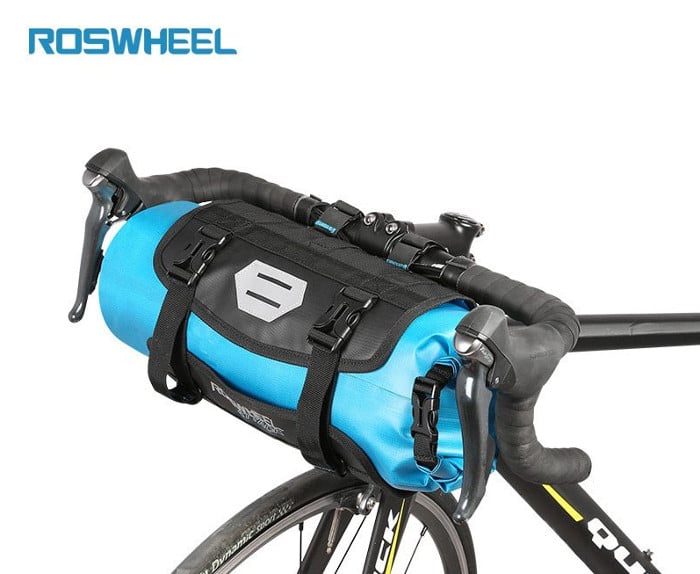 Front handlebar bicycle bag Available at Amazon
Here are some good quality front handlebar bags Available at Amazon.
Pros: Great place to store items you need on hand. The Smartphone display makes it easier to use your GPS App and it can be easily removed.
Cons: If overloaded can cause a bike to be top-heavy and affect handling.
Pannier bags front or back
The pannier bags is the bag you need if you are going on longer trips or carry a lot of stuff around. A pannier bag can be mounted on the front or over the rear tire. Different location affects the balance of the bike differently.
Most people think of putting a pannier bag on the rear of the bike. But having a lot of weight in the rear creates a higher center of balance on the bike and a heavy rear end can cause the rear of the bike to swerve back and forth.
A good alternative location is on the front tire but located lower on the bike.
A large pannier bag over the front tire will affect the steering the most and is not recommended.
A combination of locations is usually what is needed for most people to carry all their supplies on longer trips. Be sure to consider balance when loading up your bike.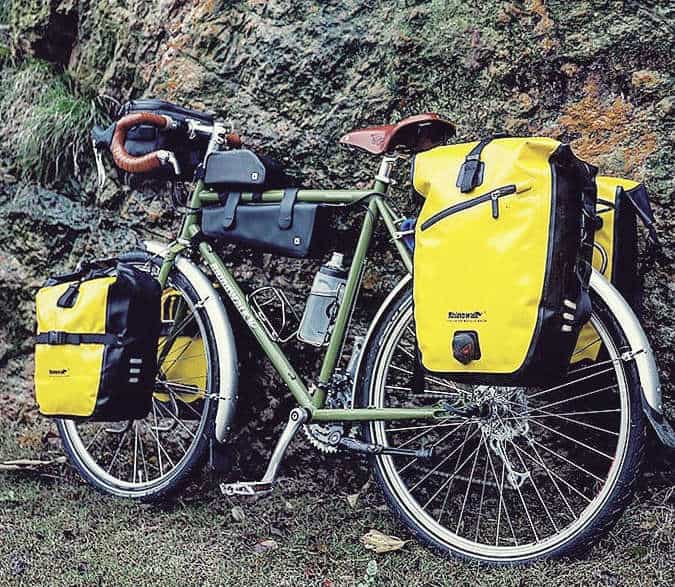 Waterproof pannier bags is a good idea.
A good quality waterproof pannier is a great thing to have onboard your bike. Rhinowalk makes a very good quality line of bike bags. What I like is the bright yellow color to help you be more visible out on the road.
Here are some good quality pannier bags Available at Amazon.
Pros: Largest carrying bag option.
Cons: Can effect bikes handling dramatically if balance and weight distribution are not correct.
Be sure to consider balance when loading up your bike.
Bike Trailer
For longer journeys often people choose to use a bike trailer. This allows you to store most of your supplies on the trailer with minimal effect on the bike's handling. Some trailers have two tires and others have one. Overall handling is the best with one tire and effects the bikes handling the least.
If you are considering a trailer, a solar-powered trailer is a great idea. There are a few available on the market but making one yourself is not out of the question. Watch a few Youtube videos for inspiration.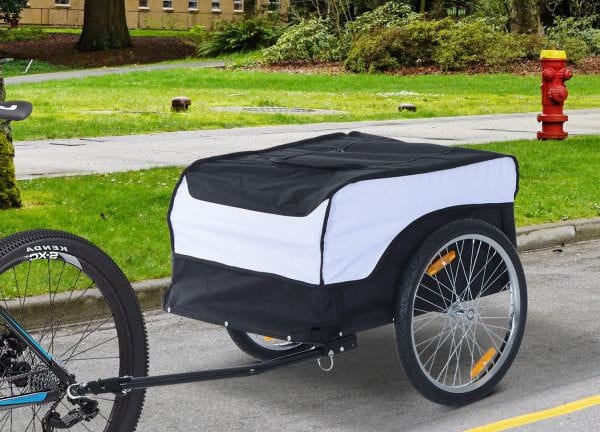 Here are some good quality bicycle trailer available at Amazon.
Two tires
One tire
Homemade solar E-Bike trailer
Pros: Can carry a large load of supplies and frees up your bike from having bulky storage bags hanging on it. Some are set up for children and pets and can be set up with a solar panel to charge your battery as you travel.
Cons: Can cause you to bring more supplies than you need. Kind of bulky and another thing to lockup.
So as you can see there are a number of carrying options available. E-Bikes on their own are heavier than a regular bike and adding more weight can affect the battery run time.
Depending on how long your trip is and how much supplies you need to bring along. All options are normally utilized for a balanced load. The best practice is to bring less. Prioritize what you really need and remove unnecessary items.
Experiment with loading your bike for the best handling experience. Think even distribution of weight and lower center of gravity.
Think even distribution of weight and lower center of gravity.
Make your dream of traveling by bicycle a reality?
If you are a complete novice and would like to learn how to tour with your E-bike. This comprehensive How-To Bike Tour Video Training Course by Bicycle Tour Pro will teach you everything you need to know.
---
7. Proper clothing
Staying comfortable is very important for enjoyable riding experience. Being too warm or too cold is no fun. When out on the open road you have to prepare for all kinds of conditions.
You may start off cold in the mourning and be hot by the afternoon. On an E-bike, you probably are not going to work as hard as on a regular bike and you may have a tendency to be a little colder. You have two choices another layer of clothing or pedal harder.
The good news is over the last thirty years they have come up with incredibly light clothing that wicks away moisture to keep you feeling cool and dryer.
Layering clothing is the basic principle when trying to stay warm or cool off. There are three main components when layering to help regulate your body temperature. Cold is an issue at times but being to warm can be just as bad. You will sweat more and waste energy besides being uncomfortable.
Three-layer basics checklist
Next to your skin. Avoid cotton and choose a newer synthetic material that wicks away moisture. The newer fabrics really make a difference.
The Middle insulating layer. This layer can be cotton but there are better lightweight warmer synthetic made materials
Outer layer wind and rain protection. This is the layer that will cut the wind or protect you from the rain.
Cycling Jersey
Thankfully there are many cycling jersey options to choose from that are made from newly developed fabrics that wick away moisture from your skin to keep you cooler a dryer.
Tight-fitting is a good idea to reduce drag when riding. Many added cycling-specific features add extra comfort and convenience.
Things to look for:
Long or short sleeves for sun protection and warmth.
Bright colors and reflective trim for better visibility especially at night.
Adjustable collar to protect your neck from the sun or to zip up when it's cold.
Ventilation zippers to help regulate body temperature when overheating.
Cycling-specific jerseys have shoulders cut wider for arms and sleeves are designed for forward-leaning for better comfort when riding.
Back zipper pocket for easy access storage.
Cycling Shorts
Cycling shorts are a very important piece of clothing when riding a bike. Cycling shorts are not the same as regular shorts.
They have added stretchability with specially designed panels that reduce chafing and other panels that can give you a little extra padding in important places. They come in different variations for your particular needs and type of riding you plan to do.
Looser fitting Mountain bike shorts that are made from special fabrics with padded areas and extra pockets.
Skorts for women a combo shorts and skirt made from stretch spandex good for warm days but adds minimum protection from UV rays and falls.
Bib shorts are popular with many cyclists but I think for touring on an E-bike they may not be the best fit.
Many feature moisture transfer and four-way performance stretch materials that wick moisture away and with antimicrobial properties that will reduce body odor.
Panels anatomic design for chafe-free comfort.
UPF 50+ sun protection
Comfortable silicone leg grippers that help keep shorts in place.
There are also a number of stretchy synthetic fabric options available that come in long sleeve and full leg length that will work great for layering on colder days.
There are also cycling shorts available with a little extra padding in the right places. A little more comfortable for people with a sensitive derriere on those long rides.
Cycling Jacket
For longer tours, a cycling jacket is an important piece of clothing. It can protect you from the rain and it can keep you warm when temperatures are cooler.
But don't overdo it you will warm up once you start pedaling. Getting too warm may not be as much of an issue on an E-bike if you are not pedaling very much.
A good cycling jacket that has zippered vents that will allow cooling when exerting and zip them up to stay warmer when using more battery power and doing less pedaling to move your bike.
Things to look for in a good cycling jacket
Ensure that the jacket is waterproof and breathable or water-resistant.
A lightweight jacket is easier to stow away and offers good wind protection. Layers underneath a jacket if needed will keep you warm if temperatures are cooler.
Removable arms can be very handy. Use to keep your core warm and have your arms bare.
Cycling shoes and socks
Most E-bikes have clipless pedals and only require a good pair of shoes. A good pair of light shoes will work well.
They do have special cycling shoes that are very breathable and have a plate mounted in the shoe that helps delivers great pedaling stability, power and efficiency and they provide comfort when walking around.
Socks
A good pair of synthetic socks will do, but for a few dollars more they have high tech socks that help promote better circulation and prevent muscle injuries and have targeted compression zones to relieve pain and discomfort that may be caused by a long day of pedaling.

Miscellaneous Accessories
There are a few more accessories that can be added to help give you a little added protection and comfort.
Cycling Cap
A quality cycling cap is a good idea. A cycling cap gives you an extended visor and is flippable to protect the back of your neck if needed. A cycling cap can be used inside a bike helmet and act as a bike helmet liner and absorb sweat and provide extra shade in the hot weather.
Cycling Gloves
A good pair of cycling gloves with padded palms will protect your hands for long rides and give you a little protection if you should fall. They are made from breathable materials and elasticized microfibers for a comfortable fit. The padded foam pads are added to provide compression and support.
Touring seat
Many people's main grip with bikes is the saddle. The thought of sitting on a bike for hours with a tiny hard seat is not that appealing. The good news is there are many padded seats available to make your ride more comfortable.
The design removes pressure from the nether region and ensuring maximum blood flow with no genital numbness. Brooks Saddles B17 Bicycle Saddle available at Amazon has been making a very good saddle for over 100 years.
---
8. Repair kit and extra parts?
A good repair kit is a must when cycling. When touring for longer trips breakdowns and repairs are inevitable so you might as well be prepared to do minor repairs to get yourself back on the road.
For day trips a basic repair kit is all you will need. But for longer tours, more replacement parts are needed.
Basic Repair Kit
Small air pump
Multi wrench
Patch Kit
New tire tube
Tire pressure gauge
There are a number of ready-made repair kits from $10 to $30 available from Amazon and come in a convenient carrying pouch.
There are a few extra things you need to bring on longer tours when traveling with an E-bike. Parts for some E-bikes may be difficult to find on the road. So you may want to bring a few extra parts that may be prone to wear or breakdown. Depending on the length of the journey an extra battery is a good idea.​
It will add extra weight you will have to carry but for longer stretches, an extra battery may be needed to get you to your destination. See my Electric Bike Maintenance Guide to learn what to check and how to stay on the road.
---
9. Staying on track and make life easy with a GPS
When cycling in unfamiliar areas a GPS can keep you on track and help you choose a more bike-friendly route. The GPX Hyperlapse can help you avoid riding down any really bad roads.
This program connects with Google Streetview and can play a short video of all the roads your route will take you down. The site Cycle.travel can also help you map out a bike-friendly route.
GPS Units
Garmin and a few other manufacturers sell GPS units designed for a bike. More features and easy operation make a GPS unit better than a smartphone. But it is just one more device you will be bringing along on your journey.
Smartphone Mount
A good option is the one you probably have already. A smartphone can download a number of GPS apps. It is important to have it mounted in a good visible location. There are a number of smartphones mounting units available at Amazon.
---
10. Fluids and Snacks
Snacks are a concern but water for hydration is more of a concern. A hungry stomach is a little discomfort but lack of fluids and dehydration will stop your ride fast.
The problem with liquids is how to carry enough water for a long ride. The weight is a big concern and the movement of the liquids can cause balance issues. That is why it is a good idea to distribute the weight throughout your bike and keep a lower center of gravity in mind.
Water Bottles and Bladders
A couple of water bottles packed for even weight distribution will do for a number of hours. You can use the standard bottle mount under the front bar. For longer trips, there are a number of bladders that can be installed under the front bar that can hold a fair amount of water with good weight distribution.
Backpack bladders are also an option but you will have a tendency to get a hot back and the added weight may be an issue for some people.
Portable Coffee Machine
For coffee lovers, it can be more difficult to get a good cup of coffee in some remote areas and countries. If you really enjoy and need a cup of coffee a great travel coffee machine is the Aeropress Coffee and Espresso Maker sold on Amazon for under $35. It has a plastic light durable build that is ideal for traveling and brew a cup of coffee anywhere.
Snacks and food
There are a number of high-calorie snacks on the market to pack in a pocket or pouch. Protein bars, nuts, and dried fruit will keep you pedaling for days. For longer trips were camping is part of the program there are a number of light dehydrated options that can be cooked up at the campsite. Many camping stores sell light camping cookware that will work great for cyclists.
Light cookware
Some light camping cookware can give you some hot meals and makes some coffee when out on your adventure. You may already have some cookware from previous camping trips or check Amazon for cookware kits like these.
---
11. Lights, see and be seen
Seeing where you are going at night is important but more important is being seen at night especially if you are riding on busy streets at night or dark lonely roads. Bright reflective clothing is a good idea as with a number of lighting options to help you be seen.
There are bright blinking lights and reflective iron-on tape available that can be stuck or mounted to your bike to ensure you are seen at night. There are many lights available at Amazon for under $20.
---
12. Bike paths
Choosing a bike-friendly route can make an E-bike trip much more fun and relaxing. Avoiding major highways can make for a much safer and enjoyable ride. Being blown around by a transport truck and fearing for your life is not my idea of a good time.
The route may be longer but the journey is half the fun and off the major highways you will see more interesting things and have a better chance of meeting local people. If you want to see a number of great riding locations around the globe check out this list from CNN Travel 10 best cycling routes that will take your breath away.
---
13. Find out local laws and speed limits
Canada and the US have enacted electric bike laws to regulate the use of electric bicycles. Since electric bikes can be made to go very fast, limits had to be set. Speed limits and rules will vary from country to country and from state to state but a standard is being developed as E-bikes are becoming more mainstream.
In Canada, an electric motor must have a maximum of 500-watt power and not be able to exceed 20 mph / 32 km/h a governor to cut out the motor is used to keep from exceeding the speed limit. Individual city bylaws may also have lower speed limits. So staying informed of speed limits is a good idea.
As with the growing E-Bike trend so are police officers giving speeding tickets to Electric bike owners.
The speed limit seems to remain the same but the watt power may vary.
Example:
Canada maximum 500-watt power and go faster than 20 mph / 32 km/h
US maximum 750-watt power and go faster than 20 mph / 32 km/h
Australia the battery is not to exceed the 200-watt power and go faster than 15.5 mph / 25 km/h
Here is a comprehensive post about bike laws in the US from the people at Electric Bike Review. Electric Bike Laws in the United States
---
14. First aid kit
A good first aid kit is always a good idea. A few basic items in an emergency for shorter rides and a few more items for longer trips. Blisters may form on your feet and a few bandages will help you get through your day.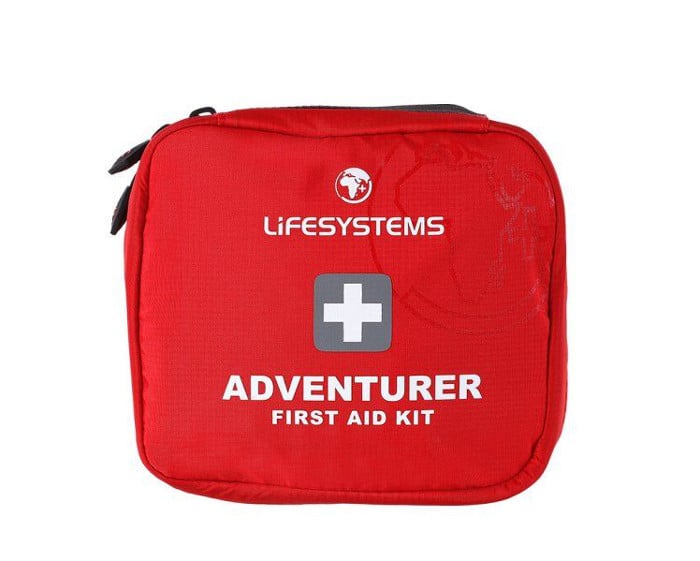 First aid kits available at Amazon
A good first aid kit should include a
Pair of scissors.
Tweezers, plasters, bandages, wadding.
Micro-pore tape.
Alcohol wipes are a great addition to clean the inevitable scapes you may get on your journey.
Emergency tampons
You can purchase one to start as they are not that expensive and later use the container and refill it with your own supplies from your medicine cabinet.
---
15. Car Bike Rack Carrier
You most like will be driving to your destination with your car or van and probably need a bike rack. Keep in mind most bike racks are designed for normal bikes that weigh no more than 30 lbs. Most e-bikes weigh at least 50 lbs and can go up 80- lbs.
You will need a car rack that is rated for at least 120 lbs to handle two E-bikes
See Best Car Bike Rack Carrier for a Fat Tire E-bike for a list of what bike rack carriers will work for an E-bike.
---
16. Air travel with an E-bike
If you plan to fly somewhere with your E-bike special considerations are needed. You cannot take lithium-ion batteries with a capacity of over 160-watt-hours or wet batteries over 100 watt-hours on aircraft.
You can only take lithium-ion batteries that have between 101-160 watt-hours with airline approval. Spare (uninstalled) lithium-ion and lithium metal batteries must be carried in carry-on baggage only.
When checking in at the gate all spare lithium batteries must be removed and carried onto the plane and kept with the passenger onboard. A lightweight electric bike is often treated by the airlines as a normal bike. The E-bike will be classified as oversized luggage and the airline will charge you an extra fee.
Some airlines have implemented a blanket ban on carrying larger Lithium batteries in checked luggage. As you can see there are a few variables. The best thing to do is check with your airline or travel agent for the airline or countries specific regulations to avoid any problems.
Hardshell travel case for bikes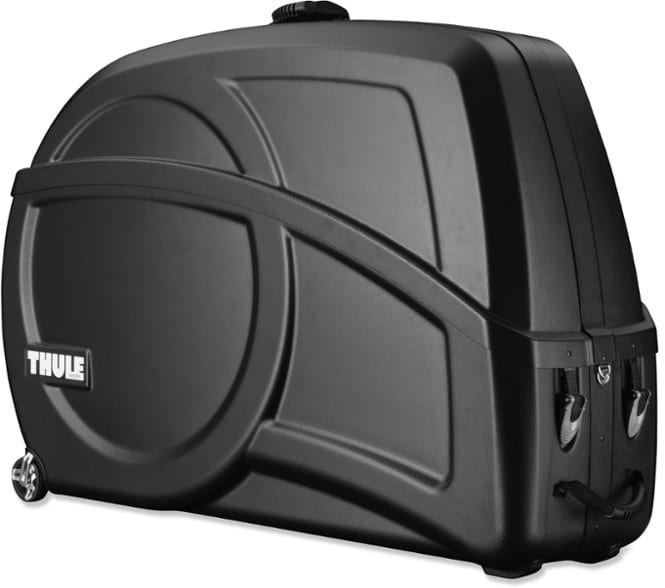 A hardshell travel case for bikes is a great idea to minimize damages in transport. A number are available on Amazon starting at around $300. The only thing is you have to arrange a place to store your case at your destination while you go on a trip.
Here are a few that are very good quality available at Amazon
If you are a complete novice and would like to learn how to tour with your E-bike. This comprehensive How-To Bike Tour Video Training Course by Bicycle Tour Pro will teach you everything you need to know.
Conclusion
So there you have it with a little planning and an E-bike a lot more people can consider a long bike journey. With our busy world of hustle and bustle, the thought of silently riding along on a bike with the journey being more important than the destination sounds very appealing.
There are a number of E-bikes available for around $2000 available that will serve you well but for very long journeys a little higher price point will be required for less on-road breakdowns and for easier repair.
Here are Top 10 Best Electric Bicycle Brands On The Market to help get you started with a few basic E-bikes most for under $1000.With today's light camping gear and accessories getting set up for a road trip is easier than ever but keep in mind the less you take the better.
You will be amazed at what you can do without when you are traveling. Keeping you and your bike rolling should be your main priority.
A few extra parts on board can help during breakdowns and food and extras can be purchased on the road if you are not going far off into the country for days.
If you have any additional experience and tips you would like to share please add a comment and share your tip with other readers.
Make your dream of traveling by bicycle a reality?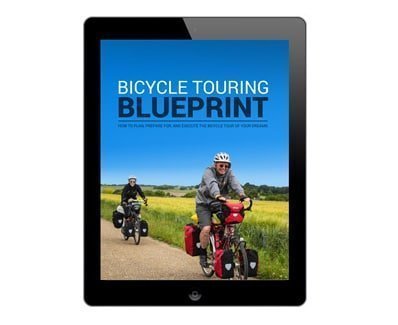 Other e-bike reviews
Interview you for my site
I am looking for people that presently own an E-Bike and would be willing to do an interview with me about their E-Bike. I would like to interview you on Skype and ask you a number of questions about your E-bike and personal experience.
This should take about an hour or less. I would like to have a good time with you and have you share your thoughts on your bike. You can then send a few pictures of your E-bike and I will include them in a post on my blog. If anyone is interested please contact me by making a comment and we can set up an interview date.