Thinking of buying a streaming media stick? Streaming media sticks are a very portable inexpensive way to turn any dumb TV into a smart TV. Media sticks are portable versions of a media player. They have many of the features that set-top media players do with fewer options and limited memory. Let's have a closer look with our Roku streaming stick review vs Roku streaming stick review. 
Streaming Sticks are ideal for students on the go or for a second portable streaming device to use in your home. Two major players on the market are the Amazon Fire Stick and the Roku Express + Stick.  The old Amazon Fire TV Stick has been replaced by Amazon's latest version the Amazon Fire Stick with Ultra HD. It now has 4K Ultra HD up to 60 fps, HDR, and Dolby Atmos audio.
The new Amazon Stick also seamlessly works with any Alexa smart devices. If you want a smart device the Roku streaming media players only has voice commands and are not smart devices that can work with other smart products. 
If you are a spec guy below is a full chart. You can look at the specs but this article will focus more on the actual user experience by comparing side by side performance experience and usability.
Amazon Fire Stick Vs Roku Sticks Streaming Devices
Our Test
We set up two TVs side by side one with the Roku Stick and one with the Amazon Fire Stick. We went through different Apps and streaming providers and compared speed and user experience.
First Start-Up
At first startup, the Roku Stick launches faster than the Amazon Fire Stick. But it can lag occasionally with certain Apps loading.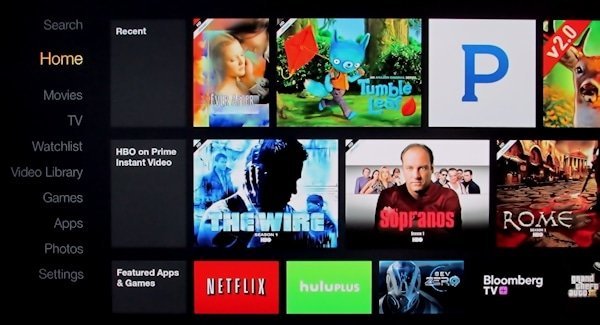 Amazon Fire Home Screen
Comparing Streaming Provider Apps at startup
Netflix
Cold start: Amazon Fire Stick launches faster and starts programs slightly faster than the Roku Stick.
Futurama
Cold start: Roku is faster, but overall once started up the Amazon Fire TV is slightly faster at launching programs and Apps.
PlayStation View
Cold start: The Roku is faster-running programs and Apps.
Amazon Prime TV
Cold start: Amazon Fire is faster and navigation with the built-in amazon prime App makes the Amazon slightly faster than the Roku.
Remotes
Both android streaming devices come with a smart remote for ease of navigation. Both are very different in style. Whereas the Amazon Fire remote is sleek and modern with a heavy Apple influenced style reminiscent of the first iPods. The Roku is more colorful and playful. I believe they did this for the gaming Apps. So the remote would have a more Wii feel.
Fire TV with 4K Ultra HD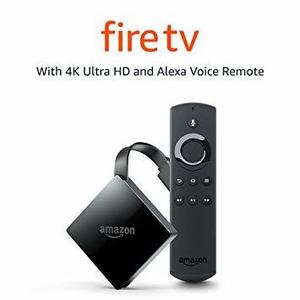 Roku Express + Remote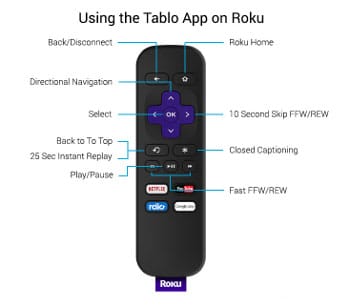 The first impression is the Amazon remote has a better quality feel than the Roku. Voice command app needs to be downloaded for the Roku on your smartphone. The Amazon Firestick comes preinstalled with voice command and a remote that has a built-in microphone.
Note: the voice command on the Amazon Fire Stick only works in the Amazon Prime environment. The Roku app works with most media services. But you will have to use your smartphone as a controller.
Overall reviews and feedback are the Roku is a better remote with four quick-launch buttons for Netflix, Amazon, Blockbuster On Demand and M-Go and once voice command is loaded it works better than the Amazon Fire Stick.
Roku Stick vs Amazon Fire Stick 4K Ultra
Available Content
Both sticks support about every major streaming provider. See chart below for listing Omitted from Amazon Fire Stick is HBO GO.
Roku has been in the business longer and supports just about everything. If there is not an official Roku support channel, chances are that an unofficial version is available and can be manually downloaded.
Games
From feedback and reviews, the Amazon Fire Stick works better for games than the Roku. In the last year, Amazon has increased their game library to more than 200. If you are a serious gamer Amazon Fire TV Gaming Edition offers a gaming version complete with a game controller.
Features
The Roku Stick has an extra feature that the Amazon Fire Stick does not have. The Roku will remember where you were on another an App. Whereas the Fire TV Stick does a cold start and exits out of the App.
The Roku navigates from one App to the next without having to reboot the App making the Roku better to navigate if you like to jump from one streaming provider to another. When using the Roku voice command App you can search through many Apps at once.
One thing that the Amazon Fire TV stick has that is a big bonus is basically you are getting a fully functional Alexa Voice Control that can do much more than just surfing channels. The same full system as on an Amazon Echo that sells for around $100 dollars.   
Both Media Player support many streaming services
Both media players support Apps like Netflix, YouTube, Amazon Videos, and Spotify. See Chart below. You can install Kodi on Firestick and almost any android app as well. This makes the Firestick much more useful than Roku. Also, the Plex app works much better on Firestick than with the Roku.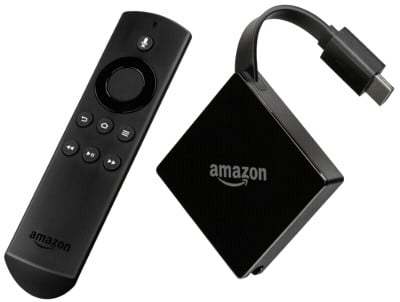 If you subscribe to Amazon Prime TV and live in the States than the Amazon Fire Stick would be a good choice. Being that it costs $10 less than the Roku and has more features and memory the Amazon Fire Stick would be your best choice.
For Canadians, the Amazon Fire Stick is only available on the US Amazon site and will not deliver to Canada.  Recently they have made the Amazon Fire TV Basic Edition available in Canada it is the only model that is now sold in Canada. Other purchases from Amazon.com can be done by signing up with a US mailbox site. This service would add additional fees to the product you order. 
Here is a complete guide How to Buy Amazon Fire TV if you live in Canada if you are bound and determined to get Fire TV in Canada to make it worth it. I would move up to the Amazon Fire TV. Click to see our review.
Conclusion
Overall the two devices are pretty well equal in performance. If you are familiar with Roku and have Roku products now, a Roku stick would be a great second media device in your home. They can also be purchased in Canada, unlike the Amazon Fire TV.
If speed is a major factor and you live in Canada the Roku Stick is your best choice.
If you need internal storage to download files the Amazon Fire would be a better choice with 8 GB of storage versus 256MB on the Roku Stick.
If you are an Amazon Prime subscriber and use it often then the Fire TV Stick will work better for you.
Both models are ideal for a portable compact device for that second TV in your home.
But if you need more features and memory then moving up to a set-top box for a few dollars more may be a better choice as your main player in the house. 
If you like the idea of having voice commands to search for produces and other cool features like turning lights on and making grocery lists then the Amazon Fire TV with Alexa Voice Control is a great choice to start building your smart home. 
As of November 2017, the Amazon Fire TV Stick Basic Edition See my full review. has been made available in Canada and is set to be released in 100 countries worldwide. Right now the Basic Edition is quite a bid cheap then the Roku but with no gaming or voice activation support.
---
Roku Stick VS Amazon Fire Stick
| Features Included | Roku Express + Stick | Amazon Fire Stick Ultra 4k |
| --- | --- | --- |
| Memory   Comes with remote Controller app Voice Search Cross-platform Search Bluetooth Wireless Networking  Audio outputs ​ Video sound outputs Online Streaming Video | Quad-Core 512/256 MB   Yes Android, IOS, Windows  Phone, BB10   Yes Yes No 802.11 (b/g/n) dual-band  Up to 1080p   DTS Digital Surround  AOL On Break Dailymotion DISHWorld Livestream M-Go Plex Popcornflix Redbox Twonky Vimeo VUDU Yahoo Screen YouTube | Quad-core 1.5 GHz | ARM 4xCA53   Yes Android, IOS Yes, with Alexa Voice Remote Alexa Voice Control Bluetooth 4.2 + LE 802.11a/b/g/n/ac Wi-Fi networks. Dolby Atmos compatibility, Dolby Digital Plus, and Dolby Digital Dolby Audio 5.1 Surround  AOL On DailyBurn Frequency Plex Vimeo Yahoo Screen YouTube |
| Movies and TV | Amazon Instant Video Blockbuster on Demand CinemaNow Crackle Fixter Hulu Netflix Sling TV Snagfilms | Crackle​ Fixter Hulu Netflix Sling TV Snagfilms ​ |
| Sports | CBSSports.com DishWorld Sports ESPN MLB.TV Golf MLS.LIVE NBA Game Time NHL GameCenter SEC Digital Network UFCTV WatchESPN WWE Network | ACC Golf MLB.TV NBA Game Time WatchESPN WWE Network |
---
Compare All Five Roku Specs
​
Roku Stick
Roku 1
Roku 2
Roku 3
Roku Premiere+
​
See all Roku Reviews
See Review
See Review
See Review
​See Review
See Review
​ Access to 300,000 movies and TV episodes for 3,000+ streaming channels
 Yes 
 Yes 
Yes 
 Yes 
 Yes 
TV compatibility
HDMI
HDMI or A/V Cable
HDMI
HDMI
HDMI 94K Video Via HDCP 2.2 HDMI
1080p Full HD support
Yes 
 Yes 
 Yes 
 Yes 
 Yes 
4K Ultra HD support
​
​
​
​
 Yes 
802.11 b/g/n dual-band wireless
​
 
 
 
 Yes 
802.11ac MIMO wireless
​
​ Yes 
Yes 
​Yes 
 Yes 
Shortcut button to popular streaming channels
 Yes 
 Yes 
 Yes 
Yes 
 Yes 
Roku Search search across the top channel by tile actor, or director
 
 
 
 
 Yes 
Roku Feed get updates on content availability and price changes
 Yes 
 Yes 
 Yes 
 Yes 
 Yes 
Hotel & Dorm Connect for internet connections that require user login
​
Yes 
 Yes 
 Yes 
 Yes 
Control with free Roku Mobile App
 Yes 
 Yes 
 Yes 
 Yes 
 Yes 
Voice search via Roku Mobile App

See all Roku Reviews
Yes
 Roku Stick
Yes
 
Roku 1
Yes 

Roku 2
Yes 

Roku 3
Yes
Roku Premiere+
---
Update. It's finally here! 
Amazon Fire TV Basic Edition is now available in Canada!
This is not the same Edition as in the above review. The Amazon Fire TV Basic Edition that is available in Canada and worldwide has very similar performance but is lacking voice control, gaming support, and 4K content.
The basic Edition Fire TV features a quad-core processor, built-in 802.11ac Wi-Fi, plugs directly into a TV via HDMI and comes with a tiny Fire TV Remote for navigation. The same specs as the newer version of Amazon Fire Stick but without voice control or gaming support. 
With the Fire TV Stick Basic Edition, you can access a number of Amazon apps over 4000 to choose from. Netflix, YouTube, and Spotify are all available but the main push is for Amazon Prime Membership to get the most out of Amazon Fire TV. 
Priced at around $50 dollars it is in the price range of many competitors, the same price as Roku Stick. Keep in mind you do need an Amazon Prime Membership to access Amazon's Prime video content to get the most out of this device. If you don't like that idea I would suggest the Roku.
Interesting enough Amazon prices are the same as in the US but with no exchange rate. Making them cheaper to buy in Canada. But I think this is an introductory price for a limited time. 
Other articles that will help you learn more about streaming media