You might be curious as to why it seems like your Toshiba television freezes so frequently or whether there is anything you can do to prevent it from happening again. 
Below, you'll find all the solutions to these and other issues. This guide will explain in detail how to repair your frozen Toshiba TV while helping to make sure that it never happens again.
What Leads to the Freezing of a Toshiba TV?
The general guidance for resolving your frozen Toshiba TV is the same for most gadgets. Following the turning it off, switch it back on rule!
But because most Toshiba Smart TVs are also linked to the internet, a Toshiba TV that continues freezing may occasionally be caused by something unrelated to the television itself.
Your TV's function depends on several interlinked factors and decides whether it will start functioning correctly.
7 ways to approach fixing a frozen Toshiba TV
Here are some actionable solutions you can try to stop your Toshiba TV from continuing to freeze or glitch.
1. Examine Any Cables or Wires 
A proper power supply is essential for the Toshiba TV to operate at its best.
If your Toshiba TV keeps freezing, it may be because the power adapter is not providing the device with enough electricity.
This problem may be caused by Toshiba customers using power accessories, such as cables and adapters, purchased from unrecommended or third-party sources.
If you have to use third-party accessories, check that their wattage and voltage ratings are equivalent to those of the original power adapter.
Additionally, examine the cables and wires for any damage and repair or replace them immediately if you discover any defects. In addition to the above problems, damaged cables are the number one cause for your TV's screen to flicker and freeze.
2. Force Stop and Empty App Cache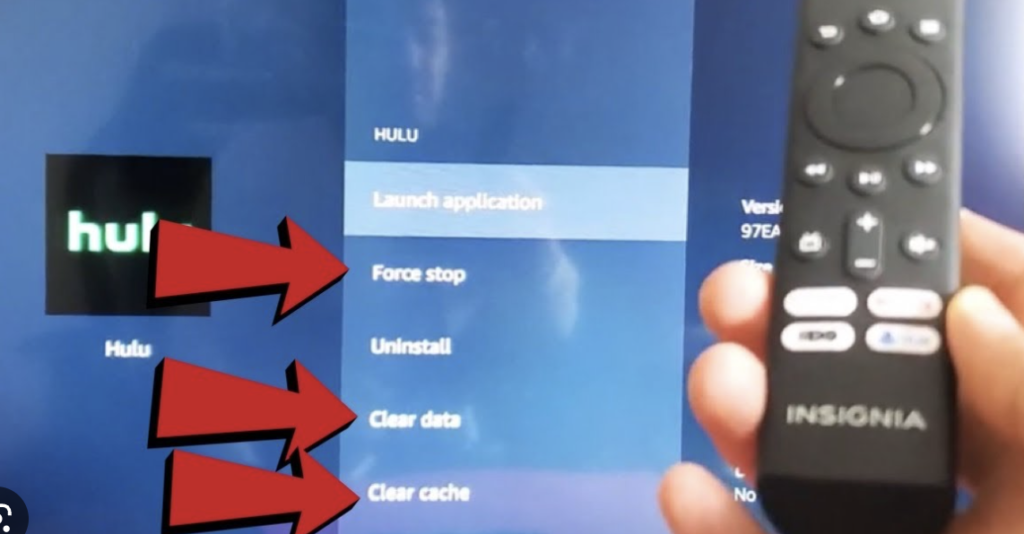 Any apps on your Toshiba TV can create and save more temporary files on your TV the more you use them. 
Although cache files enable apps to load quicker, excessive cache data can eventually cause unresponsiveness and other issues, like freezing.
A specific programme may only cause your Toshiba TV to freeze. So to see if this is the case, close the app, clear its temporary files (or cache), and then try relaunching it.
3. Look at the Internet Connection 
Your internet reception may be poor if your Toshiba TV works through an internet connection. This may occur if your WiFi router and TV are too far apart or if another electrical device interferes with the overall connection. 
 Try using WiFi on a different device to check if that signal is operational.
There's a chance your TV won't have sufficient bandwidth to transmit your chosen TV show if you're trying to stream on multiple devices, all sharing the same internet connection. 
To see whether this fixes your issue, try turning off the WIFI to any unused gadgets.
4. Check For App and Software Updates
Updating your Toshiba Smart TV might be necessary if it continues to freeze. 
Exit any programmes or apps that appear to be glitching, then check to see if the app you're trying to watch needs any updates or if a complete software update is necessary. 
Try deleting the app's cache and data if there aren't any updates, as earlier advised. Then, restart the device and see if that improves the freezing issue.
Changing your settings to install updates, whether for software or apps automatically, will help prevent this problem in the future.
5. Auto-tuning Your Toshiba TV
Auto-tuning will guarantee that the Toshiba TV isn't the issue. Your television is set up to automatically tune in to the stations you can access, whether cable-delivered or transmitted over the air. 
To refresh the available channels, use your TV's "auto-tune" feature to see if that fixes the issue. You can use the Toshiba remote control to navigate the TV settings and find the re-tuning option. 
Alternatively, search your TV manufacturer's name online for more thorough instructions and troubleshooting advice.
6. Perform a Soft Reset on Your TV 
Without touching any cables, a soft reset may help unfreeze your television. By following these easy steps, you can softly reset your TV:
Hold the ON button on the TV or remote device for a few seconds.

Release the button only after the television has been turned off entirely.

Wait for three to five minutes.

Push the power icon once more to turn the Toshiba TV back on.
Hopefully, this will solve any freezing or glitching problems, but if not, you may have to resort to a full factory reset.
7. Factory Reset Your Toshiba TV
If you've tried every other potential fix mentioned above, but your Toshiba TV is still freezing, you can try a factory reset. 
Many software-related problems will be fixed by returning the Toshiba TV to its initial factory settings; many software-related problems will be fixed.
Performing a factory reset is an excellent option because it erases all private data saved on the Toshiba TV, such as stored login information, passwords, and preferences.
All of the television's settings and data will be removed when rebooted, and after resetting, your television will hopefully be free from any freezing problems.
Final Thoughts 
Your Toshiba TV can freeze for a multitude of different reasons. From bad weather to a technical fault with your TV's software. Unfortunately, Toshiba TVs are like any other gadget, and they come with the potential to glitch or sometimes even break. 
We hope that what we have suggested above has helped stop that annoying freezing. But if not, and you are still experiencing the relentless freeze, get in touch with your local TV technician and get them to have a look because there might be something way more complicated going on that needs the hands of a professional.
For further reading on solving Toshiba TV issues, you might also find the following articles useful: