The first Google Home device with "Google Assist" was introduced at the CES show in 2017. At that time "Alexa" was the talk of the show. Google at the time did not have as many features like Alexa and had less compatible smart products to choose from and was not as responsive. 
A few years later and Google Home has leveled the playing field and is starting to lead the way with better smart display speakers and more choices.   
The JBL Link View with Google Assistant has the best sound compared to any other Google Home smart display speaker on the market. While it does not have the biggest screen and it would be nice if they added a USB charge port, but there is not much to not like about the JBL Link View. 
---
Google has partnered its Google assist technology with JBL, Lenovo and LG. This increases the availability of smart display speaker with Google assist onboard. 
Google's connected screen Assistant 
The JBL Link View is a sleek looking speaker. It has the best sound of any smart display speaker in this category and is is an ideal kitchen speaker. The 9-inch screen is a nice size.  
Smart display speakers with Google Assist
JBL Link View
Lenovo Smart Display
Google Home Hub
LG Xboom Smart Display
Smart display speaker with Alexa
---
JBL Link View Smart Display Speaker Review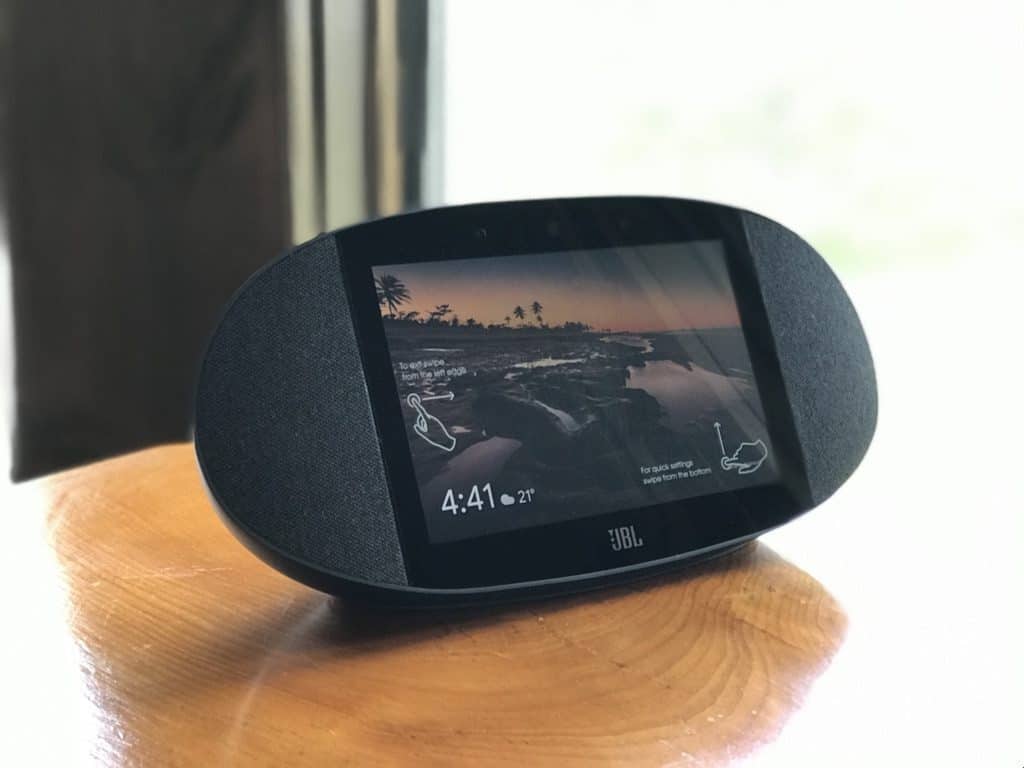 Build and Design
The JBL Link View to me has a classic art deco style. Its oval shape is 13 inches wide and has an 8-inch screen. The View has a splash-proof finish that is wipeable and ideally suited to sit on a kitchen counter without taking up much room. I would still be careful with the speaker fabric. 
The Link View,  available in white or black, can also work well in a bedroom. The display screen automatically dims when the lights go out. 
Depending on the size of your nightstand the Link View maybe a little too wide. But unlike a typical clock that has to be within reach, the LINK View can be placed on a dresser or shelf out of reach and be controlled by voice commands. 
On the front
On the front of the Link View is an 8-inch screen HD LCD screen with a resolution of 1280 x 800. Not as big a 10-inch screen as on the Lenovo Smart Display but bigger than the Google Home Hubs 7 inch screen. 
The display screen is sharp and bright and has an adaptive brightness function that senses the ambient lighting in the room and adjusts the screen brightness accordingly. 
The default display screen can be set to show a number of things like showing personal picture slideshow to a clock. When the lights go out in a room the screen goes dark and displays a clock. If you say "Hey Google, turn off display" the screen will go black. 
 The JBL Link View has a 5-megapixel camera at the top of the screen for video phone calls but can be easily shut off when not in use. On either side of the screen is where the 2-inch speakers are located.
On the top and back 
On the top of the JBL Link View is the camera shut off button. The camera shut off button is ideal if you are concerned about people hacking your system and spying on you.
Next, are the Volume Up and Volume down buttons. Further down the back center is the mic mute button. This button is used to shut off Google assistant voice activation. 
As you continue further to the back you will find JBL signature transducer; the secret to the incredible bass that this small smart display speaker can produce.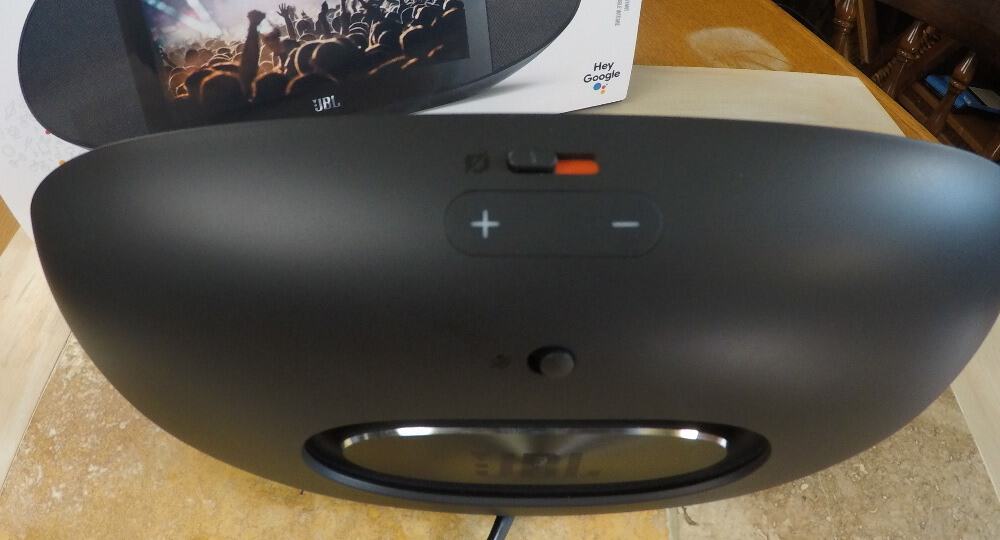 Features
Get help from your Google Assistant
Like all the JBL Link speakers the JBL Link View comes with Google Assist on board. This will allows you to control compatible smart devices with voice commands.  
Things that Google Assistant can help you with
Find Answers
Play Music
Play Radio
Play podcasts
Get news
Get sport results
Shop everyday essentials
Have some fun
Play Games
Set alarms
Get the weather
Manage a calendar
Find places nearby
Get Travel Information
Change Volume
Set Timer
Get Translations
Meet your Assistant
Control TV and speakers
Play YouTube videos
Get traffic report
Play Netflix
Search Google Photos
Control your home
Get finance updates
Get conversions
Calculate
Find nutrition info
Look up words
Remember important info
Google Home IOT Protocol And Compatible Brands: 
Amazon
August
Belkin
Control4
Canary
ecobee
First Alert
Hive
Honeywell
Kwikset
Lux
Nest
Netatmo
Nuki
Philips Hue
Samsung SmartThings
UPB
X10
Insteon
Wink
ZigBee
Z-Wave
---
---
Hands-free voice control
Far-field voice recognition allows for easy hands-free operation. Google can hear you from across the room. Shout a command and JBL Link View will respond.
The range that Google can hear you is quite far but if you are listening to loud music you will have to get closer for Google to hear you.
Simple setup with the Google Home app on iOS & Android
Install the free Google Home app on iOS & Android, you can easily set up and manage your JBL Link View.
Plugin the JBL Link View and it starts on its own and asks you to download the Google Home app. Follow along with instructions and you will be set up in minutes. For more details see How to set up Google Home and other Google Assistant speakers.
Chromecast built-in
Chromecast lets you instantly stream your favorite music, radio, or podcasts from your mobile device to the Link View
24 bit/96kHz High-quality sound, powered by the cloud
With Chromecast you can stream media directly from the cloud and you get great sound quality.
Multi-room playback across speakers that have Chromecast built-in
Adding a multi-room speaker system in the past involved wiring and a lot of expense. With the multi-room function, you can easily set up your system and control multi-room playback with the Google Home app. With the JBL Link series, you can add any number of Link speakers.
Simply assign them to a group on the Google Home App and you can control and play music in a number of rooms simultaneously.
The best part is if you change your mind you can easily move the speaker to another location anywhere in the house provided it has a good Wifi signal. See my post Your Ultimate Router Placement Tip Guide to help improve the performance of your router.
2.4/5GHz Wi-Fi connection network support
Support both 2.4GHz and 5GHz Wi-Fi connection, giving you a faster, robust and more stable wireless connection.
Wireless Bluetooth connectivity
If Wi-fi is not available you can connect your smartphone or tablet and wirelessly stream your favorite music.
---
Sound Quality 
Sound quality is where the JBL Link View has the competition beat. Other smart display speakers like Lenovo Smart Display may have a bigger screen but the JBL Link View is the best in class for bass response and overall sound.
Bass
Nice punch bass that is surprising for such a small speaker. The secret is in the JBL Signature Transducer on the back
Midrange frequency
Vocals stand out nice and clear, midrange frequency does not get muddled in the mix. ​
High-end frequency
​Good crisp high frequency but not overdone.
Impressive bass and volume with an even sound signature
---
​Picture Quality 
The 8-inch screen delivers a clear crisp picture. Great for watching Youtube videos or personal picture slideshow from your photo library.
You can also watch videos from streaming services such as YouTube TV, HBO Now, CBS All Access, Google Play Movies as well as certain news videos on the Link View.
Sadly Netflix is not available yet. You can't even cast Netflix to the display using your phone, but you can use it as a Bluetooth speaker.
---
JBL LINK 500 Specs
General Specifications
Transducer: 2 x 51mm (2") full-range driver
Output power: 2 x 10W
Frequency response: 60Hz-20kHz (-6dB)
Signal-to-noise ratio: >80dB
Power supply: Internal 100-240V – 50/60 Hz
Wireless network: 802.11b/g/n/ac(2.4GHz/5GHz)
Bluetooth® version: 4.2
Supported audio formats: HE-AAC, LC-AAC, MP3, Vorbis, WAV (LPCM), FLAC, Opus
What's in the box?
1 x JBL Link View
1 x power cable
Instruction and Owner Manuals
Dimensions
Dimensions (W x H x D):332 x 152 x 100 mm
Weight: 1.3kg
---
Pros and Cons JBL Link View Smart Display Speaker
Pros
Great sounding speaker with great bass
Ideal as a kitchen speaker
Easily connects with a group of JBL LINK speakers for multi-room sound
Can operate with voice commands or touch screen
Cons
Youtube does not connect to your account
No EQ
No USB charge port
---
Should you buy it?
If you are all about the screen the Lenovo Smart Display with its 10-inch screen might be a better choice. It has a cool modern look and takes up as much space as the JBL Link View. If audio is more your preference than the JBL Link View is your better choice.
The JBL Link View is one product in the LINK speaker line. I have the Link 100 and the Link 500 and pairing with the Link View is easy.
I simply say "Hey Google play music on Home Group Speakers and Google will play music to all three speakers in the group. When in group mode you can control the individual volume of each speaker in the group buy manually using the volume controls or voice commands. 
I have a JBL Boombox and one disappointment in the Link smart speaker line is it does not connect with JBL's Connect +. JBL's new pairing system for their waterproof wireless speaker line like the Flip 4, Charge 3 and Boombox.
The home connect feature is nice on the link series but I don't understand why they would not have included Connect + compatibility so people that are invested in a number of JBL products can easily connect to the LINK speakers. 
If you are not interested in sound quality and you want to use the Google Assistant platform then get the Link 10 first or the Google Mini for less money and later get better quality speakers to add to your smart system if you desire.  See my full JBL Link 10 Waterproof Portable Smart Speaker Review to see the complete JBL Link line.
If you want to control lights and temperature then Purchase a few smart accessories like smart light bulbs and smart thermostat. You can now control the temperature and turn lights on and off with voice commands. 
If you are an Amazon Prime member and already have Amazon Fire TV then sticking with an Alexa smart assistant is your better option. It will integrate better than the Google Assistant platform. The Amazon Echo has a better speaker than the Dot but they are still subpar speakers.
If you like the Alexa platform and want a good speaker then the Harman Kardon Allure or the Bose Revolve Plus would be a good choice. 
Conclusion
I really like the JBL Link View. It delivers excellent sound quality and is a versatile device to have around the house, especially the kitchen or bedroom.
You can watch videos or cook dinner with step by step instructions. Wake up in the morning and get the day's weather forecast news and start a number of smart devices automatically like a coffee machine with a single "Good morning" command.
If you plan on making your home a smart home the JBL Link View is a great addition to any smart home system. I also like Google Assist better than Alexa. It provides more information when asked and it has more free services that do not require paid subscriptions for basic services.
With its versatility and great sound quality make the JBL Link View a great choice for your smart home.
---
---
Best smart display screens
There are a few smart display screens on the market and depending on your needs one smart display screen can work better for you than another here are the best in certain categories.
Best full-size screen with Google Assist – Lenovo Smart Display
Best Smart display speaker Sound Quality – JBL Link View
---
Other articles that will help you learn more about smart devices and speakers