Responding to the demand for more smart devices the LINK 500 is one of JBL's newest smart speakers. Introduced in 2017 the biggest speaker in the JBL LINK smart speaker family and their answer to the Google Home Max. JBL has combined its premium quality speakers with a Google Assistant. Offered at the same price of $399. The JBL LINK 500 has different speaker characteristics and a few features that the Google Home Max does not have.
The JBL Link 500 is a voice-activated smart speaker with Wi-Fi and Bluetooth capabilities. It has JBL's signature sound with a deep bass and clear highs that fills a room. All you have to say is "Ok Google" – and a simple voice request will trigger your ​JBL Link 500 to play music, podcasts or radio from services like Google Play Music, Spotify, Pandora, Youtube and more. For party mode, speakers with Chromecast built-in can be grouped together to play the same song in multiple rooms.
They have four in the LINK family that seamlessly connect to create a whole-home smart system. I will have a closer look at the LINK 500 in this JBL LINK 500 Review.
JBL LINK Smart Speaker Family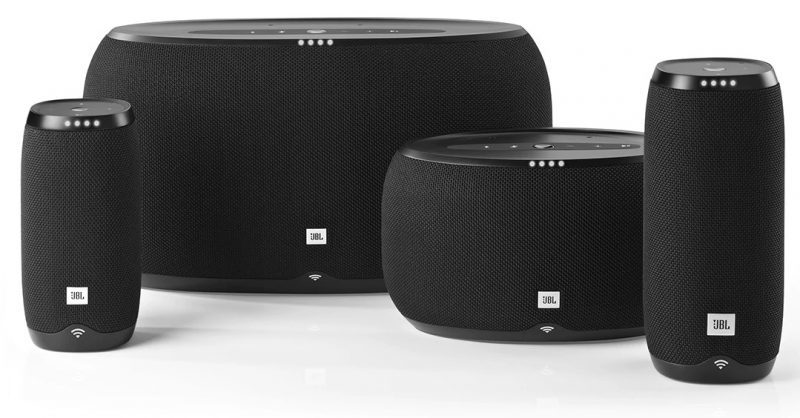 Left to right JBL LINK 10, LINK 500, LINK 300, LINK 20
JBL LINK 500 Review: Build and Design
The LINK 500 is a nice looking speaker with a modern oval design. The understated look fits into any decor. The speaker is covered with a rich fabric that is available in black or white.
On the front
On the front, you have on the top 5 Google Assistant Indicator light that flashes when Google Assistant is working. Near the bottom is the Wi-Fi indicator lights. Great to know how strong your WiFi is but it is not necessary to have on all the time. It would be nice to have the option to turn it off or at least dim the light.
On the top
The top has a beveled edge and is finished with a smooth rubber.  All six control button is located up top. From left to right:
Bluetooth pairing button
Mic mute/unmute button
The center button is the Google Assistant button. Press this button to ask Google Assistant for help. Most times you can operate the LINK 500 hands-free but sometimes when the music is loud Google does not hear you and you have to press the button to get Google's attention.
Volume down
Volume Up
Forward button Press it twice to skip a track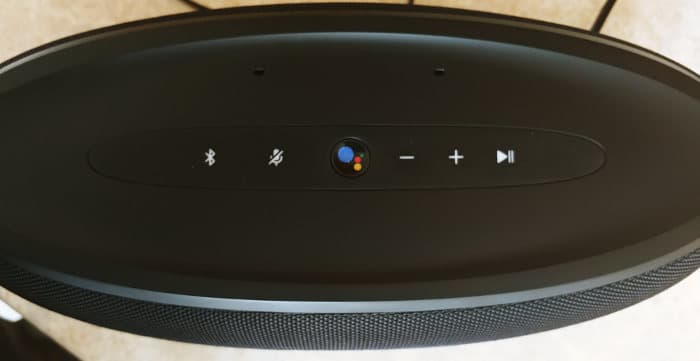 On the Back
On the back is a JBL Signature Transducer to really get a great bass sound. On the bottom is the AC connector but there is no USB plugin. This is a little disappointing since the LINK 500 is plugged in all the time and most likely sitting in a convenient location, it would be nice to have the ability to charge a smart device.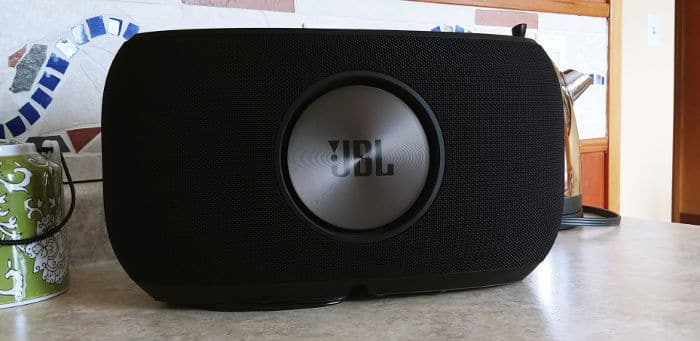 JBL Link 500 Review: Features
Get help from your Google Assistant
The LINK 500 has Google Assistant and Chromecast built right in. This will allow you to interact with any number of smart devices. The LINK 500 is compatible with the Nest smart thermostat, Philips hue lighting and many others. See drop-down menu below for a number of compatible protocols and brands. If you have a smart TV with Chromecast you can control your TV with voice commands.
Learn more about: What Smart Devices Work Well with Google Home?
Google Home IoT Protocol And Compatible Brands:
Amazon
August
Belkin
Control4
Canary
ecobee
First Alert
Hive
Honeywell
Kwikset
Lux
Nest
Netatmo
Nuki
Philips Hue
Samsung SmartThings
UPB
X10
Insteon
Wink
ZigBee
Z-Wave
Things that Google Assistant can help you with
Find Answers
Play Music
Play Radio
Play podcasts
Get news
Get sport results
Shop everyday essentials
Have some fun
Play Games
Set alarms
Get the weather
Manage a calendar
Find places nearby
Get Travel Information
Change Volume
Set Timer
Get Translations
Meet your Assistant
Control TV and speakers
Play YouTube videos
Get the Traffic
Play Netflix
Search Google Photos
Control your home
Get finance updates
Get conversions
Calculate
Find nutrition info
Look up words
Remember important info
Here are a few phrases to learn
Always start with "Hey Google" or "Ok Google" and followed by a command or question.
Create a calendar event or schedule an appointment. Ex.: "Create appointment meet friend at 10 a.m."
Set an alarm for [specific time, or amount of time]. Ex.: "Set alarm for 10 a.m." Or "Set alarm for 20 minutes from now."
Set a timer for [X] minutes.
Show me my calendar.
When's my next meeting?
Where is my next meeting?
What's the phone number of [business name]?
What's the weather like? Alternative phrases such as "Do I need an umbrella?" or "Is it going to be hot tomorrow?" will return weather forecasts.
What's the stock price of [company name or stock ticker]?
Math calculations. Ex.: "What is 2.65 percent of 2,045?"
Take me home.
Take me to work.
What's the traffic like on the way to work?
For a more comprehensive list check out CNet's Complete List of Google Commands.
Hands-free voice control
Far-field voice recognition allows for easy hands-free operation. Google can hear you from across the room shout a command and JBL Link 500 will respond. The range that Google can hear you is quite far but if you are listening to loud music you will have to get closer for Google to hear you. If she does not respond press the center Google Assistant button to get her attention.
Simple setup with the Google Home app on iOS & Android
Install the free Google Home app on iOS & Android, you can easily set up and manage your JBL Link 500.
Chromecast built-in
Chromecast lets you instantly stream your favorite music, radio, or podcasts from your mobile device to the LINK 500.
24 bit/96kHz High-quality sound, powered by the cloud
With Chromecast you can stream media directly from the cloud and you get great sound quality.
Multi-room playback across speakers that have Chromecast built-in
Adding a multi-room speaker system in the past involved wiring and a lot of expense. With the multi-room function, you can easily set up your system and control multi-room playback with the Google Home app. With the JBL LINK series, you can add any number of LINK speakers.
Simply assign them to a group on the Google Home App and you can control and play music in a number of rooms simultaneously. The best part is if you change your mind you can easily move the speaker to another location anywhere in the house provided it has a good Wifi signal.
The proper way is to first create a group in the Google Home App. Then when you want to connect multi-room speakers say " Hey Google play music with homegroup speakers" and now the speakers in the group will all play simultaneously.
2.4/5GHz Wi-Fi connection network support
Support both 2.4GHz and 5GHz Wi-Fi connection, giving you a faster, robust and more stable wireless connection.
Wireless Bluetooth connectivity
If Wi-fi is not available you can connect your smartphone or tablet and wirelessly stream your favorite music.
Quality Build
This speaker is built to last. The rich speaker fabric is top notch and the rubber base and top insure it can take a few bumps.
Sound Quality
The signature sound quality coming from JBL is no surprise. This speaker plays in stereo producing deep rich bass and clear highs. Unlike other JBL speakers I have tested, like the JBL Boombox that has a tendency to get a little crisp in the high frequencies, the LINK 500 has a more even sound with the vocals pushed to the front.
Before getting the LINK 500 I had been listening and testing the JBL Boombox. The Boombox is a very loud and bass-heavy speaker that some say is too loud to play at top volume indoors and is too crisp in the high-end frequencies.
I am a volume freak and beg to differ, I really like the Boombox volume and sound so I was not sure what to expect with the LINK 500. It is a little smaller and lighter than the Boombox but it does deliver impressive sound and volume with an even sound signature that is pleasant for a broad range of music styles.
Impressive bass and volume with an even sound signature
Sound frequency analysis
Bass
The bass is impressive but a little toned down for real bass lovers. This speaker sounds great with a broad range of musical styles and the bass is always nicely present but not overhyped. If you are all about the bass than the Google Home Max's sound seems to be more geared towards bass lovers.
Midrange frequency
The midrange sound frequency is typical JBL style with the vocals out front with nice clear sounding cymbals and guitars.
High-end frequency
The highs are just the right amount. Some JBL speakers have a tendency to be overly crisp on some songs, but they got it right on the LINK 500. Highs are nice and clear with no harshness at loud volume.
Available in black or white
The LINK 500 is available in black or white a classic color that will fit in any decor.
"Hey Google"
JBL LINK 500 Review: Specs
General Specifications
Transducer: 2 x 89mm woofer, 2 x 20 mm tweeter
Output power: 4 x 15W
Frequency response: 55Hz–22kHz (-6dB)
Signal-to-noise ratio: >80dB
Power supply: Internal 100-240V – 50/60 Hz
Wireless network: 802.11b/g/n/ac(2.4GHz/5GHz)
Bluetooth® version: 4.2
Supported audio formats: HE-AAC, LC-AAC, MP3, Vorbis, WAV (LPCM), FLAC, Opus
What's in the box?
1 x JBL Link 500
1 x power cable
Dimensions
Dimensions (W x H x D):370 mm x 200 mm x 157 mm
Weight: 3.5kg
JBL LINK 500 REVIEW
Pros and Cons
Pros
Great sounding speaker with great bass
Great size for a bookshelf speaker
Can easily connect with a group of JBL LINK speakers for multi-room sound
Fun to use
Cons
Google assistant not always consistent especially at startup
Does not connect with Connect +
No USB port
Wifi display always on and very bright
JBL LINK 500 Review: Should you buy it?
This speaker is ideal for an older person that wants to listen to a variety of music and online radio stations. The voice command function makes it easy to operate. But there is a bit of a learning curve and a little patience and sense of humor will make this process easier.
My daughter was in tears laughing when she was listening to me trying Google Assistant out for the first time. It really can be a good laugh. Here is an old Italian lady trying to talk to Google.
"Hey GOO GOO"
One disappointment in the LINK smart speaker line is it does not connect with JBL's Connect +. JBL's new pairing system for their waterproof wireless speaker line like the Flip 4, Charge 3 and Boombox.
The home connect feature is nice on the link series but I don't understand why they would not have included Connect + compatibility so people that are invested in a number of JBL products can easily connect to the LINK speakers.
If you are not interested in sound quality and you want to use the Google Assistant platform then get the LINK 10 first or the Google Mini for less money and later get better quality speakers to add to your smart system if you desire.  See my full JBL LINK 10 Waterproof Portable Smart Speaker Review
You can get a paid subscription to Spotify but I have been testing with the free version of Spotify and Google Play Music and the selection is great. You cannot ask for a specific song but it will play any artist you tell it to and it will go to a station that plays that music.
The smart system gets smarter as it gets to know you and when you say  "Hey Google play some music" it will play the style of music that you have previously been listening to.
" Hey Google plays some Frank Sinatra" and it will play a Frank Sinatra station with the additional artist in that style of music. With paid subscriptions, you can ask for specific songs and artist.
If you want to control lights and temperature then Purchase a few smart accessories like smart light bulbs and smart thermostat. You can now control the temperature and turn lights on and off with voice commands.
If you are an Amazon Prime member and already have Fire TV then sticking with an Alexa smart assistant is your better option. It will integrate better than the Google Assistant platform. The Amazon Echo has a better speaker than the Dot but they are still subpar speakers. If you like the Alexa platform and want a good speaker then the Harman Kardon Allure or the Bose Revolve Plus would be a good choice.
Conclusion: JBL LINK 500 Review
After having a smart speaker around for a few weeks I can honestly say it's fun. The convenience of using voice commands is very handy and the possibilities are endless with new accessories and functions are being added every day. Smart home technology is only in its infancy. It is not a fad and will become much more common in our everyday lives as more smart devices are made available. More smart devices being made available make connection and operating very easy and will continue to grow.
There are two sides to the JBL LINK 500 the speaker itself and the Smart Google Assistant on board. The speaker is solid JBL quality with impressive sound and will last a number of years.
The Google Assistant although not always perfect will easily grow and improve with software updates and this will also ensure that this speaker will last a long time and have the ability to grow with a smart home system over time. If you are going to do a whole home smart system you will need a system a hub read my post What is a smart home hub and how do you choose one? to help you understand what a smart home hub is.
If you have been disappointed in the sound of many of the smart speakers on the market like the Amazon Echo or Google Home and want to step up to a good sounding speaker with Google Smart technology, then the JBL LINK 500 will not disappoint you. It has great stereo sound with plenty of volumes when you want to crank up the tunes. Retail price is $399 but I am sure they will go on sale. See an Amazon for latest JBL LINK 500 pricing.
Price: $399 US
Where to buy: Amazon
Source: The sample of this product was provided by JBL
Other articles that will help you learn more about smart devices and speakers