What are the benefits of using streaming media? Among the recent growth trends in the home entertainment world, has been the widespread use of streaming media from the internet. It does not seem very long ago that just the idea of streaming TV and movies on demand seemed a distant dream. However, with faster internet speed available today, streaming media is very much in full swing.
What are the benefits of using streaming media? For many people, TV Streaming can save you money. No monthly rental fees for digital boxes. Watch programming when you want, on your schedule always on demand. Games can be played online and everything that is available on cable TV is pretty much available with various streaming media providers.
There are many new streaming media providers available and many inexpensive streaming tv devices on the market have made streaming more popular than ever.
What are the benefits of using a streaming media player?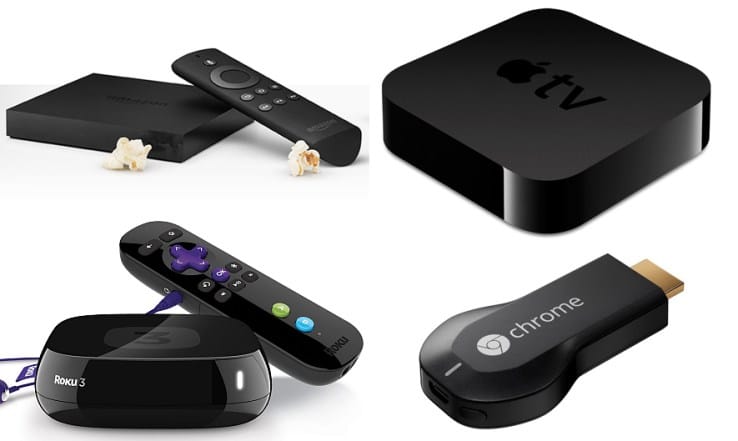 You can Stream media from news, films, TV, and music
Streaming news, films, TV and music continue to become more and more popular every day. Streaming Media is video or audio content sent in compressed form over the Internet and played immediately, rather than being saved to the hard drive. A user does not have to wait to download a file to play it. Because the Media is sent in a continuous stream of data it can play as it arrives. So what are the benefits of using streaming media?
There are many advantages to streaming over traditionally downloaded media. Minimal hard drive storage is required. Media Streaming is much better protected against piracy. Sound and visual quality of the media is greatly improved by streaming media, provided you have a good internet speed. It also makes it easy for content to be shared, heard or watched all over the world.
---
List of streaming media advantages
No need to for an extra storage device. Media is available instantly provided you have a good Internet bandwidth.
Media Movies, games and TV selection is incredible! It can be overwhelming. I suggest picking a few streaming media providers and trying them out for a while. Here is a list of the top 9 Best Streaming Video Services for 2017. Then cancel and pick a few others to try. If you sign up with a number of providers the cost with high-speed Internet service can cost as much or more than your, cable bundle package you have now.
Watch programs and movies on your schedule.  Most programming is available at any time of the day.
No need to program your DVR to record your favorite show. The whole season is available any time of day after episodes are released.
One caveat if you are not familiar with streaming TV shows there is a new trend called "Binge Watching" where someone sits and watches all the 12 episodes in one sitting. This could be fun on a rainy day but if you like your TV shows to last awhile it takes a little self-control to slow the pace and watch them over a number of weeks.
---
Do I need the internet to Stream TV?
Yes, you will need an internet connection with at least 2MB/s Speed
1 Mb/s for viewing on a laptop computer. While you can stream Netflix at speeds of 1 Mb/s, the quality will be grainy on a large screen, it will work but the picture will look like an old videotape.
2 Mb/s for viewing standard definition video (480p) on a TV
4 Mb/s for viewing high-def video (720p, 1080p)
5 Mb/s or more for the best audio and video experience
15 Mb/s for 4K streaming (but 25mb/s is preferred). Also recommended is a 4K Ultra TV with an HEVC decoder
---
Get A Good Internet Wifi Router
A good router is also a must if you are connecting your streaming tv device with Wifi and not a direct cable. With the girls downstairs watching a High definition Disney Movie, your husband in the den watching the game in HD and you watching the latest Grey's Anatomy season. This can put a strain on an older or insufficient router. 
If you are using a single-band router and you're streaming content from more than one room in your home, you are going to need a faster router. A reasonably priced router or mesh networks Wifi System for larger homes can serve a busy household nicely. You will notice a big difference. No lagging and buffering and HD picture will be actual HD. See 6 Reasons to upgrade your wireless router.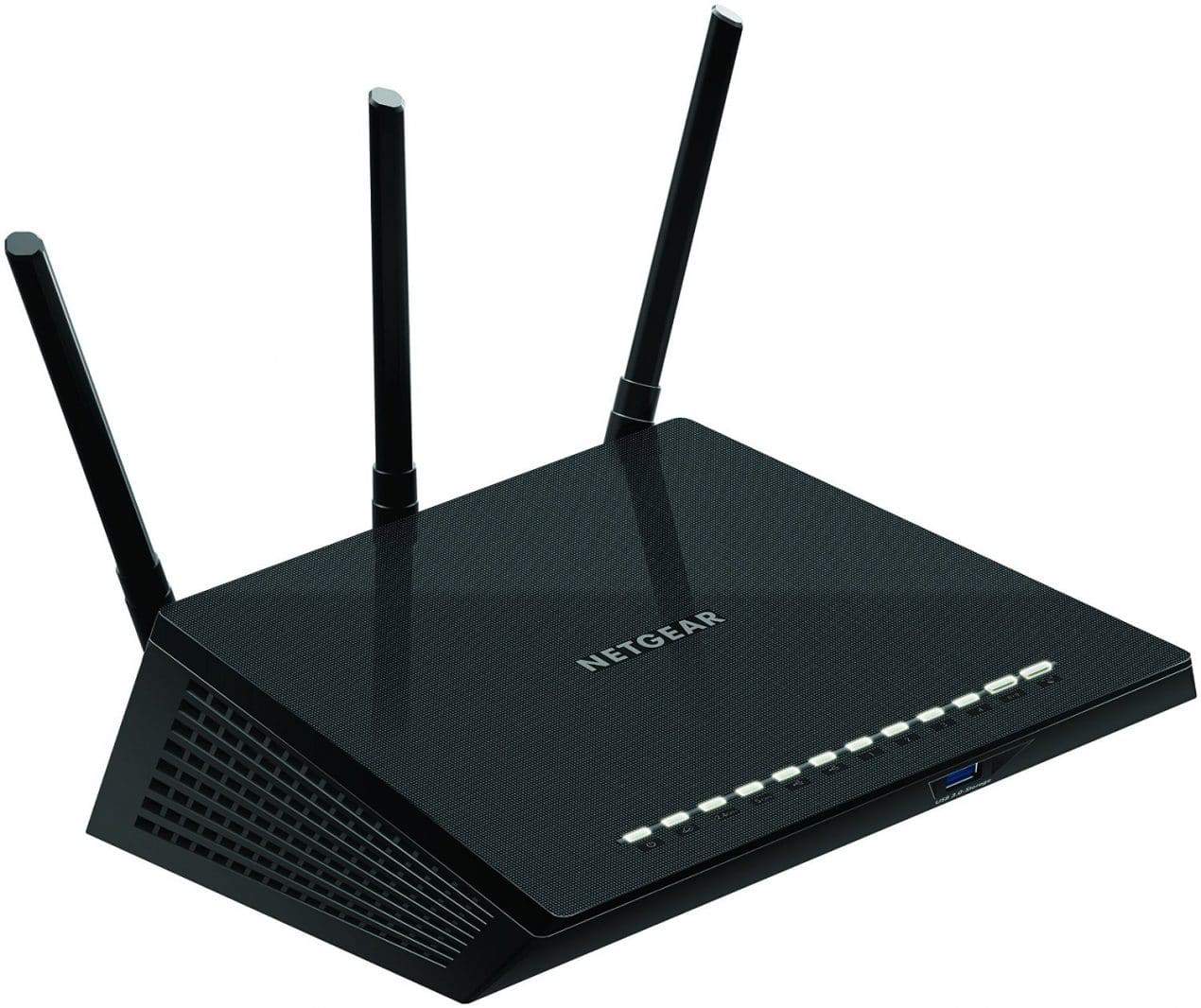 It delivers a total bandwidth of 1.75Gbps. That includes 450+1300 Mbps at 2.4Ghz bandwidth and 1300Mbps at 5GHz bandwidth. Boosts speed and performance for both 2.4 and 5GHz devices.
Sometimes the placement of a router can make a world of difference. Ideally, a router should be placed in the most central part of the house to get maximum WiFi coverage.
Ideally, a router should be placed in the most central part of the house to get maximum WiFi coverage. But normally because of aesthetics or other various reasons a router gets tucked away in a side closet or in the basement. A second extender router can increase the wifi range in your home and have a lot less dead spots. 
See my Your Ultimate Router Placement Tip Guide This article will tell you all about how to get the most out of your router and if you need to replace your old one. 
---
There are many different types of streaming media devices available on the market today
With the increase in the popularity of streaming media, many new streaming media players have been introduced. Shopping for a media player can be quite overwhelming. There are many different types of streaming devices available on the market today to choose from. We hope some of our Router Reviews and Info can help you in your decision.
Streaming media players come in many shapes and forms. Some players are entirely proprietary and will work only with very specific systems, while others are much more flexible to use. Evaluate what your needs are before you make a purchase. If you have Apple produces now, Apple TV is a good choice.
---
What is a streaming media device?
You probably already have a Streaming Device in your home already
If you have recently purchased a Smart TV or Blu-ray player with "Smart" features. Any new gaming device (PlayStation 3, PlayStation 4, Xbox 360, Xbox One, Nintendo Wii and Nintendo Wii U  comes with at least basic streaming capabilities.
Keep in mind is that if you own a smart TV and stick to the big streaming channels like Netflix, Hulu Amazon Video, etc., you probably do not need a separate streaming device. Smart TVs tend to have these channels built-in.  
---
Terms to know
4K: The highest resolution currently available, around four times that of HD (3840 X 2160). It is quickly becoming the standard for new TVs.
802.11ac Wi-Fi: The most recent and fastest Wi-Fi standard, not as fast as Ethernet, but faster than 802.11n.
Android TV: A smart TV platform powered by Android and available across smart TVs, set-top boxes, and more.
Casting: A term, popularized by Google, for sourcing content from the internet from a mobile device or computer to a TV or set-top box.
HDR: Short for High Dynamic Range, which offers better contrast and more colors than standard dynamic range. Considered by many to be a more notable visual improvement than 4K resolution itself.
HDR10: One of the two most popular HDR formats, and an open standard backed by Samsung, Sony, LG, and other companies.
Dolby Vision: One of the two most popular HDR formats. Proprietary, and less popular than the other format, HDR10.
Commercial media devices like the Apple TV will allow you to access YouTube, Flick Mac photo streams not to mention videos from iTunes. Whatever you choose to buy, be sure you make your purchase through a reputable seller. Also, it is best to stick with known brands, whose quality and functionality has been proven.
---
Types of streaming media players
Set-Top Box Price Range Around $100 Plus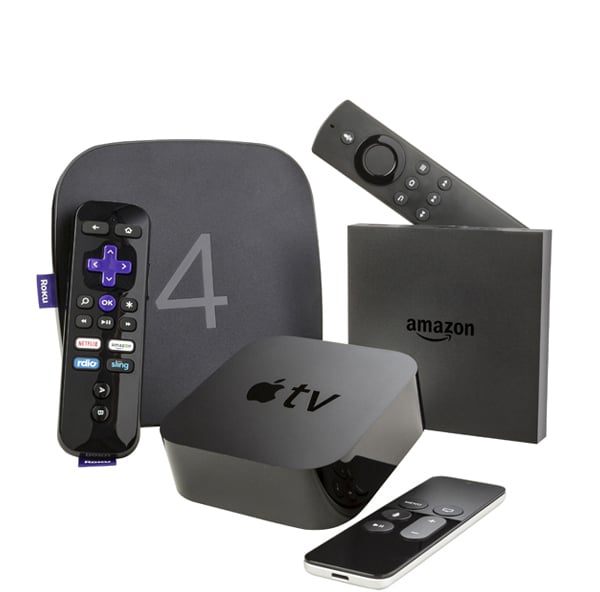 Set-Top Boxes – faster, more responsive, and have more connections than stick-style players.
Many have limited internal storage. The Amazon Fire TV has 8 Gb of internal storage and the Nivida Shield gives you 16 Gb of storage going up to up to128 GB. Something to consider if you like to download movies and have a lot of stored media.
Most come with a remote and some even come with a gaming remote for a full entertainment package. They really seem to be improving the gaming controllers to compete with the big gaming consoles. However, for serious gamers, a gaming station is still better at the moment. 
Stick-Style Players Price around $50

Stick-Style Players – compact about the size of a USB flash drive and more budget-friendly than set-top boxes. Great for students, or that second older dumb TV in your home that you would like to stream content on.
Some streaming media players come with a remote but many will also utilize an app on your smartphone.
---
Streaming media players don't simply stream entertainment into your home
The best streaming media devices don't simply stream entertainment into your home. They also allow you to organize and access your own media library using the same interface.
You can watch home movies, listen to music and view photos from a compatible computer, smartphone, eReader or another device. Styles plug into your TV's HDMI port, drawing power either from the TV's USB port or from an AC wall outlet.
You can also use these multi-functional media devices for video sharing from YouTube, streaming music from Pandora and Spotify or sharing photos from your family vacation via Flickr and Facebook on your HD TV.
Some streaming media devices offer better gaming options than others
---
Here are the top five streaming media players
---
Features To Consider
Simple setup
Ability to reorder or delete apps and customize your home screen
Universal search
Dual-band Wi-Fi
---
Read a number of reviews before you buy
We have a number of reviews and articles to help you learn more about streaming media and how you can stream many TV shows online for free. There are many brands to chose from. If you are an Amazon Prime member and don't mind being up-sold to other Amazon products. Then the Amazon Fire TV line would be a good choice.
If you love your Apple products, Apple TV would fit into your entertainment ecosystem very seamlessly. However, it comes at double the price of other competitors.
Some of the top streaming media devices that are not tied to any ecosystem are the ​GooBang Doo line and the main competitor Roku with its broad line of budget-friendly streamers with great gaming options. See All Streaming Media Posts
---
Did You Know A Streaming Media Player Can Save You Around $200 A Year?
A cable TV DVR converter box in your seldom-used guest room is costing you $10 to $20 monthly in rental fees. That's over $200 a year. Every year! If you have a few boxes you can double the cost.
Purchasing a Streaming Media players for about $50 to $150 will eliminate the ongoing monthly DVR rental fees. With a Streaming media device and a good WiFi signal, you can easily connect your guest room TV to view programs when needed.
Choose from a set-top android streaming player or simply just a media stick. Free TV or paid subscriptions to a variety of streaming video services. See what streaming media is all about. Read all our reviews 
---
Pros and Cons of Streaming Media
Pros
Most programming is on-demand ready to view when you are
Picture quality is excellent providing you have a fast internet 15 MB is ideal
Most are easy setup and user-friendly 
Easily download programming and share with others on a file-sharing network
Cons
Need high-speed internet, that could cost a premium 
Uses lots of data. If you have a data cap on your internet plan. Things could get expensive.
Not ideal for tech challenge individuals or older adults, that just want to watch their show.
No internet no streaming media viewing
Conclusion
What are the benefits of using streaming media? For many people, TV Streaming can save you money. No monthly rental fees for digital boxes. Watch programming when you want, on your schedule always on demand. Games can be played online and everything that is available on cable TV is pretty much available with various streaming media providers.
Once you acquire a streaming media tv device you can access streaming content in a variety of ways. YouTube to Netflix, many paid and free choices are available. See our Top 9 Streaming Provides review
If you still want to watch TV here are two of the cheapest TV options out there.
AT&T U-verse TV 300Mbps internet speed 190 channels $75 month
Verizon  Fios TV 940/880 Mbps 425 channels $79.99 month 
Other articles that will help you learn more about streaming media
See all our streaming media player reviews