The last 10 years have seen a big improvement in portable wireless speakers. Formally wireless speakers provided sound but the sound quality was something to be desired. Battery charge time was only a few hours and many speakers charging time was slow. If you dropped or exposed a speaker to the elements like sand and rain they could easily be ruin.
Fortunately today we have a number of great speakers to choose from starting as low as $60 and going up to $700. All the speakers on this list are wireless and some are completely waterproof with a full 1PX& rating so it no problem if they get wet. See my helpful post What really is: Water Resistant, Waterproof and IPX Ratings? to help you understand IPX rating.
The speakers on this list do all vary in sound quality and your ultimate decision will come down to your budget, the music you listen too, how loud you like your music and personal taste.
Top 10 latest wireless waterproof speakers 
---
When choosing or upgrading your wireless speaker, you need to consider a few crucial factors such as sound quality, battery life, connectivity support, charging speeds, design, and price. Wireless speakers come in all sizes and shapes, from the portable models for the beach to mains-powered models for the home as well as multi-room solutions for piping entertainment throughout the house.
When choosing or upgrading your wireless speaker, you need to consider a few crucial factors such as sound quality, battery life, connectivity support, charging speeds, design, and price. Wireless speakers come in all sizes and shapes, from the portable models for the beach to mains-powered models for the home as well as multi-room solutions for piping entertainment throughout the house.
The first thing to consider when buying your Bluetooth speaker is of sound quality. We take you through the weakness and strengths of each speaker in our reviews to help you make the best choice.
Don't focus so much on the total power output; rather, you should consider how the speaker sounds with different types of music. Generally, smaller speakers will always struggle to catch up with big speakers for volume and bass.
After taking sound quality into consideration, the next things you want to look out for are features and connectivity. If you are planning a party, consider speakers that allow you to connect to multiple devices.
Additionally, consider buying speakers that are flexible as possible in how you can connect to them. Naturally, most wireless speakers have Bluetooth support, but Spotify Connect and Apple AirPlay support can come in handy when streaming music from online sources.
Having said that, there are hundreds of Bluetooth speakers floating around on the market, and sorting them out can be a time-consuming process. But thankfully, as usual, I've got you covered.
The list below represents the top 10 latest wireless speakers picks. The best, Bluetooth speakers around. Some are stylish, some waterproof, some rugged, others not fit for outdoors, but all them worth your attention. Let's have a quick look.
---
1. Philips BT3500B
The Philips BT3500B measures 201x35x101mm (WxDxH) and is designed to sit flat, but it also comes with a kickstand that you can flip out and raise its height. The slider switch on the top edge flicks between the 3.5mm auxiliary input and Bluetooth mode.
The next button activates pairing and ends any phone calls taken through the inbuilt mic. There is an NFC logo to let you know that you have an alternative mode of connecting to Smartphones.
The battery is charged using a micro-USB cable which comes with the speaker. Expect a battery life of up to five hours, which is not as impressive, but will get the job done.
Pairing your device to the speaker is quite easy, either through Bluetooth, which has an effective range of 10 meters or via the NFC chip. And if you would rather go the analog way, you have an option to use the auxiliary port with the audio cable supplied.
As you would expect with wireless speakers this size, there isn't much bass to talk about. However, the overall clarity is pretty great, and you won't experience any distortion or harshness.
The BT3500B makes an excellent choice for casual listening to jazz and soft tracks on Saturday afternoons. While it performs impressively across a wide range of music genre, careful listening will hint that the BT3500B performs better with moderate volume levels on songs that are not overly complicated.
Philips BT3500B
Pros
Big retro nob for easy volume control
Good sound performance for the price
The flat design makes it an easy store
Cons
Short 5hr battery life
Could be made more durable 
The Philips BT3500B is a great wireless speaker with a decent set of features for its price. The speaker gives music a little more punch and makes it sound smooth which makes it a great option for music lovers on a budget.
See our complete review Philips BT3500B Bluetooth Speaker Review​
---
2. UE Roll 2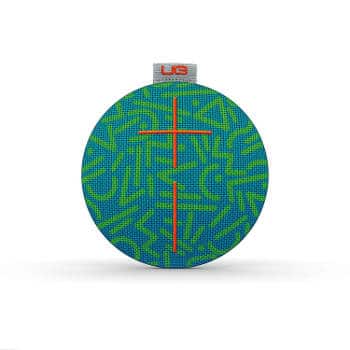 The disc-shaped colorful UE Roll 2 wireless speakers have been a hit since they were released to the market. They sound great, look fun and are an excellent value for money. On the outside, the UE Roll 2 is a tiny flying saucer of a speaker, with two large volume icons, and funky, ultra-portable design.
The new Roll 2 speaker is about 15 percent louder, and a broader Bluetooth range of around 100ft and is cheaper compared to the original. This means you will be getting more value for your money.
Perhaps a unique feature on Roll 2 is that it's waterproof. A while ago, waterproof speakers seemed like a passing fad, but now they're a staple of the market. But even in an increasingly crowded market, the UE Roll 2 manages to stick out.
It comes with an atmosphere color scheme that balances a blend of blue and red upfront and maroon on the backside. Other color options include Habanero (sky blue and orange), Volcano (black and red), Reef (cerulean, lime green and orange stitching) and Sugarplum (purple and yellow).
The speaker controls are creatively simple with massive "minus" and "plus" buttons used to adjust the volume. The power and Bluetooth pairing buttons sit on the back next to the micro USB and 3.5mm auxiliary ports.
The colorful fabric mesh covers the tweeters and also doubles up as a protective grille. Flipping the cover reveals a smooth transition from fabric to matte rubber.
This extremely portable speaker also comes with an elastic strap which allows you to strap it onto the included floatation device or hang it from your shower. The UE Roll 2's battery will last about nine hours of playback. If you are ready to hit the pool, you will find the UE Floatation device a handy and fun addition to keeping your speaker afloat on water.
UE Roll 2
Pros
Cool design and color options
Good sound performance for the price.
Waterproof and durable 
Cons
Average battery life
Could use a little more bass
The UE Roll 2 is louder than the previous model, and is also more dynamic, more open, and sounds more detailed and robust. It doesn't overemphasize the bass to compensate for physical limitations like most compact-sized speakers tend to do. The low end is more solid, and voices are allowed to flourish and breathe.
Each instrument in a track sounds distinct and is given its due. Roll 2 conveys more expression and detail than the original model. With so many features hiding in the tiny, compact design, the UE Roll 2 is genuinely fun to use a wireless speaker.
Read Our Complete Review UE Roll 2 Waterproof Speaker
---
3. UE Boom 2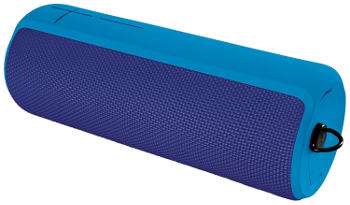 The new UE Boom 2 brings a tweaked exterior, new internals and a range of new colors. The speaker is also 25 percent louder than the original boom with an improved wireless range of up to 30 meters. It, however, maintains the Bluetooth with NFC compatibility for wireless connectivity, and the 3.5mm input plus micro USB charging port for alternative hard wiring of your tablet or Smartphone.
It still has the 15-hour battery life, 360-degree sound, and a waterproof, rugged exterior and a built-in mic.
Most users appreciate the fact that the Boom 2 is designed to get wet, muddy and beat up and it also drops proof from up to five feet. The Boom 2 also comes in new flashier colors which include Yeti (white), Cherrybomb (red), Phantom (gray and black), Tropical (purple and orange), GreenMachine (green and blue) and BrainFreeze (blue).
In the box, you find the speaker, a micro USB cable, a bright neon yellow wall charger, the instructions manual, and warranty information.
The rubberized plastic exterior covering gives a great grip while the fabric, which is IPX7 certified makes this piece of innovation waterproof. So if you are looking for a speaker to bring to a beach or pool party, this should be a natural choice.
Up top, there is a power button and Bluetooth pairing button next to it. The bottom has two flaps that open to reveal a 3.5mm input and micro USB input ports for charging. The bottom also has a small metal hook so you can attach the speaker to a string or a carabiner clip.
UE Boom 2
Pros
Improved sound and volume
Waterproof and durable design 
15 hr battery life
Cons
Kind of pricey
Could use a little more bass
The Boom 2 releases smooth music tunes effortlessly with openness and space without ever sounding muddled or strained. This ease of delivery is one of the things that set it aside from the original version audio-wise. While it doesn't deliver the power and weight of a mega-boom, the bass is more defined than the previous version.
The treble and mids are more lively and rhythmical with a tighter sync between the piano loops, the beat, and the twinkly chimes. Overall, the UE Boom 2 has an excellent sound quality, fun design and rich with useful features.
Read our complete review​ UE Boom 2 Waterproof Bluetooth Speaker Review
---
4. B & O Beoplay P2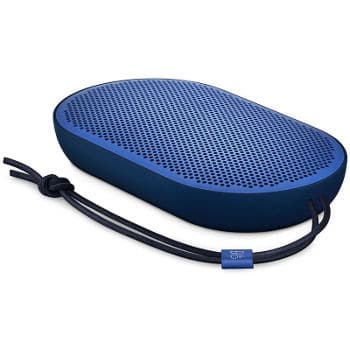 The B & O Beoplay P2 is about simplicity, all you need is to charge it for about 2 hours, and you are good to go. Although the manufacturer recommends that you download the Beoplay app for better performance.
B&O's idea of balancing sound quality and convenience is to strip out all the stuff that can be stripped out. In that spirit, the speaker comes with only one button, and the case tightly hugs around the components inside. The body is made from warm, soft polymer and the top is a smart and simple aluminum grill.
The small compact design is so that you don't have to leave it home when going somewhere. It measures 14 x 8 x 2.8cm, weighs only 275g and available in blue, black and gray. The USB port is on one end of the rounded panel, a tiny microphone slot on the bottom and a LED indicator are located inside the speaker grill.
The ​B & O Beoplay P2 offers more functionality than meets the eye. Tapping the speaker grill plays or pauses music, double-tapping pauses playback and shaking it skips to the next track. You can assign different functions to each of these controls within the B&O Play app.
The app also works with P2's specific features intuitively, allowing you to customize the operation of your speaker to a degree. You can adjust EQ using presets or by dragging a dot around a circular graph in various directions to switch to a warmer or brighter sound
B & O Beoplay P2's battery will last for about 10 hours, but this may vary depending on volume levels and features used. The P2 will shut down automatically after a period of inactivity to preserve battery life. The only things missing on the P2 are volume controls on the speaker itself. You will be required to adjust this on your Bluetooth source device. Other than that, I didn't see anything else to complain about.
So, how does this little guy sound? There is a single tweeter under the hood that will result in mono audio. With a speaker this small, you can't expect powerful and deep bass, but you will still be pleasantly surprised by the bass that this tiny speaker offers; it's relatively robust and thick.
B & O Bioplay P2
Pros
App for easy controls
Waterproof and durable design 
Great volume without distortion
Good Bass
Cons
Need Smart device to control volume
Could use more mids and highs
Mono audio only
The lows and the mids are well-tuned too, offering a warm and rich sound which you will enjoy. The vocal is clear and crisp while the guitars come with a substantial bit.
The speakers deliver serious loudness but without any distortion. If you're looking for something simpler, more portable, and stylish, B & O Beoplay P2 is something you should check out.
See Our Complete Review ​B & O Beoplay P2 Bluetooth Speaker Review
---
5. Bose Soundlink Mini II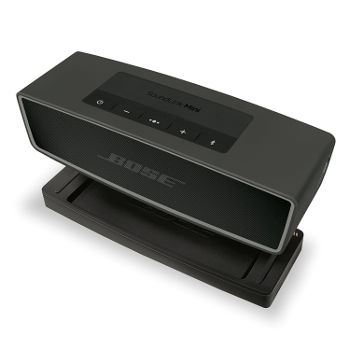 The Bose SoundLink Mini II is a relatively small wireless speaker, but not small enough that you can slip it in your pocket. However, it's about as small as a speaker can get without compromising sound quality. If you are after a powerful bass in a tiny box, then you will love the Bose SoundLink Mini II.
The Bose SoundLink Mini II looks nearly identical to the SoundLink Mini; it's a slightly curved brick of aluminum, small enough to grasp comfortably in one hand.
Although it seems a perfect size for around the house" portability, you can easily slip it in your laptop bag with your other gadgets for outdoor use. Rather than using a cylindrical charge plug, the Mini II the standard micro-USB port.
This means that android owners can use their phone chargers to power the battery. You can also use an external battery to power the speaker and even add a microphone to it to be used as a loudspeaker for phone calls.
Bose SoundLink Mini II doesn't come with NFC, but its Bluetooth connectivity is rather strong. There is a robotic-sounding woman that chimes in to announce the battery levels when you turn the speaker on and when you connect to a new device.
You can also pair more than two devices at a time. The speaker controls are on top of the speaker which includes volume, power and pairing, and multi-function button. You can use the multi-function button to activate voice assistants and change tracks. And there is also a mic for when you need to make really loud phone calls.
The micro USB charging port and a 3.5mm headphone jack are conveniently located on the left side of the speaker. If you need to use the provided dock for charging in one motion, simply plug it in the pins at the bottom.
Overall, the Mini II is a handsome looking wireless speaker with a design and features that lend it sufficient confidence to land on our top 10 wireless speakers list.
This wireless speaker may not have fancy features, but you will be amazed by the sound quality offered here. Most compact, small wireless speakers struggle to output bass, but the Mini II offers a really powerful punch.
Even at high volumes, you can expect great quality and impact as the speaker plays bass-heavy songs with authority and without distortion. The JBL Charge 3 may have a more powerful bass, but it's less controlled and can be at times overwhelming at high frequency.
Bose Soundlink Mini II
Pros
Great refined sound quality for size
Classy unibody aluminum design
Good Bas
Charging dock
Cons
Less expensive alternatives available
Can't pair two speakers together
Bose also handles other parts of the audio spectrum well. The highs are energetic and defined which helps to produce a sense of space around instruments where most other wireless speakers of this size sound dull.
Similarly, the mids are also warm and lush, which makes the vocal-heavy tracks sound great. The speaker will also pick tiny details such as the musician's breath. What else can I say? You just can't go wrong with the upgraded Bose SoundLink Mini II.
See our complete review Bose Soundlink Mini II
---
6. Sonos Play 1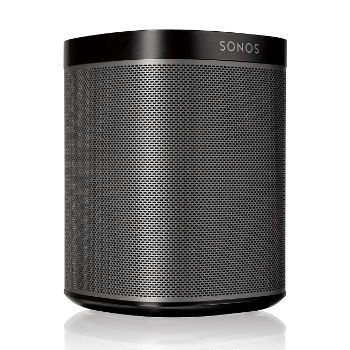 Price has always been an issue with Sono's products, and the Sonos Play 1 is here to solve that. It's currently the most affordable and smallest of the Sonos family, but do not be fooled that it might be making compromises in order to slide below the premium bar.
The Play 1 comes in black and white variations and the premium design blends nicely with its surroundings. There is a play/pause button on the top of the speaker which also helps skip to the next track when you double tape.
There is also the status light and volume rocker. Although relatively small, the Play 1 is designed to stay more-or-less put in your house. It doesn't come with a carry handle or battery and needs to stay within range of your Wi-Fi network to operate.
If you're not familiar with the Sonos system, here's how it works: any music sent to the Sonos Play:1 is not streamed using AirPlay or Bluetooth, but Sonos's software system. You access this through an iOS/Android app, or with your computer. The Sonos system incorporates loads of streaming services including Spotify, Deezer, Amazon Cloud Player. You don't need any separate apps, just Sonos's one.
The sides of the Play 1 are covered by a single-piece grille that curves smoothly around its edges. The bottom and top are plastic, in part to give the Wi-Fi antennas somewhere to live. The Ethernet socket is at the back next to the power jack and wall-mounting socket.
Sonos Play 1
Pros
Great refined sound quality
Good for around the house
Easy setup 
Good Bass
Cons
Short battery life
Not wireless connections
The Sonos Play 1 offers an excellent sound quality for a wireless speaker of this size and price. Each speaker features two drivers, a smaller tweeter, and a mid-range/bass driver. The ​Sonos Play 1 produces an excellent, meaty and rich sound for its size.
The voicing is quite neutral, and the scale and depth of the bass are really impressive. It's a pleasant listen, with a rich enough tone, enough finesse, and more than enough punch to make you forget the size of the speaker you're listening to.
See our complete review Sonos Play 1 Small Speaker Review​
---
7. Beats Pill +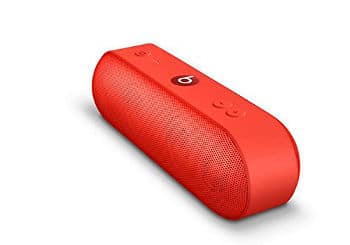 The Beats Pill+ is a small wireless speaker that sounds bigger than it is. The Pill + is slightly larger and use bigger bass drivers compared to its predecessor, but it's still quite portable measuring 6.36 x 21 x 6.92 cm (H x L x D) and weighing just over 0.75 kg.
The casing of the speaker is built like a tank with a rubber and metal chassis. It's not as waterproof as the JBL Charge 3 and the UE Boom 2, but it can survive some water splash. However, you should probably not bring it to the poolside party with you.
The speaker controls including the pairing, powering and volume buttons are located on top of the speaker. The rubber coating on the buttons will withstand abuse while giving a good tactile feel. With the ​Beats Pill Plus, you also get a carrying bag that gives your speaker extra protection while you are on the go.
There are two woofers and two tweeters inside the chassis which are responsible for the quality, well-balanced sound.
A neat little rubbery flap on the back flaps up to reveal the Lightning charge port, 3.5mm aux input, and the full-size USB. The company promises a battery life of 12 hours of music off charge, but this might vary depending on your average volume.
There are a few small dot lights near the power button that shows battery level, so you're not caught out abruptly mid-song. Just like with the previous version, you can double the dosage of this pill by pairing two together, either for a stereo performance or simple multi-room experience.
Beats Pill Plus
Pros
Slightly water resistant 
Can easily pair with other speakers
Good volume for the size
Cons
Not the most portable speaker
Harsh at high volume
Little pricy
The sound is more solid and well balanced compared to the older version. Decent drive and agility are met with clarity and fair detail across the board. At mid volume, the pill can give a more emotional, intelligent execution, better communicating the quiver and dynamic inflections of the vocals. For anyone looking to try out beats, the Beats Pill+ can be a perfect starting point.
See our complete review Beats Pill Plus​
---
8. Bowers & Wilkins Zeppelin Wireless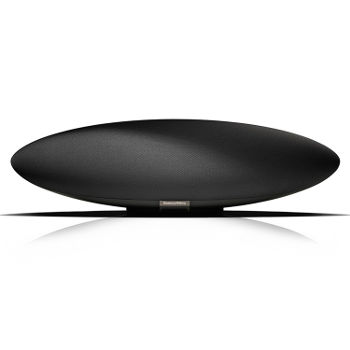 ​The Bowers and Wilkins Zeppelin Wireless is an elongated football-shaped speaker with a small centered base. At first glance, you might be easy to underestimate the work that has gone into this pretty little wireless speaker based on its appearance. However, a lot of reworking has been done to place a notch higher than the company's flagship versions.
The Zeppelin now comes with five drivers, two 25mm metal dome tweeters, and feature anti-resonance dust caps for a cleaner, smoother response. A single 15cm woofer, the same size as the one found on the flagship A7 takes center stage.
Each driver is now powered by a Class-D amplifier, and the company notes that digital signal processing is now twice as powerful for more accuracy. The connections for an Ethernet port, power cord, and a single 3.5mm auxiliary input are around the back. On top are three large but nearly unnoticed buttons for play/pause, rewind, and forward.
Connectivity to your Smartphone is facilitated by AirPlay, Bluetooth, apt-X and Spotify Connect. But if you need to go old school, direct connection to the 3.5mm input will do just fine. To initiate Bluetooth pairing, just touch the right-hand side for two seconds, while a tap on the other side will switch to the 3.5mm input.
It's that simple. To set up the Zeppelin, you will need the help of an updated Bowers & Wilkins Control app, which will get you up and running in no time.
The Zeppelin has wireless Bluetooth connectivity but you still need to plug it in for power. If you would like a full wireless product from Bowers & Wilkins their T7 Wireless Speaker will better suit your needs. 
Bowers and Wilkins Zeppelin Wireless Speakers
Pros
Exceptional build quality a sleek look
Speaker performance is exceptional
Fast setup
Ideal for home or office use
Cons
Midrange could be a little more pronounced
Not android app for controls
No wireless power
The Zeppelin Wireless adds a sense of glamor and refinement to its sound that's as likely to impress hardcore hi-fi fans as it is casual listeners. Finesse and Subtlety are its main assets.
The bass if chunky and firmly controlled, every note starts and stops accurately, which results in a rhythmic, flab-free sound. Both the mids and highs remain defined, and the bass remains composed no matter how much you crank up the volume.
Sounds are precisely placed and cleanly separated with the stereo image. Overall, the Bowers & Wilkins Zeppelin Wireless speaker is a stunning performer, no matter the source or song. Although in the premium price category the Zeppelin has been around for eight years with constant improvements with seamless control and design.
See our complete review Bowers and Wilkins Zeppelin Wireless Speakers
---
9. JBL Charge 3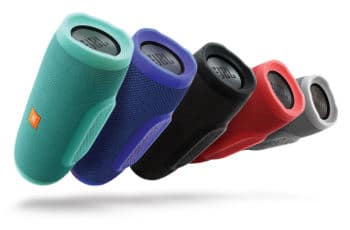 The JBL Charge 3 is a perfect balance between sound, features, and price. The JBL Charge 3 offers an impressive set of features and an excellent sound quality. The new Charge 3 is an upgrade of the previous Charge 2 with an even more enhanced waterproof capability of IPX7. This means it can not only survive water splash, but you can completely submerge it in water, and it will still hit like never before.
The cylindrical shape of the JBL Charge 3 speaker is similar to most of the speaker models that JBL churns out. Up top, you'll find the familiar set of buttons that JBL puts on all their speakers. They're made of soft plastic and are slightly raised above the speaker. The only buttons that aren't raised are the power and JBL Connect buttons which are flush with the speaker.
The fabric that covers the speaker is not only waterproof but also gives it a good grip. The JBL logo sits nicely on the front face while the bottom features a small stand built into the design of the speaker with five tiny indicator lights on it that shows you how much battery charge you have left. On the back, you find a rubber flap that hides the USB output, the 3.5mm input, and micro USB input.
The wireless connectivity on the Charge 3 is fantastic. Without walls, you can expect a strong connection of up to 50 or 60 feet. Once you through a wall or two in between, the range drops down to 30 feet, but still very strong.
You can play/pause music, skip to next song and control volume by simply double-tapping the play button. Expect a fully charged battery to last more or less 20 hours.
JBL Charge 3
Pros
Waterproof and rugged build 
Good volume for the size
Charges other devices
Good base
Cons
Flat on high frequencies 
Little on the bulky side.
The rugged and sturdy build may confuse you into thinking the Charge 3 is a shy wireless speaker. However, on tuning it up, you will be hit by a powerful, enthusiastic sound by the passive radiators pulsing vigorously at either end of the speaker. The JBL sounds more substantial and gives more weight to vocals and bass kicks.
The JBL Charge 3 is a perfect choice for anyone who needs a perfect balance between an exceptionally portable design and a modest price without compromising sound quality.
See our complete review JBL Charge 3 Waterproof Speaker Review
---
10. JBL Boombox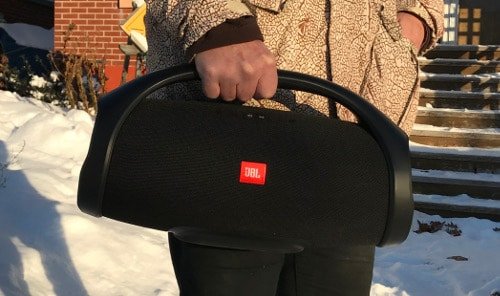 The JBL Boombox is JBL's latest addition to their waterproof Bluetooth speaker line. Rated for 24 hours of playtime played at full volume you can expect about 12 hours. The Boombox has a full IPX7 rating that means that this speaker can get wet with no worries. In Fact, if you throw it in the water and it will float.
The finish like all JBL's waterproof speakers has the standard rugged mesh material covering most of the exterior. This thing is built tough. Weighing in at 11 lbs it is no lightweight and to carry it for a long period of time can get tiring.
The ends have two of their signature bass woofers that really move the bass and project the sound. They have two colors to choose from is black or olive green. Most likely more colors coming in the coming years.
The JBL Boombox has a water-sealed port at the rear that house all its ports which include two USB ports so you can charge two devices at the same time. Keep in mind the more you charge the less music playtime you will have.
You can connect up to 100 other JBL speakers that have the newer JBL+ Connect. This is a great feature when a few JBL speakers show up at a party and you can connect the speakers for a full party system. The sound of the JBL Boombox is very impressive plenty of volume and bass. It has an indoor and an outdoor mode.
The outdoor mode makes the sound more expansive and the indoor mode brings down the high end a little. I listen with the indoor mode most often. The sound JBL sound signature and is very crisp and live sounding. The sound profile works great with the latest recordings. If you listen to the older recording you may find the sound too crisp with too much high end.
JBL Boombox Wireless Waterproof Speaker
Pros
Great volume especially outside
Two USB charge ports
No distortion even at loud volume.
Very rugged build with IPX7 waterproof rating.
Great party speaker
Cons
The high end can get a little to crisp on with some recordings
A little bit pricey 
Heavy speaker not ideal for hikes
---
The JBL Boombox is an excellent speaker for an active family that is outdoors a lot and like to have music on the go. For the audiophile, they may not like the JBL sound signature and may find overall the sound disappointing.
I have mentioned before to JBL and in my full review that JBL should make an Eq app so people can make a few adjustments to the sound. The indoor and outdoor modes do help but a little more flexibility would be nice. The JBL Boombox is not the cheapest speaker on the market but you are buying from a proven company that has been leading the way in wireless waterproof speakers with their very popular JBL Xtreme.
The new Xtreme 2 released last year has improved sound. If you like loud music with a good punchy bass that can go anywhere the JBL Boombox is for you. Read my full review and see my video for more information.
See our complete review JBL Boombox Review
Conclusion Top 10 latest wireless speakers
Wireless speakers have exploded in popularity, and nearly every major consumer electronics vendor has a series of different models. For the high-end user who wants plenty of styles and great sound quality, the Zeppelin Wireless Speaker is a great choice, If you are on the go and need volume the JBL Boombox will get the job done. 
As you can see, wireless speakers can vary wildly in size, shape, and even the type of wireless connection they use, but I hope that the above list had at least one speaker that's right for you. I will be updating this page as I review more speakers, so stay tuned. Let me know if you have suggestions for us to check out in.
Helpful reviews on some of the top-selling headphones.